The Dell XPS 15 is an outstanding laptop that provides all of the performance you'll need for anything from studying to professional work to heavy content creation.
Dell's XPS laptop series is one of the most popular and well-liked. This premium company has been regularly releasing the greatest laptops globally for many years. Also, the XPS 13, 14, and 15 are the finest choices for any work.
The most recent model, the Dell XPS 15 9510, includes powerful software and hardware components such as a tiger lake 11th generation Intel Core i9-11900H CPU and an NVIDIA GeForce 3050 Ti.
This XPS 15 has a lot of RAM and storage, which you won't find in many other laptops of this size.
One of the most immersive screens available right now is the upgraded, fully bezel-less InfinityEdge head-turning chassis with a stunning OLED display.
The XPS 15 is among the finest in its class if you're seeking a compact workhorse that's as beautiful as it is powerful.
On the other hand, Hardcore gamers should definitely go elsewhere and get a gaming laptop. The XPS 15 will be the finest option for everyone else in the market searching for a good-looking, competent workhorse.
DELL XPS 15 All in One: Price and Availability
The base version of Dell XPS 15 all-in-one starts at $1,299.99and you can order online on Dell's official site. In this, you will get the 11th Generation Intel Core i5-11400H Processor, Windows 11 Home OS, Intel UHD Graphics Card, 8GB (2x4GB) DDR4 3200MHz RAM, 256GB M.2 PCIe NVMe SSSD storage, 15.6-inch display, and weight Starting at 4.22 lbs.
The next version starts from $1,549.99, and there are two Dell XPS 15 laptops.
In this, you will get a 10th Generation Intel Core i7-10750H Processor, Windows 10 Home English OS, Dedicated NVIDIA GeForce GTX 1650 Ti 4GB GDDR6 Graphics Card, 16GB DDR4-2933MHz(2x8G) RAM, and 512GB M.2 PCIe SSD.
Stepping up to the $1,699.99, everything is similar to the previous one; the difference is 32GB (2x16G) DDR4-2933MHz RAM and 1TB M.2 PCIe NVMe Solid State Drive.
Another premium version starts from $2,149.99, which is quite expensive in terms of price. It has a 10th Generation Intel Core i9-10885H octa-core processor and a dedicated NVIDIA GeForce GTX 1650 Ti 4GB GDDR6 graphics card.
In terms of Memory and Storage, It has 32GB (2x16G) DDR4-2933MHz RAM along with 1TB M.2 PCIe NVMe Solid State Drive. This Dell XPS 15 features by The Windows 11 Home English edition OS.
The latest Dell XPS 15 launched with a tiger lake processor, and it starts at $1,899.99 and the touchscreen version at $2,099.99. This is a very powerful laptop because It has an 11th Generation Intel Core i7-11800H processor and a dedicated 45W NVIDIA GeForce RTX 3050 4GB GDDR6 graphics card.
Thanks to the Windows 11 Home OS, which is the latest one, it will provide very smooth performance. It has 16GB (8GBx2) DDR4 RAM, 3200MHz Speed, and 512GB M.2 PCIe NVMe Solid State Drive.
In terms of display, It has two options: a 15.6-inch non-touch display and a 15.6-inch touch display. The weight of this Dell XPS 15 starts at 4.22 lbs which is a little bit heavy.
The last and latest most expensive Dell XPS 15 laptop comes with an 11th Generation Intel Core i9-11900H processor. Price starts from $2,149.99 for the non-touch display and $2,399.99 for the touch display. In terms of graphics performance, It has a dedicated and smooth 45W NVIDIA GeForce RTX 3050 Ti 4GB GDDR6 graphics card.
Windows 11 Home Operating System powers it. In this Dell XPS 15 All In One laptop, you can run modern software and store extensive data because It has 16GB (8GBx2) DDR4 3200MHz RAM and 1TB M.2 PCIe NVMe SSD.
The difference between Dell XPS 15 is that one has a 15.6-inch non-touch display, and the other has a 15.6-inch touch screen display. Both the Computer is a little heavy, Starting at 4.22 lbs (1.9 Kg).
[amazon box="B089HJX59L, B09F4X9HRV ,B09GS7WNYZ,B07GW74B6N" grid="4″]
Everything about Dell XPS 15 All In One
All of the Dell XPS models listed above have different specifications and prices. The screen version will have to pay more for the touch, but the performance will be the same.
We chose the final one for the Dell XPS 15 All-in-One, which was just released in 2021. We've given you all the information you need.
Why was this Dell laptop chosen as an All in One?
Specifications
| | |
| --- | --- |
| CPU (Processor) | 11th Gen Intel Core i9-11900H Processor |
| GPU | NVIDIA GeForce RTX 3050 Ti with 4GB GDDR6 |
| RAM | 16GB (8GBx2) DDR4 3200MHz |
| Storage | 1TB PCIe NVMe M.2 SSD |
| Screen | 15.6-inch diagonal FHD (1920 x 1080) IPS micro-edge anti-glare display |
| Weight | 4.22 lbs (1.9 kg) |
| Battery Life | Up to 15 hours |
| Others | Backlit Keyboard, Bluetooth 5, Wi-Fi 6, Windows 11 Home, English, Thunderbolt 4 |
Why this Dell XPS 15 9510 is All-in-One?
We chose this Dell laptop for the all-in-one category since some models are excellent for business, and others are great for students. However, you will find all you need in this Dell 9510.
There is also a cheap Dell XPS 15 that will not be able to do anything properly and another version that will perform heavy tasks such as programming and gaming but will not be ideal for you.
This laptop is powerful on the inside, and it is stunning and thin on the outside, making it one of the best devices to use at work.
However, with this Dell XPS 15 All in One 9501, you can execute everything you want, including programming, gaming, video editing, and any other complex activity with ease.
That's why we put this Dell laptop in the best all-in-one category, as none of the features you receive in this price range will be found in any other model.
This Dell XPS 15 laptop is ideal for students, business people, and IT professionals.
[amazon box="B09FLHRLZL"]
DELL XPS 15 9510 All in One Review:
The Dell XPS 15 all-in-one laptop is one of the best on the market, and it's well worth the money. The display is clear and crisp, and the processor is capable of handling whatever task you throw at it. It also includes a long-lasting battery that can be used for hours without needing to be recharged. The laptop itself is compact, light, and robust, making it ideal for carrying around with you.
Performance:
The Dell XPS 15 is powered by an 11th Generation Intel Core i9-11900H CPU, and it has been trendy in both the offline and online markets due to its performance. It isn't powerful enough to do 4K video editing or 3D rendering, but it has so much power that you can quickly complete any work without experiencing performance degradation.
This 11th generation Tiger Lake CPU features an Octa-core design with Intel Turbo Boost technology that boosts the frequency to 4.9 GHz.
Because this processor has a 24MB cache memory, there will be no performance issues while executing its intensive activities.
The CPU performance is excellent across the board, with a single-core GeekBench 4 score of 6,964 and a multi-core score of 36,248 outperforming virtually all other XPS 15 models.
The Dell XPS 15 delivers workstation-level performance in a small and light design that won't slow you down on your commute.
Many heating concerns have been resolved thanks to the Dell XPS 13's superior thermaThanks to the Dell XPS 13's superior thermal architecture, many heating concerns have been resolved.
This laptop has two fans that are spaced apart to disperse heat over a large area. It has two heat pipes and a concealed exhaust venting system that vents via the hinge, so if you place it on a table, it will exhaust air above the hinge.
Because this is one of the thinnest portable laptops currently, there are no air vents on the left or right sides.
DELL XPS 15 All in One: Display
The 15.6-inch touch screen 4K Ultra HD+ display on this Dell XPS 15 laptop offers a resolution of (3840 x 2400) pixels.
This screen's aspect ratio is 16:10, which may appear fair on paper but makes a significant difference in practice and lets you be more productive.
The extra pixels are provided to allow you to use the entire screen in Windows 11 OS. Also, because the aspect ratio is so fantastic, you can keep multi-level programs open simultaneously without having to minimize or save them. The Dell XPS 15 boasts one of the most excellent laptop screens available.
The Dell XPS screen provides pinpoint precision for all computing demands, allowing you to see every pixel in images without having to zoom in or view more material while browsing the web.
This display is great for students, business professionals, and content creators. However, if you watch TV shows or movies, you may not receive the same experience since certain content is not suited for the 16:10 Aspect Ratio.
It includes Dolby Vision technology, allowing the material to have up to 40 times brighter highlights and 10 times darker blacks.
You may also use Dolby Vision to fully exploit HDR content's greater dynamic range, providing colors never seen before on SDR PC monitors.
The display is bright, vibrant, and responsive in terms of quality, with a great contrast ratio (100,000:1). A touchscreen here doesn't offer much value; it just increases the device's price, but it does seem expensive.
The display's brightness peaks at 500nits, making it legible in any light and providing better clarity in intense light, such as outside.
It's an Eyesafe display with a 100% Adobe RGB and 94 percent DCI-P3 color gamut that minimizes harmful blue light while maintaining vibrant color.
There are two handy features on this XPS 15. Dell CinemaColor and Dell PremierColor are two customization choices that allow you to fine-tune the display setting that best suits your needs.
DELL XPS 15 All in One: Design
The Dell XPS 15 is a modern, robust, portable notebook computer perfect for everyday use and demanding jobs.
Dell's XPS laptop line is already a high-end laptop series, and the XPS 15 is no exception.
The Dell XPS 15 is built of high-quality metal and has a beautiful design from every aspect. There will be no issues with the build quality, and having it on hand will make you happy. The XPS series is primarily silver with a matte finish.
The Dell XPS 15's lower side is coated in carbon fiber, which may not be to everyone's taste, but the overall design is excellent, so if you can afford it, it will never go away.
No other brand can match its borderless display design. The XPS series has always had smaller bezel displays since its inception. Despite this, a high-quality camera with a Windows Hello sensor and facial recognition is placed on the screen, and all sensors are operational.
Only one USB Type-C Thunderbolt 4 port on the right and two USB ports on the left are visible from the side. There's also a power supply and a display output connection on the left. A USB-C to USB-A interface adapter is included with the notebook, allowing you to connect to any traditional device.
Although the location of its speakers isn't ideal, it delivers high-quality loud sound that's useful for videoconferencing and streaming shows.
The Dell XPS 15's keyboard and trackpad are black, with the trackpad the biggest. The distance is reasonable, and the keyboard responsiveness has considerably improved.
Some people question if the lid's position is proper since the air blows towards the screen while the laptop is heated. However, it does not produce nearly as much heat, which might damage the screen.
DELL XPS 15 All in One: Battery Life
Since this laptop has a high power level and a high-quality display, it was vital to provide a long battery life.
This Dell XPS All-in-One has three battery options to select from, including-
56Whr 3 cell battery for non-touchscreen version and
86Whr 6 cell battery for 4K+ touch and
86WHr 6 Cell battery for OLED touch version
Having a long battery life is beneficial for students or individuals who use computers outside. Whether you're a business person, a student, or a professional who has to use a laptop outside, this battery life will make your job much easier.
If you pick the OLED display, you may receive up to 10 hours of battery life. Finally, the Ultra HD+ panel will give you a score of 9 hours for tasks such as MS Office, creating PowerPoint presentations, watching shows, and so on.
There is no information on Dell's official website about how long each of the three battery variants will last, but we may guess based on the prior XPS notebook.
This 56Whr three-cell pack can provide you with 9 hours of battery life when streaming in full HD quality. The 86Whr 6 cell battery, on the other hand, will provide up to 13 hours of backup for work regularly and multitasking.
However, battery life will be drastically reduced if you run modern gaming and do heavy tasks like Rendering, Video Editing, etc.
This is not a gaming laptop; thus, these specifications are appropriate; it is a suitable business laptop for students.
Compared to the new Apple MacBook with M1 pro and M1 max, the battery could have been significantly more powerful, especially considering the price.
Depending on the size of your battery, the Dell XPS 15 comes with a 90W charger or a 130W power adapter. Both models should take roughly 2-3 hours to charge completely with the laptop turned off.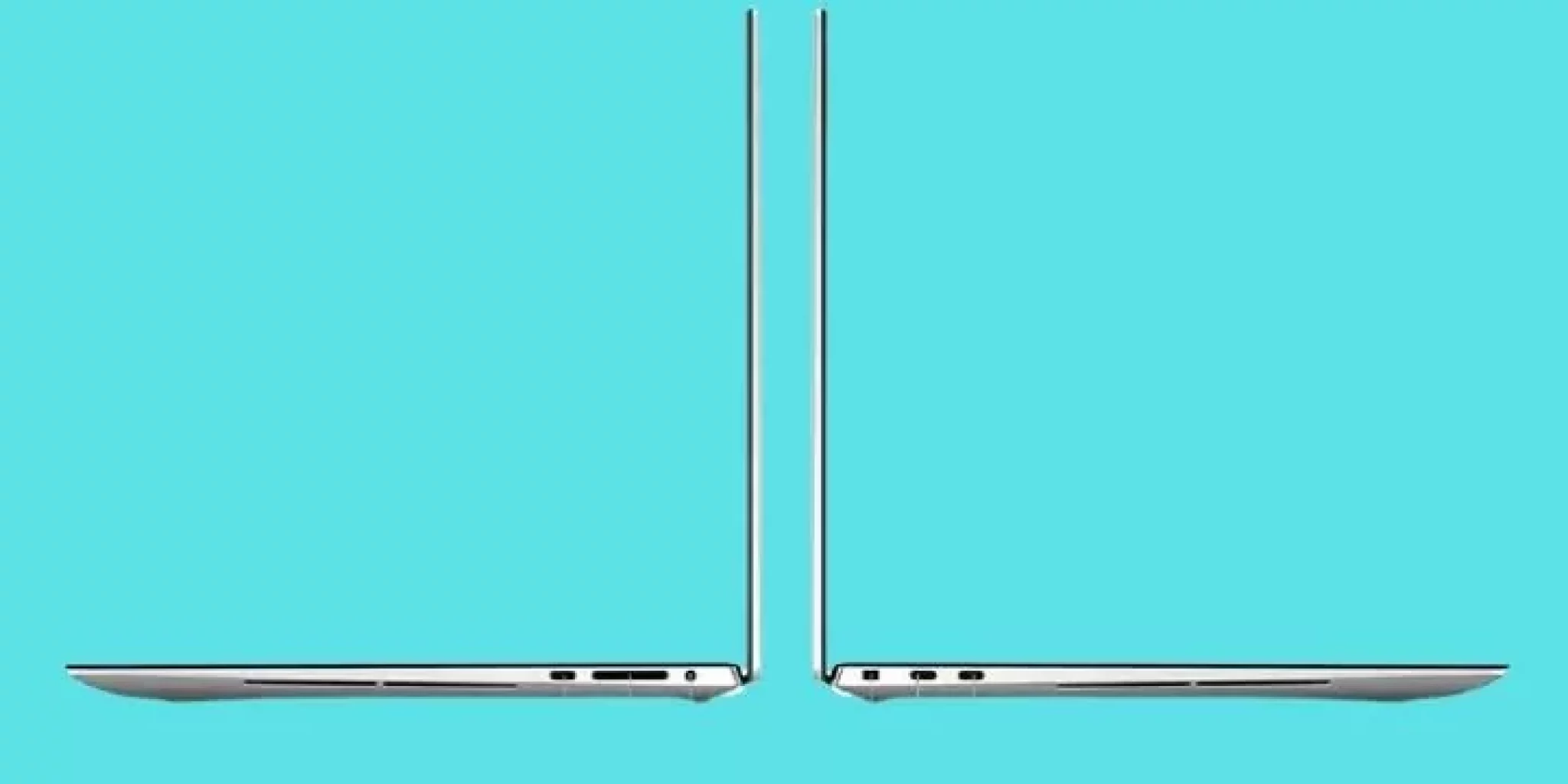 DELL XPS 15 All in One: Ports and Connectivity
You can have all of the ports and connectivity choices in addition to the powerful performance and beautiful look.
It is a compact and thin laptop, and if there is no essential port connection, it will lose some of its excellent specifications.
On the left side of the Dell XPS 15, there are two Thunderbolt 4 (USB Type-C) ports. This Thunderbolt 4 provides data transfer rates of up to 40GB/s, which is perfect.
A USB 3.2 Gen 2 Type-C connector with DisplayPort and Power Delivery, a full-size SD card reader v6.0, and a 3.5 mm headphone/microphone combo jack are located on the right.
This means you won't be able to connect to a USB Type-A connection or use a standard display right away, but Dell includes an adaptor that converts USB Type-C to USB Type-A and HDMI 2.0 connectors.
The Thunderbolt 4 port may also be used to connect an external display and GPU.
You may get dual-band Killer Wi-Fi 6 AX1650 and Bluetooth 5.1 for your wireless connection. Wi-Fi 6 technology has potential throughput speeds of up to 2.4 Gbps.
It also supports Bluetooth 5.1, so all of your Bluetooth accessories should operate correctly, including the Bluetooth battery indicator that lets you update the device.
Dell XPS 15 All In One: Keyboard and Touchpad
This Dell XPS 15 premium laptop's typing performance has improved somewhat, and its keyboard is not superior to the competitors.
I didn't expect to use such a snappy keyboard and trackpad, and I had hoped for a bit more.
The keyboard and trackpad are adequate; you can type on them or use multiple gestures to speed up your system.
This is a full-size backlit keyboard with three different light-on/off options. By using the F5 key, you may now raise or reduce the backlight power.
If you type more than just the keyboard, you'll have to use more pressure than on specific modern computers, such as the Apple MacBook Pro.
[amazon bestseller="Dell xps laptop" items="5″]
---
FAQs on Dell XPS 15 All In One
Q1. Can I Play Modern Games on Dell XPS 15 all in one?
Dell's XPS series is mainly made for business or Professional work so that you can play entry-level games. However, modern games like League of Legends, Fortnite, and Cyberpunk 2077 will not enjoy it well because they don't have powerful graphics cards as they would be required to play all modern games.
If you want to play games, you can buy any Dell's Alienware or G series laptop.
It will perform great if you do Microsoft Excel, PPT, and educational tasks like programming, pdf editing, Digital Art, etc., you will be able to do all this work efficiently. Still, this laptop is not made for modern gaming.
Q2. Is the Dell XPS 15 9510 worth it?
The Dell XPS is a very premium brand and has provided better quality laptops for many years.
Suppose you are a student or a businessman. In that case, this Dell XPS 15 all-in-one will be the best option for you because all the components are available of better quality which is needed for the professional or education process.
The portability and durability will be high, and the battery life will also be more because once charged, there will be back up for 12 hours in Dell XPS 15 9510.
If you do education or professional tasks like- PPT making, Microsoft Office, Excel, etc. will do all this work in a pinch.
The downgrade of this laptop is that you may have to spend a little more money to get it.
Q3. Which one should I Choose, Business or 2-in-1?
Business laptops are much better for businessmen and students, so they rely on your demands and wants. The traditional laptop has a strong CPU and a long battery life; if you're going to use it outside, you may do it without difficulty.
The 2-in-1 notebook, on the other hand, will be a better choice for individuals who use computers to take notes, give presentations, and sketch or edit digital images.
Also, if you're a student, a touchscreen Dell XPS 15 laptop is a great choice, although it costs a little more than other laptops and business notebooks.
If you're looking for laptops for a specific purpose, begin with the software requirements and move from there.
Q4. What about Video Editing?
The Dell XPS 15 is a great choice for video editing. The powerful 32GB RAM makes it easy to handle most video editing software.
Additionally, this laptop offers 100% Adobe RGB and DCI-P3 coverage, and the OLED panel has a higher contrast ratio. It also has individual backlighting, making it a better choice for video editors.
The CPU is one of the most important aspects of a video editing laptop. The Dell XPS 15 offers an 11th Gen Intel Core i9-11900H processor with eight cores and a 4.9GHz frequency.
Another important component for video editing is the GPU, and this notebook features an NVIDIA GeForce RTX 3050 Ti with 4GB GDDR6 graphics.
In addition to the processor and GPU, the video editing laptops have the following features:
A large storage capacity (SSD) and RAM
4K display for watching video
A keyboard and mouse for editing
The DELL XPS 15 all in one has all of these features, so it will be a great option for video editing.
More follows…