A few years ago, we were frustrated with transferring data because transferring smaller files took a long time.
What do the peripherals?
The USB port needs to be fixed and always faces data transmission and connection problems in most cases.
Technology is developing very fast, and data transmission has become so quick.
We can transfer large files in less time without getting frustrated.
In addition, if you have a large monitor at home, you can enjoy it by connecting to a laptop or PC.
You can enjoy any movie program or audio through the Thunderbolt port.
Before buying gadgets such as laptops, desktops, PCs, etc., you must pay attention to what ports and connections are included.
The latest Thunderbolt ports are high-speed; if you choose only some of these fastest connections in your computer, you will feel a bit low after two or three years.
What is Thunderbolt 3?
In early December 2015, Intel launched Thunderbolt 3, a particular port that connects to a USB Type C connector. Thunderbolt 3 is the successor to the Thunderbolt 2 port, adding many new features.
With the maturity of standard port performance and fewer adapters, most users will welcome Thunderbolt.
The goal of Thunderbolt is to provide users with desktop-like performance on a laptop computer, which is difficult to achieve through USB. In addition, it can transmit fast data through a single port and share video output with peripheral devices.
Using an older USB port is too bad because Thunderbolt 3 is high-speed. It is much faster than the current maximum speed of USB and is the same as Thunderbolt 4 so far.
A few years ago, if you put the connector in the USB cable, you had to connect it carefully because some pins might damage it. With the Thunderbolt 3 port, you don't need to connect to other ports.
Features of Thunderbolt 3
Many unique features have been added to Thunderbolt 3.
Also, It is a superset of USB-C; you can plug a USB-C-only device into the Thunderbolt 3 port.
The Downgrade is You can't connect a 2-meter USB cable through Thunderbolt 3.
The main features of Thunderbolt 3 include:
It transmits data at a speed of 40Gbps, which is much faster than USB-C.
You can connect a 4K monitor or a 5K monitor to route video and audio output.
It supports Gigabit Ethernet.
We can connect multiple devices connected for serial connection and access by one computer.
With the Thunderbolt 3 port, you can connect to any docking station, device, and PCle GPU at 10Gbps.
Compatibility: Thunderbolt 3 can replace USB 2.0, 3, 1, 3.2 ports.
How Thunderbolt 3 Made?
The Thunderbolt 3 port looks the same as the circular USB-C reversible connector. In fact, from the plug-in point of view, the connector is physically the same.
Thunderbolt 3 can complete all the functions of USB-C and can replace USB 2.0, USB 3.1, and USB 3.2 ports.
Thunderbolt 3 provides data transfer at a higher speed of 40 Gbps, twice that of previous standards such as Thunderbolt 2 and USB 3.
What is Thunderbolt 4?
In 2020, Thunderbolt launched a new version of Thunderbolt 4 with an Intel Tiger Lake processor. Its design is the same as the Thunderbolt 3 USB Type-C reversible connector. Some new features not available in the previous version have been added.
A Thunderbolt 4 port can complete all connections, including USB 2.0, USB 3.1, USB 3.2, and Thunderbolt 3.
Everything you need to know is a backwards compatible port with Thunderbolt 3 and USB 3.
Features of Thunderbolt 4
Thunderbolt 4 Port adds many new features, such as
With the Thunderbolt 4 port, you can connect any USB or Thunderbolt cable, no matter its size.
Here, connecting a peripheral with a Thunderbolt IV laptop or personal computer through the docking station can also be slid out by the connected device.
Thunderbolt 4 supports two 4K displays or one 8K display/display.
Able to continuously transmit data at a rate of 40Gbps bandwidth.
It supports docking stations with up to four Thunderbolt 4 ports.
Thunderbolt 4 provides direct memory access (DMA) protection to prevent physical DMA attacks.
High-speed charging support: It Supports 100W Power Delivery charging to other devices, such as smartphones, PCs, etc.
The PCIe data speed has doubled from the previous version to 32Gbps.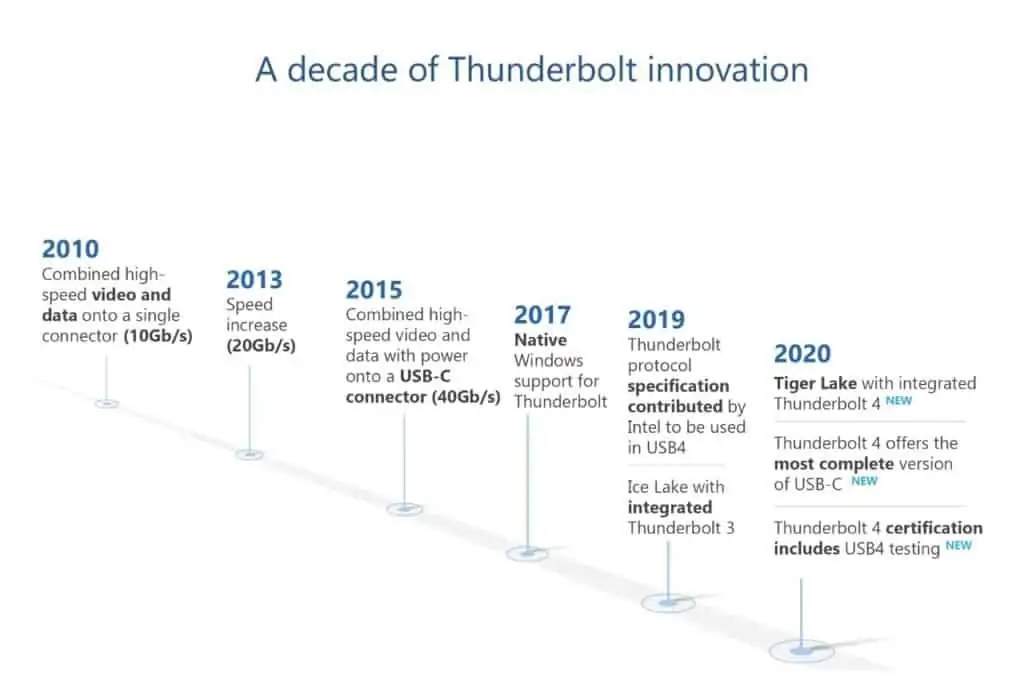 How is Thunderbolt 4 made?
Thunderbolt 4 is the latest and fastest special port type. It is made based on Thunderbolt 3's innovation and can use a single USB-C cable to transfer data and video output to the monitor and power the device.
Thunderbolt 4 is the most comprehensive solution provided by the USB-C connector.
It must be ensured that all functions provided by Thunderbolt 3 are met in 4.
Visually, this Thunderbolt 4 is similar to the USB 4 or Thunderbolt 3 connector that uses a round reversible Type-C.
Overview of the differences between Thunderbolt 3 vs. 4
The difference has been given in the table, which is of Thunderbolt 4 vs. 3. if you want to know more then, you can visit the official site.
| | | |
| --- | --- | --- |
| Parameters | Thunderbolt 3 | Thunderbolt 4 |
| Universal Port | Yes | Yes |
| Data Transfer speeds 40GBps cables up to two meters | No | Yes |
| Accessories with up to 4TB ports | No | Yes |
| Minimum PC/laptop speed requirement | 40Gbps | 40Gbps |
| Minimum PC/laptop video requirement | One 4K display | Two 4K displays or one 8K display |
| Minimum PC/laptop data requirement | PCIe 16Gbps, USB 3.2 10Gbps | PCIe 32Gbps, USB 3.2 10Gbps |
| Laptop charging port | No | One required |
| PC Wake up from sleep with TB dock connected | No | Necessary |
| Minimum PC/laptop port power for accessories | 15W | 15W |
| Thunderbolt Networking | Yes | Yes |
| Mandatory Certification for PCs and accessories | Yes | Yes |
| Intel VT-d based DMA protection is necessary | No | Yes |
| USB4 specification | Compatible | Compliant |
Thunderbolt 3 Vs Thunderbolt 4: Key Differences
Thunderbolt 3 and Thunderbolt 4: Data Transfer
Through these two ports, you can quickly transfer data at 40 GB per second. However, with Thunderbolt 4, you can consistently transfer data at high speed, but not with Thunderbolt 3.
Thunderbolt 4 and Thunderbolt 3: Device Support
By connecting Thunderbolt 4, you can enjoy up to four TB4, but not in Thunderbolt 3.
You can connect additional peripheral devices through these two ports, such as USB, mouse keyboard, monitor, etc. The most important thing is that you can also connect an external GPU, a unique feature everyone likes.
Thunderbolt 3 vs 4: Display Connection
One of the highlights of Thunderbolt 4 and Thunderbolt 3 is their versatility. In addition to providing breakneck transfer speeds, the bandwidth of Thunderbolt 4 can drive up to two 4K or one 8K displays at a frequency of 60 Hz, but Thunderbolt 3 only supports one 4K display.
Thunderbolt 4 and 3: Power Transmission
The latest Thunderbolt supports up to 100W of power; this means you can charge external devices that support fast charging (such as smartphones or any other devices), but not in Thunderbolt 3.
Thunderbolt 4 and Thunderbolt 3: Security
Thunderbolt 3 does not provide any security measures, which means that each other's data will be shared without permission when you connect any other devices.
However, DMA protection based on Intel VT-d has provided the necessary security in Thunderbolt 4, and you have no right to access any data without permission.
Thunderbolt 3 and Thunderbolt 4: Other Features
The Thunderbolt 4 is equipped with this facility, which means your laptop or PC can sleep and slide out on any external device.
Thunderbolt 3 has a minimum requirement of Pcle 16 Gbps, but the minimum requirement in a Thunderbolt 4 PC or laptop is Pcle 32 Gbps.
---
Final Words
All Thunderbolt 4 laptops are the most expensive, but Thunderbolt 3 laptops may be a better choice at a lower price.
The above is given by the information collected through the official website search; this is the difference between Thunderbolt 4 and Thunderbolt 3.
This article clears all your doubts about the Thunderbolt 4 vs 3. Please write in the comment box below if you have any questions or suggestions.
We will reply as soon as possible.
Thanks for reading. Have a good day.
Disclaimer: All information, logos, and images used on this page were not created by PCVenus. We copied features and data from the official Intel and ThunderBolt websites. We only use it for educational purposes.
"Thunderbolt and the Thunderbolt logo are trademarks of Intel Corporation or its subsidiaries."
"Thunderbolt is a trademark of Intel Corporation or its subsidiaries."
---