Intel enthusiastically introduced Thunderbolt 4 and USB 4 with Tiger Lake CPU in 2020 with improved features and compatibility.
Today's technology is developing rapidly, and we will see many advanced technical features in the future.
So at this time, all companies have the equipment to provide some advanced functions. Intel is just a little behind, and new versions of USB and Thunder ports are also being released this year.
It reports that we need clarification because both ports are made using the same type of USB Type C round reversible connector.
You need to know that USB 4 and Thunderbolt 4 are the same; there is some difference, which we will discuss in this article.
What is Thunderbolt 4?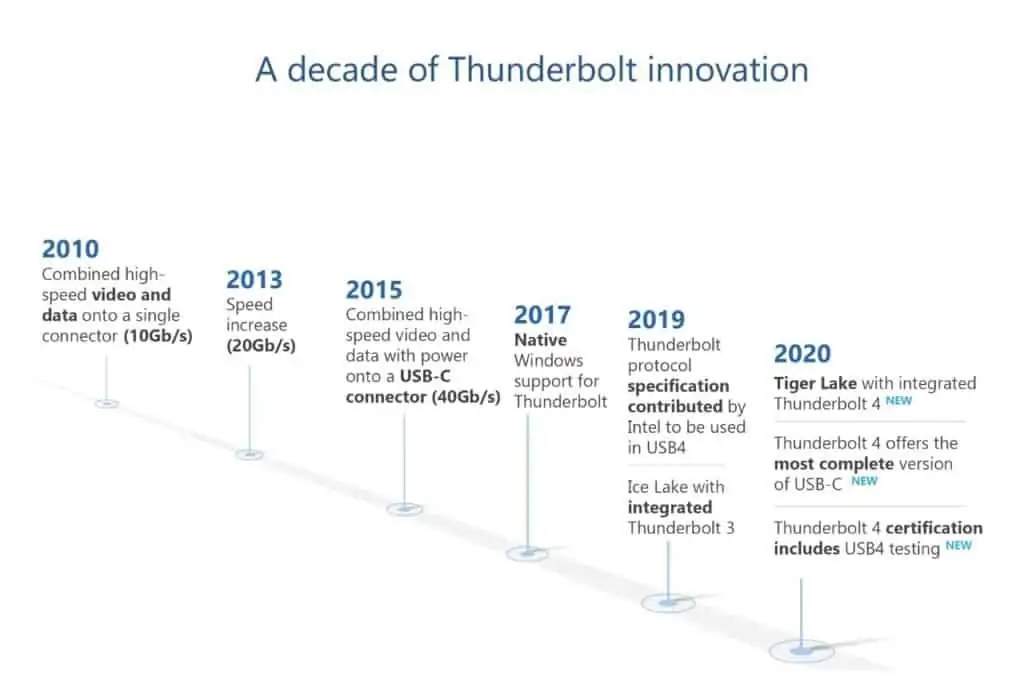 The Thunderbolt 4 is a unique cable USB port, which is the successor to Thunderbolt 3. You can use Thunderbolt for cable connection. There are some particular types of devices, and they can also be used as Thunderbolt 3 USB Type C ports.
If you prefer an external monitor, this Thunderbolt port is essential on your laptop or personal computer. You can transfer up to 40GB of data and charge your laptop 100 watts of power through this Superfast port.
The earlier port is Thunderbolt 3, where you cannot connect a 2-meter USB type c monitor and other peripherals. But now, with this Thunderbolt 4, you can easily connect longer than Thunderbolt 3 external monitors, external GPUs, etc.
With this Thunderbolt, you can connect a high-resolution monitor with a Type C cable that supports up to 8K. In addition to this DisplayPort, there are many benefits to having the fastest port.
Thunderbolt 4 has special features, such as support for UHD (7680 × 4320) external screens, and high-speed devices can be connected to obtain high bandwidth.
If you want to connect a device to share data with someone, you can easily connect through it.
Features of Thunderbolt 4
It provides high bandwidth for connecting high-speed devices like CPU, 8K Monitor, etc.
Thunderbolt cables help ensure a high-quality connection between external peripherals and the PC.
Thunderbolt accessories can easily extend the functionality of your PC through docking options and external devices.
Improved Security:
Security is greatly improved. Using Thunderbolt 4 to connect peripherals, you must obtain appropriate permissions to transfer specific data types.
Add Wake from sleep feature:
This feature allows peripherals connected through the docking station to take a Thunderbolt 4 laptop or PC out of sleep.
What is USB 4?
USB 4 is a special type of USB port, the successor of USB 3.0 and sp 3.2. You can use USB 4 to transfer 20 to 40 GB of data per second. It uses the same reversible type-c connector as Thunderbolt 4 and 3.
USB 4 does not guarantee that you can transfer at a rate of 40GB/s. Sometimes even the second part of the 20GB data transfer occurs.
If your laptop has a Thunderbolt 4 port, it can be used as Thunderbolt 3, USB 4, USB 3, etc. If your computer has a USB 4 port, it cannot be used as Thunderbolt 4, 3, etc.
This is why Thunderbolt is recommended more than USB 4 ports.
Thunderbolt 4 Vs. USB 4: Key Differences
According to the Intel Official Website, we have put some key differences between USB 4vs Thunderbolt 4. For more information, visit Intel Newsroom Official Site.
| | | |
| --- | --- | --- |
| Parameters | USB4 | Thunderbolt 4 |
| Universal Port | No | Yes |
| Data Transfer speeds 40GBps cables up to two meters | No | Yes |
| Accessories with up to 4TB ports | No | Yes |
| Minimum PC/laptop speed requirement | 20Gbps (optional – 40Gbps) | 40Gbps |
| Minimum PC/laptop video requirement | One display with no minimum resolution | Two 4K displays or one 8K display |
| Minimum PC/laptop data requirement | USB 3.2 10Gbps | PCIe 32Gbps, USB 3.2 10Gbps |
| Laptop charging port | No | One required |
| PC Wake up from sleep with TB dock connected | No | Necessary |
| Minimum PC/laptop port power for accessories | 7.5W | 15W |
| Thunderbolt Networking | No | Yes |
| Mandatory Certification for PCs and accessories | No | Yes |
| Intel VT-d-based DMA protection is necessary | No | Yes |
| USB4 specification | Compliant | Compliant |
Table Source: newsroom Intel
Thunderbolt 4 vs USB 4 Speed:
Two ports 4 may share the same bandwidth, but in terms of data transmission, Thunderbolt 4 can transmit a minimum and a maximum of 40GB/s, while USB 4 can transmit 20GB/s or 40GB/s of data.
In addition, there is no guarantee that the USB will transfer peak data at a speed of 40GB/s.
USB 4 vs. Thunderbolt 4 Connectivity:
Thunderbolt 4 also guarantees that you can run a pair of 8K displays with UHD resolution (7680 × 4320) pixels. Through USB4, we can connect a single 4K external monitor.
Therefore, the Thunderbolt 4 port can be more versatile than USB4.
Both Thunderbolt 4 and USB4 cables are fully interchangeable and backward compatible.
Advantages of Thunderbolt 4
The primary purpose of Thunderbolt 4 is that you can easily connect input and output devices to any personal computer or laptop.
There are many advantages, such as-
It is flexible
Thunderbolt 4 can perform different tasks at the same time, such as connecting to an external display, transferring data, and powering compatible devices.
Support different connections
As I said before, if your laptop has a Thunderbolt 4 port, it can be used as a lot of additional ports, such as Thunderbolt 3, USB, DisplayPort, and PCle.
You can use Thunderbolt 4 to connect the following External Components-
External GPU
We can connect an external GPU to improve game performance, and it should be compatible with PCle devices.
External storage
If your laptop has less internal storage, you can quickly increase it if it has a Thunderbolt port that supports external SSD and solves the system storage capacity.
Monitor
Through the Thunderbolt 4 port, two displays can be connected via an adapter or cable up to the 8K resolution DisplayPort system.
The external Thunderbolt monitor can be directly connected to a laptop or personal computer.
Peripherals
You can connect external USB peripherals, such as USB keyboards, gaming headsets, mice, etc.
Networking
It is also very useful in networking, and you can connect to the computer this way, through an adapter or use a Thunderbolt cable to connect to a high-speed 10 Gigabit Ethernet.
In addition, through the Thunderbolt 4 port, you can quickly transfer large amounts of data from one laptop/PC to another.
In terms of Fast Charging
Thunderbolt is also very useful for charging another device. If your mobile phone, laptop, and other electronic devices support less than 100W of power, you can easily charge them quickly.
---
FAQs about USB 4 vs Thunderbolt 4
Q1. What is Thunderbolt Hubbing?
In 2021, Intel provided Thunderbolt 4 for Thunderbolt Hubbing. This advanced feature should have been included in the previous version, but it has been delivered.
It allows you to connect 4 ports in a hub independently. If you disconnect the device in this Thunderbolt Hubbing, it will not affect any other devices.
For Apple's MacBook users, Thunderbolt is nothing new, but you need to upgrade the operating system to realize the Thunderbolt hub function.
Apple provided a Thunderbolt port for MacBook many years ago, so almost every user can use this technology.
Q2. Are Thunderbolt 4 and USB 4 the same?
No, there are many differences between these two ports, but they use the same connection, a Type C port.
The difference between Thunderbolt 4 and USB 4, such as-
Data transfer: Thunderbolt 4 has a capacity of 40GB/s, while USB 4, has 20GB/s, or 40GB/s, depending on compatibility.
Connection: You can connect 4 hubs in Thunderbolt 4, but not in USB 4.
---
Final Words
We hope this article clarifies all your doubts about the difference between Thunderbolt 4 and USB 4 ports.
If you want to know more and give us some advice, write in the comment box below. We will reply as soon as possible.
Disclaimer: All information, logos, and images used on this page were not created by Guidetocart. We copied features and data from the official Intel and ThunderBolt websites. We only use it for educational purposes.
"Thunderbolt and the logo are trademarks of Intel Corporation or its subsidiaries."
"Thunderbolt is a trademark of Intel Corporation or its subsidiaries."