Acer has recently stirred things up in the laptop market by launching the updated Swift X16, which has great features. This laptop is budget-friendly and launched with excellent features and powerful hardware. While high-end laptops are typically expensive, Acer has chosen a different path.
The Swift's base model, the configuration we'll be talking about, comes with AMD's latest Ryzen 9 7940H processor, NVIDIA RTX 4050 graphics, 16GB of RAM, and a 120Hz 3.2K OLED screen, and currently retails for $1,599.99.
In this article, we'll explore the Acer Swift X16 from the ground up, covering its powerful processor and dedicated GPU. We'll look closer at its design, display quality, battery life, keyboard, and trackpad.
Additionally, we'll evaluate its performance in different tasks, including everyday computing, content creation, video editing, and programming.
Acer Swift X 16
Release Date: April 2023
Model: SFX16-61G
Laptop Type: Traditional
Series: Swift X
Available on:
Acer Swift X 16: Key Features
| | |
| --- | --- |
| Model Name | Acer Swift X 16 |
| Processor | AMD Ryzen 9 7940HS |
| Core | 8 Cores, 16 Threads |
| Frequency | 4 GHz up to 5.2 GHz |
| RAM | 16 GB LPDDR5 |
| Storage | 1TB PCIe Gen4 SSD |
| Graphics Card | Nvidia RTX 4050 |
| Display | 16 Inches, WQXGA+(3200 x 2000),120Hz, Non-Touch, OLED, 500 nits |
| Operating System (OS) | Windows 11 Home |
| Weight | 1.9 kg (4.2 lbs) |
| Battery | 76 Whr, Lithium-Ion |
Acer Swift X 16: Full Specifications
Processor (CPU)
| | |
| --- | --- |
| Processor Model Name | AMD Ryzen 9 7940HS |
| Processor Speed | 4 GHz up to 5.2 GHz |
| Cores | 8 |
| Thread | 16 |
| Cache Memory | 16 MB |
| Fabrication Process | 4 nm |
Video Card
| | |
| --- | --- |
| Graphics Processor | NVIDIA GeForce RTX 4050 |
| Graphics Memory Capacity | 6GB |
| Graphic Type | Dedicated |
| Memory Type | DDR6 |
| Fabrication process | 4 nm |
| Shading cores | 2560 |
| Base Clock | 1605 MHz |
| Boost Clock | 2370 MHz |
| Memory speed | 16000 MHz |
| Total Graphics Power | 100 W |
RAM
| | |
| --- | --- |
| Memory Capacity | 16 GB |
| Memory Type | LPDDR5 |
| Frequency | 6400 MHz |
| Memory Slots | 2x8GB |
| Upgradable | Yes |
| No Of Slot | 2 |
Storage
| | |
| --- | --- |
| Storage Capacity | 1TB |
| Storage Type | PCIe Gen4 SSD |
| Channels | 1x 1TB |
| Upgradable | Yes, Up to 2TB |
Display
| | |
| --- | --- |
| Screen Size | 16 inches |
| Screen Resolution | 3200 x 2000 pixels |
| Refresh Rate | 120Hz |
| Pixel Density | 236 ppi |
| Display Screen Type | OLED |
| HDR support | Yes |
| Touch Input | No |
| Coating | Glossy finish |
| Maximum brightness | 500 nits |
| Aspect ratio | 16:10 |
| Contrast | 1,000,000:1 |
| sRGB Color Space | 100% |
| DCI-P3 color gamut | 100% |
| Adobe RGB | 97 |
Battery
| | |
| --- | --- |
| Capacity | 76 Whr |
| Charging time | 1:55 hr |
| Battery type | Lithium-Ion |
| Removable | No |
| Fast charging | Yes |
| USB power delivery | Yes |
| Charging connector location | Left |
| Charging power | 135 W |
Frame
| | |
| --- | --- |
| The weight | 1.9 kg (4.2 lbs) |
| Dimensions | 14 x 9.8 x 0.7 inches |
| Screen-to-body ratio | ~87.4% |
| Side Frames | 5.5 mm |
| Material | Aluminum, Magnesium alloy |
| Colors | Gray |
| Transformer | No |
Thermal Management
| | |
| --- | --- |
| Cooling type | Active |
| Evaporation chamber | No |
| Liquid Metal | Yes |
| Number of Fans | 2 |
| Noise Level | 45.6 dB |
Sound
| | |
| --- | --- |
| Speakers | 2x Stereo Speakers, Acer TrueHarmony |
| Speaker Power | 2x2W, 2×0.8W |
| Dolby Atmos | No |
| Loudness | ~81.1 dB |
| Microphones | 2 |
Communications
| | |
| --- | --- |
| WiFi Version | v6E |
| Bluetooth | v5.3 |
| Fingerprint Scanner | Yes |
| Drive | No |
| Webcam | Above the display |
| Webcam Resolution | 1920 x 1080 |
IO and Ports
| | |
| --- | --- |
| USB Type -A | 2x USB-A |
| USB Type -C | 2x USB-C 3.2 |
| Thunderbolt | 1x Thunderbolt 4 |
| HDMI | 1x HDMI 2.1 |
| Display port | No |
| VGA | No |
| Audio port (3.5mm) | Yes |
| Ethernet (RJ45) | No |
| card reader | Yes |
| Separate charging port | No |
Keyboard and Touchpad
| | |
| --- | --- |
| Key type | Island |
| Numeric Block | Yes |
| Keyboard Size | 12.7 x 8.3 cm |
| Backlight | Yes |
| Surface | Glass |
| Windows Precision | Yes |
Benchmark
| Test | Single-Core | Multi-Core |
| --- | --- | --- |
| Geekbench 5 | 1897 | 11740 |
| Cinebench R23 | 1790 | 16800 |
Price and Availability
Acer is making waves in the tech industry by releasing a new and improved Swift X 16 laptop. The good news is, it's not too expensive. Usually, laptops with these cool features come with a hefty price tag, but Acer makes it even cheaper. However, Acer has taken an interesting approach to pricing, aiming to make the Swift X16 accessible to a wide range of customers.
Its base model has a AMD Ryzen 5 7535H processor, 16GB of RAM from last year's RTX 3050 graphics, and a 2560×1600 LCD. The model above has an AMD Ryzen 7 7840HS processor with NVIDIA GeForce RTX 3050 L graphics and 16GB of RAM. Its current price is $1,199.99.
Additionally, the configuration I will describe features 16GB of RAM with AMD's latest Ryzen 9 7940H processor, an NVIDIA RTX 4050 graphics, and a 120Hz 3.2K OLED screen, with a current price of $1,599.99 (The day we are writing the review).
As laptop prices keep fluctuating, you must remember that the price is not fixed; it may vary from place to place. You can buy it from Acer's official website and e-commerce website.
Also Read: 

Performance
Processor
The performance of its processor is commendable. It comes with an AMD Ryzen 9 7940HS processor with 8 cores and 16 threads, a base clock of 4GHz, and a top boost clock of 5.2GHz. It perfectly handles all the daily use tasks, whether attending virtual work meetings, word processing, or working on Photoshop projects.
When benchmarked with PCMark 10, which measures a laptop's performance in modern office tasks, its performance isn't exceptional. Still, its score of 7,572 is just about right, making it competitive among other laptops in the market.
In this benchmark, it performed slightly better than the Lenovo Legion 5i Pro (Gen 7) but fell short of the MSI GE76 Raider gaming laptop.
When tested on Geekbench 5, it scored 1,897 in single-core and 11,740 in multi-core, which is a respectable score.
The Swift processor in Cinebench R23 scores 1790 for single-core and 16800 for multi-core. This means the Swift processor is powerful, handling multiple tasks and demanding apps smoothly.
Graphics Card
The GPU features 6GB of GDDR6 dedicated Video Random Access Memory with speeds up to 16000 MHz. This memory manages graphics tasks well by handling textures and frame buffers. GDDR6 memory is suitable for various tasks, enabling better GPU performance and faster data transfer between the GPU and video memory. Additionally, the 4nm manufacturing process makes GPUs more efficient and faster.
The RTX 4050 has 2560 shading cores, making it great for handling tasks like rendering 3D scenes, ray tracing, and other graphic calculations.
The base clock speed of 1605 MHz represents the default operating frequency of the GPU, while the boost clock speed of 2370 MHz indicates the maximum clock speed it achieves under heavy load. This higher clock speed results in better graphics performance.
The performance of a GPU is also affected by the laptop's ability to maintain thermals and power. Acer's engineering solutions, like twin fans and dual D6 copper heat pipes, help keep the laptop cool even during benchmarking. The fans become slightly audible under heavy load.
Also Read: What to Look for in a Graphics Card? Everything You Need to Know
Storage and RAM
This laptop has a 1TB PCIe4 solid-state drive (SSD), which can be upgraded to 2TB. 1TB SSD storage is plenty for today's laptops so that most tasks can be done easily. With SSD, the laptop runs smoothly without any interruption.
Its 16GB LDDR5 RAM is enough for daily use. Despite having over 15 tabs open and multiple videos playing on YouTube simultaneously, the laptop did not experience any lag. This RAM suits multitasking and handling heavy browser pagination and multimedia content without sacrificing performance.
Also Read: SSD vs HDD: What's the Difference?
Gaming Performance
The laptop has an NVIDIA RTX 4050 GPU, which is not the most powerful in NVIDIA's lineup but is still capable of delivering satisfactory gaming performance.
It gets a boost with a higher power limit (100W) than most laptops in its group, which usually aim for 40 to 75W. This extra power gives it an advantage in gaming performance over similar laptops with lower GPU power settings.
This laptop offers a decent gaming experience and is suitable for casual gamers and those who want an all-around notebook that can handle gaming to a certain extent. It's important to know that although the laptop is not specifically designed for gaming, it can run very well for other tasks.
Also Read: How to Improve Gaming Performance? [Step-by-Step Guide]
Cyberpunk 2077
Cyberpunk 2077 needs better graphics so that it won't run on every laptop. However, when we tested it on this Swift X 16, it maintained an average of around 37 to 40 frames per second in different testing situations. This frame rate is good for this laptop but below the 60 fps threshold, which is generally considered ideal for smooth and immersive gaming. Therefore, this laptop is better suited for casual gaming than demanding games in high settings.
Shadow of the Tomb Raider
In Shadow of the Tomb Raider, this laptop reached an average frame rate of 97 per second when playing at 1080p resolution with the best detail settings. This is impressive, especially for a computer not mainly made for gaming. This laptop can smoothly handle older or less demanding games, giving a pleasant gaming experience.
Escape from Metro
In Metro Exodus, the Swift X 16's performance could have been better, maintaining an average of 30 frames per second on the gaming benchmark at 1080p resolution and Extreme Graphics Detail settings. This result is on par with the performance of the Lenovo Slim Pro 9i, indicating that the laptop encounters some limitations when handling graphics-intensive games.
Design and Build Quality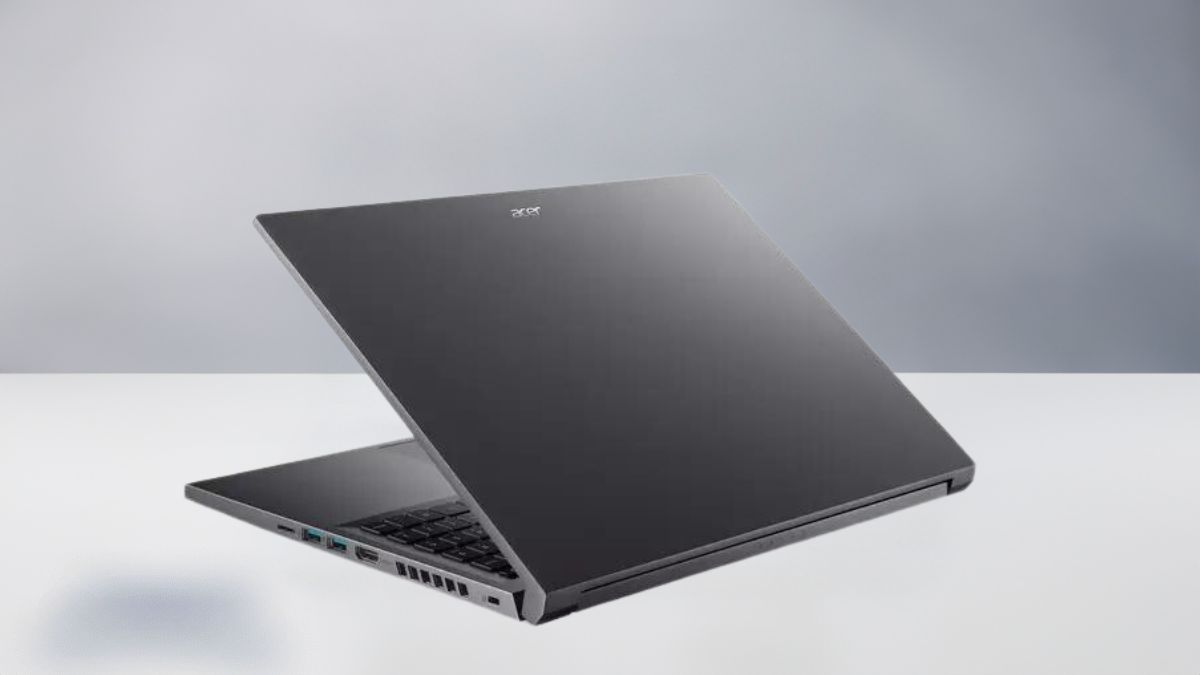 The laptop is thin, measuring 0.7 inches thick, 14 inches long, 9.8 inches wide, and about 1.9 kilograms. That's relatively light for a 16-inch laptop and shows Acer's knack for fitting powerful hardware into a compact, well-built chassis—many thanks to Acer for making such a great laptop.
The design has been significantly improved and appears more professional. The chassis is made from anodized aluminum, giving it a premium and solid feel. It's not an ordinary laptop; The monochrome option Iron (steel grey) adds to its soft elegance. Additionally, it features a Windows Hello-certified fingerprint reader for enhanced security and convenience when logging in.
Also Read: Best Laptops for Graphics Design
Display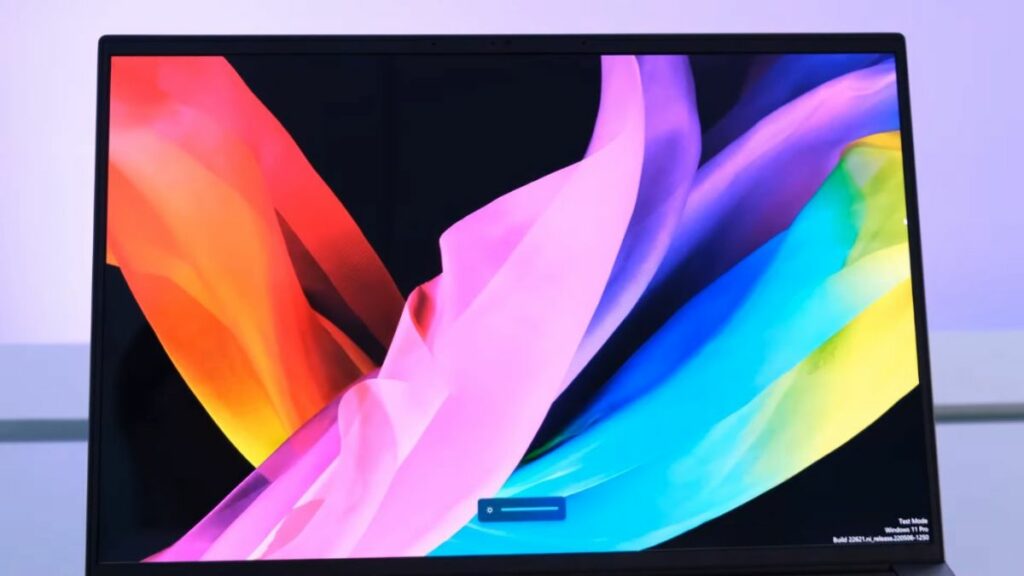 It has a 16-inch OLED display, further enhancing this laptop's beauty. It delivers vivid and intense visuals with its 120Hz refresh rate, resulting in deep blacks, vibrant colors, and a silky-smooth feel to the display. It's great for content creation because of its high contrast and color accuracy.
The screen has a brightness of up to 400 nits and a True Black HDR-certified brightness of 500 nits. This high brightness brings deep blacks and excellent dynamic range, improving the visual experience. There is no problem using it outdoors at full brightness, even in bright sunlight.
The monitor covers 100% of the DCI-P3 color range, reproducing highly accurate color. This precision is especially beneficial for professionals and creatives who need accurate color work. Additionally, the monitor performs well, providing a visually immersive gaming experience.
Battery
The Swift X16 comes with a built-in 76 Whr battery. However, one notable downside is its battery life. While many laptops today can last around 10 hours for regular office tasks on a single charge, this one, with the display at 50% brightness, only lasts 6 to 7 hours for similar tasks. The battery life is decent, and it supports fast charging, fully recharging from 0 to 100% in just 1 hour and 55 minutes.
Also Read: How to Improve Laptop Battery Life? [Step-by-Step Guide]
Ports and Connectivity
On the left edge is a barrel jack for the power adapter, two USB4 Type-C ports, and a headphone jack. The USB-C ports support high file transfer rates of up to 40 Gbps and are also used for charging and power delivery up to 60W.
On its right side is a Kensington lock, an HDMI 2.1 port, a USB 3.2 Gen 2 port, a USB 3.1 Gen 1 port, and a microSD slot. They are also provided with an HDMI 2.1 modern port.
It has Bluetooth 5.2 and Wi-Fi 6E, which provides strong wireless connectivity. This newer version of Wi-Fi offers excellent download speeds when connected to a router.
Keyboard and Touchpad
The laptop features a keyboard with a numeric keypad, which is uncommon in most notebooks but can be essential for specific tasks. If you're used to a computer without one, it might take some time to get used to.
The keys on the keyboard have good travel and are not recessed, providing a quiet typing experience, although they may feel a bit 'mushy.' The backlit keyboard offers three brightness levels, which helps work in low-light conditions.
Top function buttons offer quick access to standard controls like muting the microphone and adjusting volume and screen brightness. The power button's thoughtful placement at the top right reduces the chance of accidental presses during regular use.
The laptop boasts a large touchpad, approximately 12.7 cm tall by 8.3 cm wide, praised for its size, providing ample room for multitouch gestures.
It's smooth, responsive, and effectively rejects unintended inputs, ensuring a pleasant user experience. The touchpad's slightly off-center layout accommodates the numeric keypad on the left side, a common design choice for laptops with a numpad.
Everyday Use
Multitasking
Its eight CPU cores and 16 threads handle multiple applications simultaneously without slowing down. It does not slow down even when I simultaneously open 15-20 tabs on the laptop. It ran smoothly even when I opened multiple web browsers simultaneously and played videos on YouTube and Netflix.
Everyday work
This laptop suits everyday tasks like word processing, web browsing, email, data entry, etc. Its powerful processor and ample RAM complete these tasks quickly and efficiently. Including a high-resolution OLED display also enhances the overall productivity.
Video Editing
This laptop has excellent benefits in video editing. The OLED display with high color accuracy, contrast, and resolution makes it excellent for video editing. Its dedicated NVIDIA GeForce RTX 4050 GPU provides the following:
The graphical power required for video editing software.
Making it easily handle video rendering.
Effects.
Color grading.
Also, this laptop makes video processing and export time very quick.
Online Meetings and Video Conferencing
Its built-in 1080p webcam, coupled with its processing power, delivers high-quality video calls and online meetings. It provides crystal clear video in virtual meetings and video conferencing. Its large OLED display is also beneficial for sharing presentations or collaborating with others during video calls.
Programming (Coding)
A laptop must have a powerful processor and adequate memory for programming and coding tasks. Its octa-core AMD Ryzen 9 7940HS processor, 16GB of RAM, and dedicated NVIDIA GeForce RTX 4050 GPU run the integrated development environment (IDE) flawlessly and easily compile code. It also handles multiple coding projects without performance issues. Its high-resolution display makes code and projects visible with precision.
Also Read: Best Budget Laptops for Programming
Is the Acer Swift X 16 Worth Buying?
What's Good in Acer Swift X 16
Dedicated Graphics
NVIDIA RTX 4050 GPU with 6GB GDDR6 memory delivers satisfying gaming performance and efficiently manages graphics-intensive tasks.
Powerful Processor
The AMD Ryzen 9 7940HS processor has 8 cores and 16 threads for high performance and can handle daily tasks and demanding applications smoothly.
Professional Design
This laptop is made of strong anodized aluminum, which looks fancy and sturdy. It comes in an excellent Iron (Steel Grey) color, and the fingerprint reader makes it secure and stylish.
Large Touchpad
Its large 12.7 x 8.3 cm trackpad provides a smooth and responsive experience, making it a valuable input device. The trackpad's smooth surface further enhances the tactile experience, allowing for easy cursor control.
What's Bad in Acer Swift X 16
Battery Life
The laptop's battery life is not very good, and it is less than many competitors. It lasts 6 to 7 hours during regular office tasks, displaying at 50% brightness.
Gaming Performance
It can run games but is not primarily designed for gaming, and its gaming performance is moderate.
Mushy Keyboard
Some users may find the keyboard keys a little "mushy," if you're used to a different keyboard feel, it may take some getting used to.
Final Words
This laptop offers a good balance of price and performance, catering to various customers with different configurations. The processor, GPU, and ample RAM make it suitable for daily tasks, work, content creation, and most modern gaming. Despite getting a bit warm during graphics-heavy tasks, it performs well.
The 16-inch OLED display is great for movies and graphics, excelling in video editing and coding. However, the battery life could be much better due to its dedicated graphics and powerful hardware. A standout feature is the large touchpad with a numeric keypad.
FAQs
How long is the battery life of the Acer Swift X 16 (2023)?
Its battery life will vary depending on usage and configuration, but it should last around 6 to 7 hours, with its display brightness at 50%.
Is the Acer Swift X 16 (2023) a good value for money?
Yes, the Acer Swift X16 (2023) is a budget-friendly laptop. It comes with a powerful processor, a dedicated GPU, a beautiful OLED display, and ports at a relatively affordable price.
Does the Acer Swift X 16 (2023) have a fingerprint sensor?
Yes, Acer Swift X16 (2023) has a fingerprint sensor; this sensor is given in the power button.