Recently launched, Lenovo's Legion Pro 7i Gen 8 is a gaming laptop that performs very well in the gaming field. It has come in the market with many GPU, storage, and RAM configurations, due to which its price is also different. This gaming laptop is a powerhouse for gaming.
In this article, we will talk about various aspects of the Legion Pro 7i Gen 8, from its price and hardware to its gaming capabilities, design, and versatility.
Whether you're a pro gamer, a content creator, or a professional in need of strong computing power, this review will help you determine whether this laptop is worth the investment.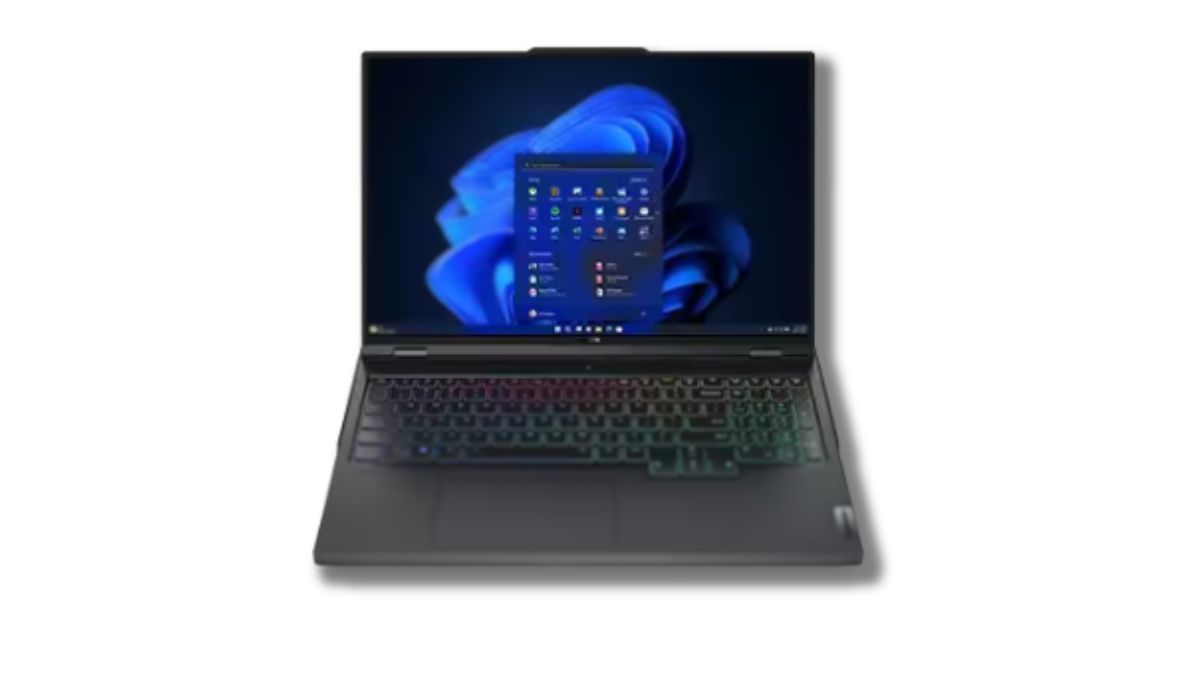 Legion Pro 7i Gen 8
Release Date: February 2023
Model: 82WQCTO1WWUS1
Laptop Type: Gaming Laptop
Series: Legion Pro
Available on:
Lenovo Legion Pro 7i Gen 8: Key Features
| | |
| --- | --- |
| Model Name | Legion Pro 7i Gen 8 |
| Processor | 13th Gen Intel Core i9 13900HX |
| Core | 24 Cores, 32 Threads |
| Frequency | 2.2 GHz up to 5.4 GHz |
| RAM | 16 GB DDR5 |
| Storage | 1TB PCIe 4.0 NVMe SSD |
| Graphics Card | Nvidia GeForce RTX 4080, 175W, 12 GB |
| Display | 16 Inches, QHD (2400 x 1600),240Hz, 500 nits |
| Operating System (OS) | Windows 11 Home |
| Weight | 2.8 kg (6.17 lbs) |
| Battery | 99.9 Whr, Li-Polymer |
Lenovo Legion Pro 7i Gen 8: Full Specifications
Processor (CPU)
| | |
| --- | --- |
| Processor Model Name | 13th Gen Intel Core i9 13900HX |
| Processor Speed | 2.2 GHz up to 5.4 GHz |
| Cores | 24 |
| Thread | 32 |
| Cache Memory | 36 MB |
| Fabrication Process | 10 nm |
Video Card
| | |
| --- | --- |
| Graphics Processor | GeForce RTX 4080 |
| Graphics Memory Capacity | 12 GB |
| Graphic Type | Dedicated |
| Memory Type | GDDR6 |
| Fabrication process | 4 nm |
| Shading cores | 7424 |
| Memory speed | 16 Gbps |
| Total Graphics Power | 175 W |
RAM
| | |
| --- | --- |
| Memory Capacity | 16 GB |
| Memory Type | DDR5 |
| Frequency | 6000 MHz |
| Memory Slots | 2×8 GB |
| Upgradable | Yes, Up to 64 GB |
| No Of Slot | 2 |
Storage
| | |
| --- | --- |
| Storage Capacity | 1 TB |
| Storage Type | M2 SSD |
| Channels | 1×1024 GB |
| No Of Slots | 2 |
| Upgradable | Yes |
Display
| | |
| --- | --- |
| Screen Size | 16 inches |
| Screen Resolution | 2400 x 1600 pixels |
| Refresh Rate | 240 Hz |
| Display Screen Type | IPS LCD |
| Pixel Density | 189 ppi |
| HDR support | Support Dolby Vision |
| Touch Input | No |
| Coating | Matte (Anti-reflective) |
| Maximum brightness | 500 nits |
| Aspect ratio | 16:10 |
| Contrast | 1278:1 |
| sRGB Color Space | 99.7% |
| Adobe RGB profile | 71.2% |
| Response time | 3 ms |
Battery
| | |
| --- | --- |
| Capacity | 99.9 WHrs |
| Charging time | 1:40 hr |
| Battery type | Li-Polymer |
| Removable | No |
| Fast charging | Yes |
| USB power delivery | Yes |
| Charging connector location | Left |
| Charging power | 140 / 300 / 330 W |
| Charge Weight | 1010 / 1068 grams |
Frame
| | |
| --- | --- |
| The weight | 2.8 kg (6.17 lbs) |
| Dimensions | 14.31 x 10.32 x 0.86-1.02 inches |
| Screen-to-body ratio | ~77.9% |
| Side Frames | 9.4 mm |
| Material | Aluminum |
| Colors | Gray |
| Transformer | Yes |
| Opening angle | 180° |
Thermal Management
| | |
| --- | --- |
| Cooling type | Active |
| Evaporation chamber | Yes |
| Liquid Metal | Yes |
| Number of Fans | 2 |
| Noise Level | 57 dB |
Sound
| | |
| --- | --- |
| Speakers | 2.0 |
| Dolby Atmos | No |
| Loudness | ~82 dB |
| Microphones | 2 |
Communications
| | |
| --- | --- |
| WiFi Version | v6E |
| Bluetooth | v5.2 |
| Fingerprint Scanner | No |
| Drive | No |
| Webcam | Above the display |
| Webcam Resolution | 1920 x 1080 |
IO and Ports
| | |
| --- | --- |
| USB Type -A | 4x USB 3.2 |
| USB Type -C | 2x USB 4.0 |
| Thunderbolt | 1x Thunderbolt 4 |
| HDMI | 1x HDMI 2.1 |
| Display port | No |
| VGA | No |
| Audio port (3.5mm) | Yes |
| Ethernet (RJ45) | Yes |
| card reader | No |
| Separate charging port | Yes |
Keyboard and Touchpad
| | |
| --- | --- |
| Key type | Island |
| Numeric Block | Yes |
| Keyboard Size | 12.0 x 7.5 cm |
| Key Travel | 1.5 mm |
| Backlight | Yes |
| Surface | Plastic |
| Windows Precision | Yes |
Benchmark
| Test | Single-Core | Multi-Core |
| --- | --- | --- |
| Geekbench 6 | | |
| Cinebench R23 | | |
Price and Availability
The price of Lenovo's Legion Pro 7i Gen 8 varies as it is available in multiple GPU, storage, and RAM configurations.
The price of its best-selling configuration RTX 4080 GPU, 16 GB RAM, and 512 GB SSD M.2 is $2,385.45 (The day we are reviewing it). The model above is expensive and comes with an RTX 4090 GPU, 32GB RAM, and 1TB SSD M.2 storage. Its price is currently $ 2,891.84 on Lenovo's official website.
Apart from this, there are many other options available, like Windows 11 Pro, Microsoft 365 Personal, and Microsoft Office Professional, which you can buy by customizing it.
For availability, it is available for purchase globally. It is available for purchase on its official website, and it is also available on e-commerce websites like Amazon, and Walmart. But keep in mind that the price may be different on different websites. Hence, it would be better for you to visit all the websites and buy only after comparing the prices.
Performance
Processor
It has a powerful 55W 13th generation Intel Core i9-13900HX processor. It has 24 cores (8 performance cores and 16 efficient cores) and 32 threads, offering a powerful mix of high-performance and efficiency cores. Its 36MB of L3 cache memory increases system performance by reducing the need for the processor to constantly interact with the comparatively slower primary memory.
The processor reaches a maximum clock speed of up to 5.4GHz on its high-performance cores, which is suitable for demanding tasks and gaming. The laptop is capable of running even CPU-intensive applications efficiently, and this is a huge change compared to the previous generation laptops.
Graphics Card
In terms of graphics, its dedicated GPU, NVIDIA GeForce RTX 4080, delivers high-end performance.
When it was benchmarked, it outperformed almost every benchmark test. It received significantly higher scores than last year's Legion Pro gaming laptop, which had a 3000-series GPU and 12th-generation CPU. Its GPU not only performs well in gaming but also handles graphics-intensive tasks very smoothly.
Gaming Performance
Cyberpunk 2077
Red Dead Redemption 2
Control
It has dedicated graphics for gaming, NVIDIA GeForce RTX 4080 GPU, and is configured at a maximum TDP of 175W, which provides an outstanding gaming experience. When gaming at 1080p or 1440p resolution, it consistently outperforms other high-end gaming laptops like the Razer Blade 16 and Asus Zephyrus M16. Only the heavier MSI Titan GT77, which comes with an RTX 4090 GPU, outperforms the Legion.
It offers excellent frame rates for gaming. When playing Cyberpunk 2077 on it with all graphical settings maxed out on Ultra, it maintained an excellent 88 frames per second (fps). Enabling DLSS 3.0 makes the frame rates even more impressive, averaging 136 fps. Dirt 5 and Total War Warhammer III games also maintained excellent frame rates at Ultra settings. Even games with ray tracing and demanding graphical settings, like Marvel's Spider-Man Remastered, run without noticeable stuttering or slowdown.
Despite the laptop's strong gaming performance, it has ventilation issues. Even with three large vents located on the sides and back, the laptop gets quite warm even after prolonged use. However, this can be mitigated by adjusting the fan settings through Lenovo's software, which also allows overclocking.
The best thing about it is that it delivers excellent gaming performance despite being cheaper than most other gaming laptops. It costs about $2,000 less than the Razer Blade 16 gaming laptop.
In the 3DMark Time Spy gaming benchmark, it achieved impressive scores and came second to the MSI GT77 Titan in performance mode. It delivers a smooth and enjoyable experience with great graphical details when gaming in 1080p or 1440p while maintaining high frame rates and outperforming previous-generation laptops.
Storage
In terms of storage performance, it has a 1TB M.2 SSD, but it also has the option of 512 GB and 2TB. This SSD type is known for its high-speed data storage capabilities. It is designed to provide fast read and write speeds, which contribute significantly to the performance of this laptop.
The M.2 SSD provides quick loading times for applications and games, and it enables the laptop to handle data-intensive tasks efficiently.
RAM
It has 32 GB DDR5-5600 RAM; apart from this, there is also the option of 16 GB and 64 GB. This RAM configuration provides excellent performance in gaming and content creation, as these tasks require fast memory access.
DDR5 RAM is the latest generation of DDR memory, and its high data transfer speeds make applications load quickly and run smoothly.
Thermal Management
It gets a little hot when used for a long time, but it is not so hot that it causes any inconvenience in the gameplay. Three large vents are provided for ventilation, but despite this, the laptop gets hot.
However, the option to adjust the fan settings through Lenovo's software also solves this problem, making it manageable. It also has the option to control overclocking, but it is advisable not to overclock as it results in a drastic drop in frame rate, affecting the game's performance.
Design and Build Quality
The design of this Lenovo Legion 7i Pro Gen 8 is not attractive or eye-catching. Lenovo has focused more on providing excellent performance rather than its looks. Its color is a simple all-black, which is plain considering today's laptops, which come with quite exciting color options. It lacks any contrasting colors or attractive design elements. However, it has a subtle and slightly futuristic style that doesn't make it completely unattractive.
The laptop is well-built and feels sturdy enough to handle any challenging situation. One notable aspect is its eco-friendly construction, with the bottom cover made from 50% recycled aluminum and the top cover made using 30% post-consumer recycled polymers.
This is a gaming laptop that is heavy due to its dedicated graphics card and powerful hardware. It measures 14.31 x 10.32 x 0.86-1.02 inches and weighs around 6.17 pounds, which is typical for a high-end gaming laptop. It is designed not for consistent portability but for powerful gaming performance.
It also has a full-sized back keyboard with larger keys and a numlock pad, which enhances typing comfort.
Display
The display of Lenovo Legion 7i Pro is 16 inches with a resolution of 2560 x 1600. This resolution provides excellent sharpness for a screen of this size. Also noteworthy is the 16:10 aspect ratio, which provides a taller screen than standard 16:9 widescreen displays, and this aspect ratio increases versatility, making it suitable for gaming and productivity tasks.
This display has a high refresh rate of 240Hz, which is excellent for better visuals and gaming. This refresh rate is suitable for fast-paced gaming as it makes the motion appear fluid.
It also offers 100% sRGB color coverage, which provides good color accuracy in a variety of applications. It also offers 76% of Adobe RGB and 78% of DCI-P3 color coverage. These color coverage percentages are enough for gaming. Lenovo says it has a maximum brightness of 500 nits, but in testing, it reached about 536 nits. Its high brightness level provides good visibility in well-lit environments.
Battery
It is classified as a desktop replacement gaming laptop, and it is essential to note that such laptops usually prioritize performance over battery life. Despite its 99Wh battery, its backup is one of the worst, lasting barely two to three hours on a single charge. When tested with multiple Chrome tabs, multitasking, music playing, and Adobe Photoshop, it lasted around 2 hours and 40 minutes.
Its battery life is short, but it has quick charging; its 330W power brick charger gets it fully charged in just 1 hour 40 minutes. Apart from this, there is an option to charge the laptop up to 140W via USB-C.
This laptop cannot automatically adjust from 240Hz to 60Hz on battery. You must manually set the refresh rate to find the right balance between performance and battery life.
Ports and Connectivity
In terms of ports and connectivity, it has a lot of options. It has four USB-A 3.2 ports, a USB-C port, a Thunderbolt 4 port, an HDMI 2.1, an RJ45 Ethernet port, a power input, an electronic e-shutter switch for privacy, and a 3.5mm audio jack. Nowadays, most laptops are not provided with so many ports.
But to run the game smoothly, it has been provided many ports with RJ45 Ethernet port along with WiFi version 6E for internet along with many port options so that internet connectivity can be ensured while playing the game. Apart from this, it has Bluetooth version v5.2, which can quickly connect external devices like a keyboard, mouse, and speaker.
Keyboard and Touchpad
It has a full-sized set of arrow keys and a numeric keypad, providing a convenient setup for gaming and productivity tasks. It's easier to access the keys than the full-sized arrangement and doesn't miss dedicated arrow keys, which is a common problem in laptops with compact layouts.
The keyboard provides a satisfactory typing experience. The keys offer a fair amount of travel distance, making them comfortable for extended typing sessions. There's also a nice tactile feel, making typing a breeze. The keys do not require much force to actuate.
This laptop features per-key RGB lighting that is visible through the key labels and edges, creating a stylish look. It offers six customizable RGB profiles that can be cycled through the function and space keys. An LED light strip on the front adds extra personalization.
Its touchpad is smooth and responsive. Although it is offset from the center of the laptop, the offset is necessary due to the presence of the numeric keypad on the keyboard. This offset is not as pronounced as some other laptops, making it more user-friendly.
Everyday Use
Multitasking
It exhibits strong multitasking capabilities due to its powerful hardware configuration. Its Intel Core i9-13900HX processor with 24 cores and 32 threads enables it to handle multiple tasks simultaneously.
Despite workloads like running Google Chrome tabs, playing 4K videos, playing games, and editing RAW photos, the laptop performed flawlessly. This shows that its CPU and RAM are perfect for efficiently managing multiple applications at once.
Everyday work
This is a gaming laptop, but it handles everyday tasks like office productivity, web browsing, and video chat excellently.
In PCMark 10, it scored close to 8,000, demonstrating its potential as a productive machine. The Intel Core i9 processor, fast SSD storage, and ample RAM contribute to a smooth and efficient experience when handling common office and productivity applications.
The huge 16-inch 16:10 display with high resolution (2560 x 1600) is a significant advantage for everyday work, providing additional screen real estate for better productivity.
Video Editing
Its dedicated graphics, the NVIDIA GeForce RTX 4080, is suitable for video editing tasks. Apart from this, it has a powerful processor, sufficient RAM, and a fast PCIe 4.0 SSD. This hardware component allows faster video rendering and editing.
The laptop's display, with its high resolution and good color accuracy, provides a suitable workspace.
Online Meetings and Video Conferencing
The laptop delivers a strong online meeting and video conferencing experience thanks to its 1080p camera, which delivers a clear and balanced image.
With a large, high-resolution display and vibrant colors, it enhances the visual quality of video calls, making it suitable for remote work and virtual meetings. The laptop's audio quality is also excellent, though not exceptional, but valuable for video conferencing.
Programming (Coding)
It is also capable of programming and coding tasks. Its powerful Intel Core i9 processor with multiple cores and threads, coupled with ample RAM and fast storage, compiles large codes seamlessly and runs resource-intensive development environments smoothly.
The high-resolution display with a 16:10 aspect ratio provides more screen space for coding and working on software projects, enhancing the coding experience. But, due to its heavy weight, it is less portable, which makes it difficult to carry it to school, college, and for coding work.
What's Good in Lenovo Legion Pro 7i Gen 8
Powerful Hardware
Lenovo has equipped this laptop with a powerful 13th Gen Intel Core i9-13900HX processor with 24 cores, 32 threads, and 32MB L3 cache memory, which is highly capable of handling demanding tasks, including gaming, video editing, and programming.
Excellent Gaming Performance
The Nvidia GeForce RTX 4080 GPU and its high TDP of 175W deliver top-notch gaming performance. It outperforms many high-end gaming laptops, delivering great frame rates even in demanding games with ray tracing.
Customizable RGB Lighting
Per-key RGB lighting and customizable LED strips on the keyboard add an attractive element to personalization. Due to this, the laptop looks more beautiful.
What's Bad in Lenovo Legion Pro 7i Gen 8
Battery Life
Like many gaming laptops, its battery life isn't impressive. When playing games continuously, the battery lasts only for 2-3 hours. It is important always to keep it charged while playing games.
Plain Design
The design of the laptop is plain and not particularly attractive. It lacks the bold aesthetics or unique design elements of some other gaming laptops.
Final Words
Lenovo Legion Pro 7i Gen 8 is equipped with powerful hardware, which is great for gamers and professionals. It delivers exceptional gaming performance thanks to its dedicated Nvidia GeForce RTX 4000 series GPU, high refresh rate display, and powerful Raptor Lake Intel Core processor. It excels in many areas, but it struggles with heat management, and its battery life is very short.
Furthermore, its practical design is sturdy and eco-friendly. The Legion Pro 7i Gen 8 is a solid performer, but its design is simple. With a wide selection of ports, a comfortable keyboard, and a responsive touchpad, it handles productivity tasks as well.
Is the Lenovo Legion Pro 7i Gen 8 Worth Buying?
Reasons to Buy
High-End Graphics
The dedicated Nvidia GeForce RTX 4080 GPU delivers exceptional gaming performance and handles graphics-intensive tasks with ease.
High Refresh Rate Display
The 240Hz refresh rate and high resolution (2560 x 1600) screen provide excellent visuals for gaming and productivity tasks, and its 16:10 aspect ratio adds versatility.
Well-Designed Keyboard
The keyboard layout is well-optimized, with a full-sized set of arrow keys and a numeric keypad. Per-key RGB lighting and six lighting profiles add to the beauty of the laptop.
Reasons to Not Buy
Limited Portability
The laptop is not very portable due to its weight and design. It is more suitable for stationary or home gaming rather than use on the go.
Heat Management
Despite having three large vents, the laptop gets warm during prolonged use. It can be reduced by adjusting the fan, but it remains a matter of concern.
Limited Battery Life
While gaming, its battery life is very low, lasting only 2-3 hours on a single charge. For this, it has to be always kept in charge.
FAQs
Is the Legion Pro 7i Gen 8 a budget-friendly gaming laptop?
No, the Legion Pro 7i Gen 8 is not budget-friendly. It is designed for gamers and professionals who prioritize performance over affordability.
Is the laptop suitable for other tasks besides gaming?
Yes, laptops handle a wide range of tasks, from video editing to programming and coding, with ease. Its powerful processor, ample RAM, and fast SSD storage are enough for all these tasks.
Is the Legion Pro 7i Gen 8 suitable for portability?
As gaming laptops go, they are relatively heavy and unsuitable for constant portability. Its weight and size make it less ideal for taking to school or while traveling.