In this post, we'll discuss the HP Pavilion 15 2022 review, key features, performance, design, display, specs, price and availability, whether it's worth buying in 2022, and more.
I've used a lot of laptops, including for gaming, business, and student use. I've also been using this HP Pavilion 15 2022 for the last few days.
So if you're looking for a laptop with great performance and stunning design, the HP Pavilion 15 2022 should definitely be on your list!
This is an excellent laptop for students and professional users on a budget. This HP legacy laptop has many features that make it the perfect choice for students, including a powerful processor, great battery life, and top-notch graphics. Overall, the HP Pavilion 15 2022 is a slim, portable, and powerful machine that's perfect for anyone looking for an affordable laptop.
Release Date: April 2022
Laptop Type: Traditional/ Business
Series: Pavilion
Available on:
HP Pavilion 15 2022: Key Features
Model Name
HP Pavilion 15
Processor
12th Gen Intel Core i5-1235U
12th Gen Intel Core i7-1255U
RAM
8 GB DDR4
16 GB DDR4
Storage
256 GB SSD
512 GB SSD
Graphics Card
Intel Iris Xe
Display
15.6″ diagonal FHD IPS anti-glare micro-edge WLED-backlit, 250 nits
Operating System (OS)
Windows 11 Home
Weight
3.84 lbs (1.74 kg)
Battery
4-cell Lithium Ion (Li-Ion)
HP Pavilion 15 2022 Review: Is it worth 2022?
Performance
Now, before buying this laptop, you should decide what you're buying it for. Because it is a portable laptop for students and business people, it is also suitable for those who will be performing everyday tasks like watching, Microsft word, excel work, etc., not for gaming.
The Processor's performance of the laptop itself determines what can be done. This laptop is definitely designed for multitasking or everyday work.
But you can also play entry-level games, have online meetings, and edit some videos.
Among the alternative options, you get an Intel Core i7-1255U, which is also a problem with the 12th gen. This laptop's processor features Intel Turbo Boost Technology, which delivers up to 4.4 GHz CPU frequency to help save battery power. The CPU of the HP Pavilion 15 2022 uses a 10-core, 12-thread architecture.
Graphics performance is essential for anyone looking to enjoy the latest games and movies. The HP Pavilion 15 2022 features an Intel Iris Xe graphics processor, ideal for entry-level gaming and general use.
It's not that special when it comes to graphics, as there is Intel iris xe integrated graphics, which is excellent in this $500 price range. However, this laptop can handle the graphics needed for multitasking.
Intel Iris Xe delivers outstanding graphics performance for 1080p and 4K video playback.
So whether you're looking for a laptop for everyday work or play, the HP Pavilion 15 2022 is a solid choice.
Price and Availability
If you're in the market for a powerful and stylish budget laptop, the HP Pavilion 15 2022 is a perfect choice. It features an updated design with new features, making it the perfect laptop choice for school or work.
The notebook starts at $539.99 for the i5 and $699.99 for the i7.
But you get a lot of extra deals and customizations available, so choose the configuration you want.
HP Pavilion 15 2022 is available on offline and online platforms like the HP store, Amazon, Bestbuy, and more.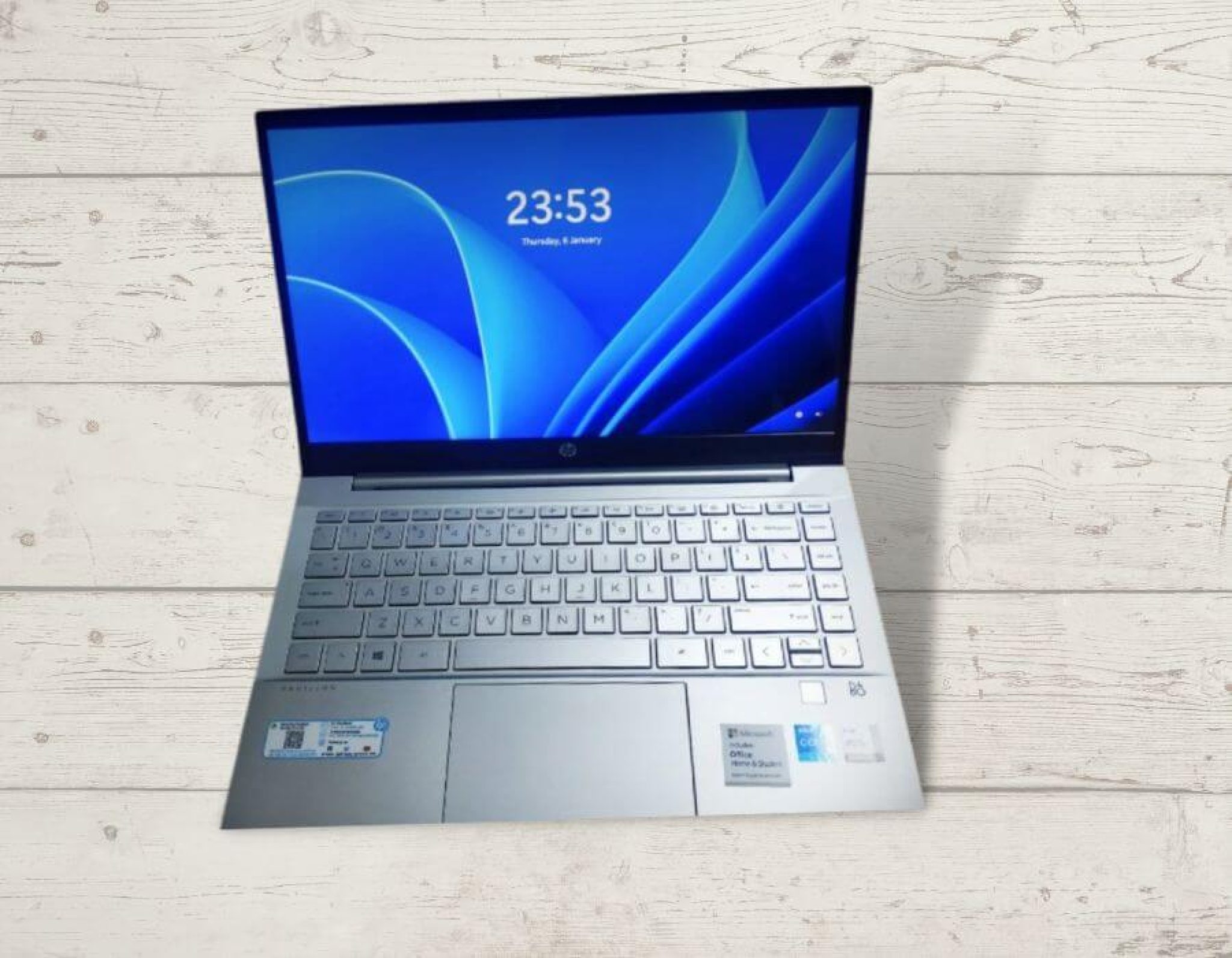 Design and Build Quality
The HP Pavilion 2022 is a well-designed laptop that looks great at an affordable price.
It's perfect for anyone looking for something attractive, lightweight, and portable. Not only does the design look modern and sleek, but the aluminum frame material is also impressive.
It weighs only 3.84 lbs (1.74 kg), making it a great choice for students and business people.
Plus, the build quality is excellent, making the HP Pavilion 15 2022 a durable choice for anyone who likes outdoor use.
This laptop is available in 5 different colors – Natural Silver, Ceramic White, Mist Blue, Forest Teal, and Warm Gold. Our natural silver review unit also looks beautiful.
Display
The display is one of the most important factors when buying a new notebook computer. HP Pavilion 15 2022 has an excellent 15.6 -inch diagonal FHD 1920 x 1080 pixel resolution display, which is bright and clear.
If you are looking for a laptop with an excellent display and an IPS Anti-GLARE, then the notebook is perfect!
In addition, the 15.6 -inch screen is very suitable for users who want to perform large screens. 250 NITS backlight technology makes the display bright even under weak light conditions, making it easy to work in any environment.
The screen and body ratio of the laptop is also outstanding, 86 %, so your baffle range is petite.
The laptop computer is specially manufactured for students and business offices. This is why 45 % of the display color range is provided, so you will not be able to make video editing or heavy games easily.
Nowadays, technology is growing rapidly, and the new laptop computer has also shown an increase in screen refresh rates, but its price is only a standard refresh rate of 60Hz, which is not a scam within this price range.
RAM and Storage
Memory is definitely an essential component when it comes to laptop specs.
It comes with various RAM and storage options and several other features, making it a great choice for users.
The HP Pavilion Laptop 15 has 8GB of DDR4 3200MHz RAM and a 256GB SSD, which is pretty fast. For most users, this is enough to ensure the smooth and seamless operation of the laptop. However, it also has an extra slot to expand the RAM you'll be able to easily expand if you run heavy tasks like rendering, 4K gaming, etc.
In terms of storage, the laptop offers a range of options from 256GB to 1TB. So you have enough space to store all your files and photos.
Alternative options have up to 16GB of RAM and 512 GB of SSD storage, as you'll have to pay more.
Pros
Affordable Price
Powerful CPU
Best in Mid Range
Good Sound Quality
Looking Stylish
Excellent Battery Life