If you are a professional gamer and you are looking for a laptop that comes with a powerful hardware configuration. In which you can efficiently run today's new and best PC games without any problem. There are many gaming laptops on the market, and Razer Blade 17 is one of them.
When it comes to heavy gaming laptops, the Razer Blade 17 comes first. Due to its smooth aluminum design, it looks very premium compared to other gaming laptops. The Razer Blade 17 will offer you excellent performance on an excellent display, powerful hardware configuration, battery, ports, and outstanding keyboard.
Razer Company has launched the fastest laptop in the market for gamers and creators with different Razer Blade models. If you want to get a fantastic gaming performance, then this Razer can grab your attention; keeping this in mind, we will talk about all the specifications of the Razer Blade 17.
Razer Blade 17 (2022) Review: Performance
To give power to the laptop, it features 12th Generation Intel Core i7 and i9 processors, and its 8-core chip will deliver groundbreaking performance. It has a base clock speed of 2.3 GHz, and you can increase its base clock speed up to 4.6 GHz for more power during heavy loads.
This will finish any of your heavy tasks in a pinch, whether high-end games, video editing, content creation, or AutoCAD.
Generally, heavy work requires a good GPU and a good CPU; hence it comes with the most advanced GeForce RTX 3080 graphics card with Max-Q technologies for gamers, creators, and designers.
It will give you enough power to run any of your heavy tasks smoothly. This GeForce RTX Graphics Card is made of award Winning Ampere NVIDIA's 2nd gen RTX architecture with the latest ray tracing core, tensor core.
The first one will see a lot of new things as compared to Razer, the first one had 3080 with average graphics power of 138W, but this laptop has RJ RTX 3080 Ti with a boost clock 1,395MHz with increased GPU power of 165W.
It will give you incredible graphics performance for a fantastic visual experience and excellent resolution. Razer Blade 17's max-q technology will deliver faster and better performance than ever before.
Razer Blade 17 provides strong gaming performance. Its processor and GPU are best compared to other gaming laptops according to the price.
Its entry-level model comes with 16GB of next-gen DDR5 RAM at a memory speed of 4800 MHz. In this, you can enjoy the fast and Smoother performance while loading applications, running games, and multitasking.
To store all your large gaming files, documents, and projects and enable fast data transfers, it offers 1TB of NVMe SSD storage with one M.2 slot.
Gaming Performance
For a good gaming experience, any laptop or computer needs a dedicated smooth graphics card and a powerful power processor.
It has the most advanced 12th generation, 4.8 GHz frequency Intel Core processor. It supports cache up to 24MB so that any AAA game can be loaded easily.
The Razer Blade 17 2022 has many gaming-centric features that make it an excellent choice for gamers.
Some of the vital gaming features of the laptop include- A 1.8GHz 14-core Intel i7-12800H processor for excellent gaming performance, NVIDIA GeForce RTX 3060 (6GB GDDR6 VRAM) graphics card for outstanding graphics performance, and more.
The Windows 11 operating system delivers great performance for gaming.
This Razer Blade 17 2022 is one of the best-performing gaming laptops on Geekbench. It scored 1908 for single-core performance and 13761 for multi-core.

Battery Life
One of the most impressive aspects of the laptop is its battery life. Normally one cannot expect that much battery backup from a heavy gaming laptop, but still the Razer Blade 17 gives you amazing battery life.
It has an 82 WHr battery. Its battery lasts only for 3 hours during heavy tasks like gaming, and AutoCAD. Which is a big deal for a gaming laptop. If you plan to travel and play with this razer Blade 17 gaming laptop, it's not going to be great for you.
Price
The Razer Blade 17 2022 is a laptop designed for gamers and other professionals at work. It's available in two different configurations—with an RTX 3060 graphics card or a Core Intel Core i7-12800H processor—for $2,699.99.
The RTX 3070 model starts at $3,199.99, while the 3080 model starts at $3,199.99. Not bad considering the laptop's features and specs. If you're looking for one of the most powerful gaming laptops, the Razer Blade 17 2022 is a solid choice.
Razer Blade 17 (2022): Display
For ultimate gaming performance and a good visual experience, it features a 17-inch display that will provide you with the best color contrast and image quality, and enjoy a silky smooth refresh rate with its Full HD, QHD, or UHD display.
It has a blazing-fast 360Hz screen refresh rate so that you will be well-prepared for any competitive game. Due to its fast refresh rate cable, you can not only play games faster, but you can also do video editing and content creation smoothly in it.
The display is one of the most important aspects of this laptop, and it's no surprise that it's excellent. The computer is perfect for gaming, featuring a 17.3-inch display with QHD resolution and a 165Hz refresh rate.
Screen quality and colors (100% sRGB) are also very good, and the laptop is capable of playing most games at high graphics settings. It has an excellent display quality and minimal bezels (6mm), and you'll look like a premium laptop. You'll get the razor blade logo on the other side that supports different colors.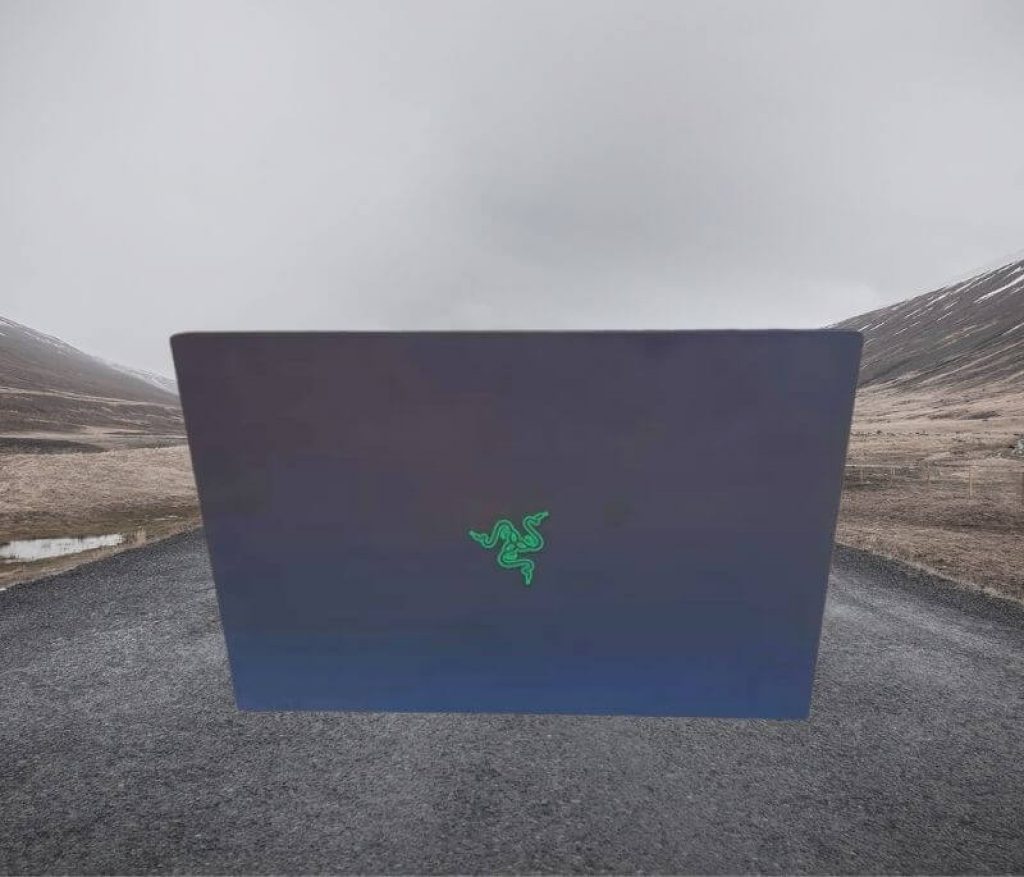 Webcam
This laptop has excellent performance and is equipped with a webcam that can be used for video calling and recording. It has a 1080p IR webcam with IR windows hello and Windows Cortana. This laptop will be good for streaming but not the best for full HD video conferencing.
Keyboard and Touchpad
The Razer Blade 17 2022 is one of the most advanced gaming laptops with a great keyboard and touchpad. The keyboard is spacious and has good key travel. The Precision glass touchpad is responsive and easy to use.
The backlight function is available, so if you have to do something in low light or at night, you will be able to control it in 3 different modes with ease.
Overall, the keyboard and touchpad are tremendous and make gaming on the laptop a pleasure.
Frequently Asked Questions (FAQs)
Why is the Razer Blade 17 2022 a Good Gaming Laptop?
Razer designed the powerful graphics card and high-resolution display specifically for the Razer Blade 17 2022 gaming laptop. It also has a slim chassis for easy portability, perfect for gaming on the go.
In this laptop, you'll get one of the most advanced Alder Lake processors, as well as the most powerful and smoothest dedicated graphics card, so you'll be able to play high refresh rate games and heavy tasks like machine learning, rendering, 4k video editing, and more, and many more.
Should you buy Razer Blade 17 2022?
The Razer Blade 17 2022 is a premium gaming laptop that is currently the top model on the market. It features 12th Gen CPUs and the most advanced GPU lineup (NVIDIA GeForce RTX 3060, 3070, and 3080).
Overall, it's a powerful laptop great for gaming, graphics-intensive tasks, and heavy work, but not for everyday use.
If you can compromise on battery life and just want a laptop that performs as much as a PC, you might consider it, but if you want a light and portable laptop, this is not a better choice for you.
However, some disadvantages should be considered before buying.
First, laptops are very expensive. Second, the battery life isn't great, and third, the laptop's screen is huge, so it's bulky.
---
Final Words
So what are you waiting for? In our detailed review of the Razer Blade 17 2022, we've covered all the essential aspects of this gaming laptop. You can be sure you're fully prepared to make a laptop purchase decision from price to features, battery life, keyboard and touchpad, gaming performance, and portability.
If you are still facing difficulty in choosing or have any questions, you can write in the comment box, and we will reply as soon as possible.