We independently review everything we recommend. When you purchase through links on our site, we may earn an affiliate commission, which help support our testing. Learn more!
Unlike other laptop companies, ASUS gives its consumers more than they expect. Whether you're a student, a businessperson, or just a regular user, you can rest assured that your ASUS laptop will operate as promised and offer you the supports you require if you run into any problems.
Their devices are excellent value for money, and they offer strong hardware that will fulfill the demands of the majority of customers.
Do you want to have a rock-solid heart-touching business laptop in 2022? Or do you prefer inspiring innovation and persistent perfection in your gaming laptop?
Last but not least, the question is, do you want to acquire the edge of the world by having the latest Studio-book or Chromebook laptop series from Asus? If your answer is yes, you have probably landed in the right place.
Here we will give you all the necessary information about the Asus laptop series. Be its pricing, technical support, warranty, innovation, designs, support, and build quality. It means you will be well informed about the strengths and weaknesses of the Asus brand just after reading this article till the end.
We will start by stating the history of this company first, its net worth, and market share. Then you would surely get the answer to whether you should buy an Asus laptop or not?
History of Asus
Asus headquarters is based in Taipei, Taiwan. The company was established in 1989. Four former Acer hardware engineers were its founders: T H Tung, Ted Hsu, Wayne Hsieh, and M T Liao.
This company has a wide variety of products to deal with like desktop computers, motherboards, networking equipment, notebooks, monitors, Wi-Fi routers, internet of things, smart home robot, graphic cards, servers, virtual and augmented reality products, tablets, workstations, smartphones, laptops, etc.
Yearly Achievements of Asus
Now Let's have a look at the yearly achievements of Asus.
1995
Within six years of its working, Asus made Taiwan a global leader in computer hardware. By fulfilling the need of the world's most motherboard production.   
1996
Asus initiated trading on Taiwan Stock Exchange after registering as a public company.
2000
The company expanded its wings by making service centers in China, the USA, the Czech Republic, the Netherlands, Australia, and Japan.
2006
Asus launched its dream product Republic Of Gamers (ROG) Crosshair motherboard. That just took the company to all-time highs.
2014
The company launched its smartphones. They were equipped with first-generation Android operating systems. The main difference between these and other smartphones was that they were based on Intel processors rather than ARM ones.
Meaning and Ideology Behind Its Name
Before going towards the company's financial stats like net-worth and market share, we have to share here some interesting facts about the meaning and ideology behind its name.
Word ASUS originated from Pegasus. Don't be confused with the recent famous spyware scandal.
Yeah, that Pegasus was extremely costly software created in Israel to reduce terrorism by spying technologies. However, they faced misused by many dictators. Leave this thing, and here comes our Asus derived from Pegasus's Greek mythological character.
Asus resembles purity, strength, and the creative spirit of that Greek mythical creature. The tendency towards inspiring innovation in products of the market is the ideology and meaning of the word Asus.
Asus Net-Worth
So, here are the financial stats about the company from ASUSTek Computer Inc. Annual Report 2020.
1# The company's total annual revenue was $412.8 billion.
2# The company's total annual operating income was $24.9 billion.
3# The company's total annual net income was $28.4 billion.
4# The company's total assets are worth around $396 billion.
5# The company's total equity is around $214 billion.
Asus Market Share
If we look at some other market-sharing figures, then we can see.
According to the January 2021 research of Gartner.com, Asus ranked 5th position in the world's PC vendors in terms of unit sales, and its market share was around 6%. Moreover, Asus has appeared in many international business magazines and listings like InfoTech 100 and Asia's Top 10 IT Companies of BusinessWeek. Also, Asus carries the award of being first in the IT Hardware category of the 2008 Taiwan Top 10 Global Brands.
When it comes to product design, quality, cost, and technology, Asus looks just master. We can say it is the key to the company's success in the market. Asus laptop manufacturing processes are all ensured with full quality management and evaluation principles. Asus is just trying to fulfill customers' needs and desires. After all, Asus is striving toward persistent perfection through inspiring innovation. 
Is ASUS a Good Brand for Laptop and PC?
What Can You Expect From Your Budget?
Under $500:
You can expect all productivity apps like Skype, Zoom, MS Office, Chrome, and VS Code under a 500-dollar budget laptop, However, you will not have a decent gaming experience.
Between $500 to $700:
Surely you can run all your productivity apps (Skype, Zoom, MS Office, Chrome, VS Code) in this budget ASUS Laptop. Also, you can have Low-end gaming, Low to Moderate Video Editing/Blender/Graphic Designing.
Between $700 to $1000:
$700-$1000 is the best range one can have. This will give you All productivity apps (Skype, Zoom, MS Office, Chrome, VS Code),
High-end gaming, Moderate to High-end Video Editing/Blender/Graphic Designing.
Design and Build Quality
ASUS is known for producing stylish gadgets for a wide range of customers. These devices are perfect for commercial and professional use because of their sleek, minimalist, and inexpensive design.
Asus is more than just features when it comes to style.
The ZenBook series is known for its superior build and clean look.
Plastic and aluminum chassis are available for the ViVoBook and ProBook models.
Asus' founders claim that the brand has always valued user requirements over functionality.
The company's focus on aesthetics is represented in its goods, and design is a crucial business component.
Warranty and Supports
The warranty and support for ASUS laptops and computers are excellent. As a customer, you can ensure that a reputable company will protect you if something goes wrong with your ASUS product.
You also get a free parts replacement service if you need to repair your machine.
ASUS has many service centers worldwide, so if your laptop or any ASUS product is damaged, you can go to a service center for easy repair or replacement.
However, you should note that the warranty does not cover damage caused by abuse, neglect, or self-repair. Also, the warranty does not cover damage caused by theft, acts of nature, or other external factors.
For warranty-related questions, you should refer to the ASUS website. This website contains all warranty and support information for ASUS products such as laptops, PCs, peripherals, etc.
You can also check your eligibility for these services by entering your laptop's serial number.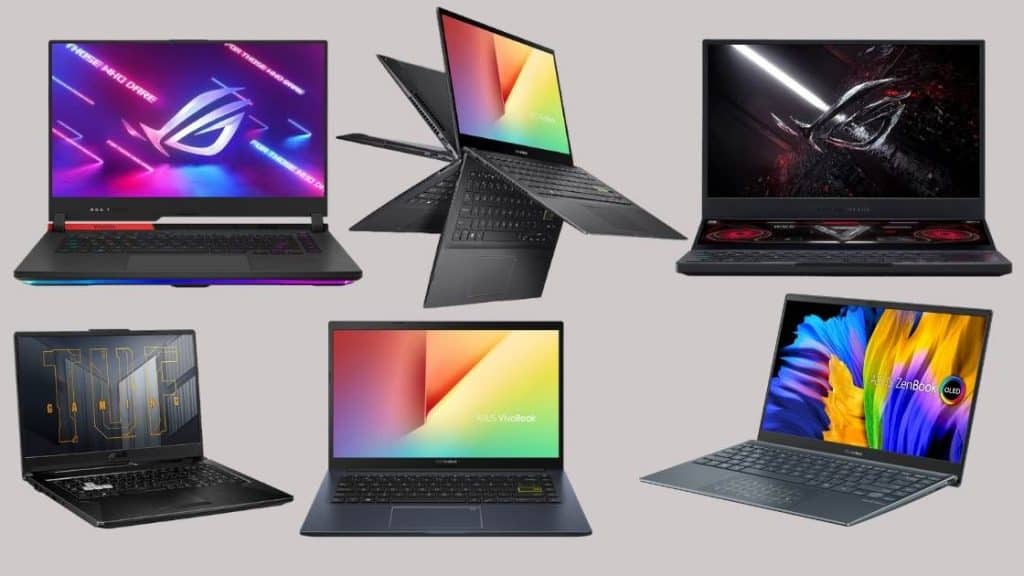 Specific Features of Asus Laptops Series
You may have a lot of knowledge about Asus's background, history, nomenclature, and stats. Now you will look at its laptops' specific features.
You will also briefly read the info on these four series. 1) Business 2) Gaming 3) Studio-book 4) Chromebook. Finally, we will give our considered opinion on the topic.
Asus has the credit to give its customers the world's thinnest notebook, the Asus U36. That is the level of innovation in the Asus laptop series. Some specific features are common in all Asus laptop series, be it Business, Gaming, Notebook, or Chromebook Laptops.
Asus Zenbook
Asus ZenBook laptop series is popular mainly for its sturdy casing and lightweight. And rest assured, it's not going to break right away if it accidentally bumps into something. This Series mostly lies between 13 to 15 inches screens.
If you want to know the starter model, go for the ZenBook. While looking for the most luxurious or powerful components, you would love to see the ZenBook S and ZenBook Pro. If you want to look for a 2-in-1 model, ZenBook Flip will fulfill your dual needs of a laptop plus tablet. 
Asus VivoBook
There is a huge collection of Asus laptops with a VivoBook series tag. VivoBook's main specialty is that you will find a laptop for any use. It can be an 11-inch laptop that you can carry to the academy to take notes, or it can be a powerhouse for video editing.
Here is also a VivoBook Flip model that serves as a laptop and tablet. The most popular and demanding laptops in this Series are VivoBook Pro and VivoBook 2 models. Laptops of this Series also contain a dedicated video card which is very suitable for light games.
Asus ROG And TUF Laptop Series
ROG's full form is Republic Of Gamers. Likewise, TUF's Full form is The Ultimate Force. ASUS ROG is the best choice for gamers to experience high-end games.
The TUF series laptops are suitable for most gaming If these games are not demanding too many graphics. And also, if you hesitate to play on ultra settings every time, TUF is the right choice.
A ROG model laptop with at least an NVIDIA GeForce GTX 1060 is the exact choice gamers love. Republic Of Gamers laptop series enables you to play all your desired games on the highest settings.
Asus Studio-Book Laptop Series
The Asus Studio-Book laptop Series is unique because it supports an OLED screen display and its other productivity-focused features are awesome.
They mainly come with powerful Ryzen CPUs and NVIDIA RTX GPUs. Some of these laptops have a dial feature similar to Microsoft Surface in functionality.
Asus Chromebook Laptop Series
If you want to switch to other than Windows laptops, then the Asus Chromebook laptop series is made for your satisfaction.
Yeah, the Chromebook series laptops run on Google's operating system, ChromeOS. This Series allows you to log in with a Google account. You work here with the Chrome browser. The best thing is to use applications from The Google Play Store.
Other features of this Series include entire day use with a full battery, less susceptibility to viruses, and booting quickly. Just one thing to remember: you can't install Windows programs on the Asus Chromebook Laptop Series.
Precautions and Tips:
1# Don't be trapped in analysis. Just give some time to analyze all factors before buying any laptop.
2# AMD provides better value for the price compared with Intel.
3# Always keep upgradability options. Specifically, you should see additional RAM and SSD options, Which will help later if needed.
4# Go with a PC. If your budget is so low and you are not willing for portability sooner.
5# Choosing a metallic body is wiser as it's comparably slower in wearing and tearing.
6# The range of $1000 is enough for having an ideal-performing laptop.
7# Prefer offline buying if it strikes you as good in pricing.
8# Buying a refurbished laptop is nothing but an unwise decision.
9# Last but not least, go with a brand that has good after-sale services.
---
Frequently Asked Questions (FAQs)
Q1. Why is Asus Laptops So Cheap?
Not all Asus laptops are cheap. Some are very luxurious and hence are costly. Yeah, Asus is far better in mid-range laptops in providing better value for your money, and this probably is just because it's an endeavor to be in the market. So that is a marketing tactic as well to give more specs at comparable prices.
Q2. Is Asus A Chinese Company?
This question is less informative and more political because it revolves around the recognition of Taiwan as mainland China's integral part or not. So basically, Asus was established in 1989 in Taiwan. If you think Taiwan belongs completely to China, it's a Chinese company, otherwise Taiwanese.
Q3. Should you buy an Asus laptop or not?
Yeah, I would consider it. ASUS laptops are reliable as the company has a history of being the leading manufacturer of motherboards. It provides better value for money when comparing it with other brands. There are many positive reviews on the net regarding Asus laptops.
Q4. Is Asus Laptop Good for Gaming?
Yeah, its ROG and TUF series was the best gaming laptop series of 2021. People prefer it for gaming because of its ability to handle the most demanding games on the market nowadays. This company's great daily driver also makes it worth it to be chosen for the gaming experience.
Q5. Does ASUS Make Their Components?
Asus does not make all components for itself. Like many components they use are from companies like Intel, NVIDIA, Realtek, and Seagate.
Yeah, it is well known for making many components, especially motherboards. Asus is probably an ODM (Original Design Manufacturer) and OEM (Original Equipment Manufacturer).
---
Final Words
Asus is a well-known brand in the PC and laptop industries, and its products are well-received. But how good is the brand? After reading this blog, you can make your own decision.
We shared information on the brand and its products, but it is ultimately up to you to determine whether ASUS is a good brand for you. Tell us what you think in the comments section below!

Is ASUS a Good Brand? [Know Everything]