This Acer Predator Helios 16 has created buzz since its launch, especially among budget-friendly gamers seeking a superior gaming experience.
In the world of gaming laptops, finding the perfect combination of affordability and performance is a little bit challenging.
This laptop's price varies depending on your location and any ongoing discounts, but its current price tag in the US is $1,579.99.
Available for purchase both online and offline, the Predator Helios 16 is now more accessible than ever.
With the increasing popularity of online e-commerce, it is very convenient to purchase from Acer's official website or well-known domestic e-commerce platforms.
This gaming laptop has an impressive 12th Gen Intel Core i5-12450H processor, NVIDIA GeForce RTX 2050, 8GB DDR4 RAM, and a high-speed 512GB NVMe SSD.
Acer Predator Helios 16
Release Date: January 2023
Model: PH16-71-76AA
Laptop Type: Gaming
Series: Predator Helios
Available on:
Acer Predator Helios 16: Key Features
| | |
| --- | --- |
| Model Name | Acer Predator Helios 16 |
| Processor | 13th Gen Intel Core i7-13700HX |
| Frequency/Core | 2.1 GHz (30M Cache, up to 5.6 GHz, 16 cores: 8 P-cores and 8 E-cores) |
| RAM | 16 GB DDR5 SDRAM |
| Storage | 1TB PCIe 4.0 NVMe M.2 SSD |
| Graphics Card | GeForce RTX 4060 |
| Display | 16 inches, FHD+ 16:10 (2560×1600 pixels, WQXGA), 165 Hz |
| Operating System (OS) | Windows 11 Home |
| Weight | 2.7Kg (5.73 lbs) |
| Battery | 90WHrs, Lithium Ion (Li-Ion) |
Acer Predator Helios 16: Full Specifications
Processor (CPU)
| | |
| --- | --- |
| Processor Model Name | 13th Gen Intel Core i7-13700HX |
| Processor Speed | 2.1 GHz-5.6 GHz |
| Cores | 16 (8 P-cores and 8 E-cores) |
| L3 cache | 30M Cache |
Video Card
| | |
| --- | --- |
| Graphics Processor | NVIDIA GeForce RTX 4060 |
| Graphics Memory Capacity | 8 GB |
| Graphic Type | Dedicated |
| Memory Type | GDDR6 |
| GPU Frequency | 2350 MHz |
RAM
| | |
| --- | --- |
| Memory Capacity | 16 GB |
| Memory Type | GDDR5 |
| Frequency | 4800 MHz |
| Memory Slots | 2 |
Storage
| | |
| --- | --- |
| Storage Capacity | 1TB |
| Storage Type | SSD (M2) |
| Drive Interface | PCI Express |
| Channels | 2×512 GB |
| Total Slots | 2 |
Display
| | |
| --- | --- |
| Screen Size | 16-inch |
| Screen Resolution | 2560×1600 pixels |
| Refresh Rate | 165 Hz |
| Display Screen Type | IPS |
| Display Screen Technology | LCD |
| HDR support | No |
| Touch Input | No |
| Coating | Matte |
| Maximum brightness | 500 nits |
| Contrast | 1200:1 |
| sRGB color gamut | 100% |
Battery
| | |
| --- | --- |
| Capacity | 4 Cell, 90WHrs |
| Full charge time | 1:15 hr |
| Battery type | Li-Ion |
| Removable | No |
| Fast charging | Yes |
| USB power delivery | Yes |
| Charging power | 280 / 330 W |
| Charger weight | N/A |
Frame
| | |
| --- | --- |
| The weight | 2.7Kg (5.73 lbs) |
| Dimensions | 14.15 x 0.98 x 10.88 inches |
| Square | 1180 cm2 (182.8 inches2) |
| Screen-to-body ratio | ~62.9% |
| Side frames | 27.3 mm |
| Colors | Black |
| Transformer | No |
| Screen opening angle | 140° |
Thermal Management
| | |
| --- | --- |
| Cooling type | Active |
| Evaporation chamber | No |
| Number of coolers | 2 |
| Noise level | 49.5 dB |
Sound
| | |
| --- | --- |
| Audio Chip | N/A |
| Audio Format | 2 |
| Speaker Power | 2x2W |
| Dolby Atmos | No |
| Max. volume | 76.1 dB |
| microphones | 2 |
Communications
| | |
| --- | --- |
| WiFi version | v6E |
| Bluetooth | v5.2 |
| The fingerprint scanner | No |
| Drive | No |
| Webcam | Above the display |
| Webcam Resolution | 1920 x 1080 |
IO and Ports
| | |
| --- | --- |
| USB-A | 3x USB 3.2 Gen 1 Type-A Ports |
| USB Type-C | 2x USB 4.0 Gen 2 |
| Thunderbolt | 1x Thunderbolt 4 support DisplayPort |
| HDMI | 1x HDMI |
| display port | No |
| VGA | No |
| Audio port (3.5mm) | Yes |
| Ethernet (RJ45) | Yes |
| card reader | Yes |
| Separate charging port | Yes |
Keyboard and Touchpad
| | |
| --- | --- |
| Key type | Island |
| Numeric block | Yes |
| Backlight | Yes |
| Key travel | 1.8 mm |
| Surface | Glass |
| Windows Precision | Yes |
Benchmark
| Test | (Single-Core) | (Multi-Core) |
| --- | --- | --- |
| Geekbench 5 | 1997 | 16432 |
| Cinebench R23 | 1726 | 21165 |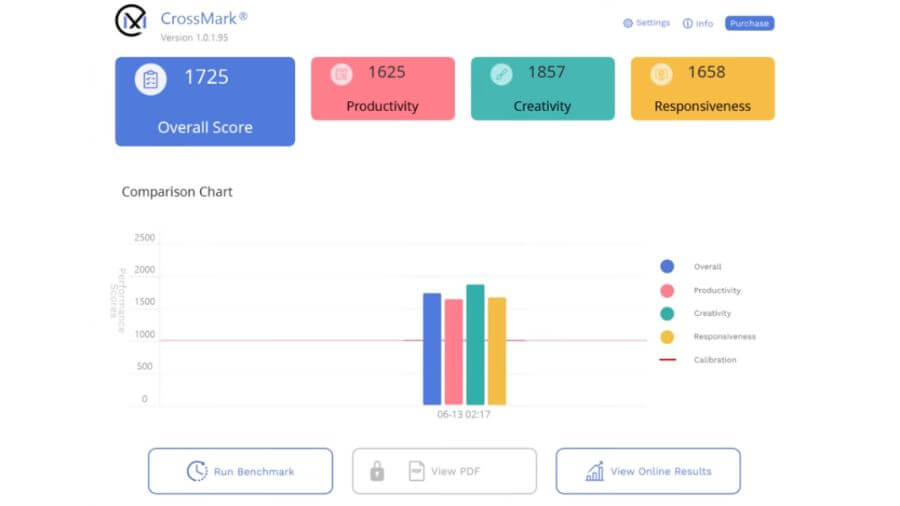 Price and Availability
Ever since Acer launched the Predator Helios 16, there has been a lot of demand among people, especially those who want a decent gaming experience.
The price of this laptop varies from place to place and depends on the country from which you are buying it.
Its current price in the United States is $1,579.99, but this price may change as it is difficult to tell the exact price if the e-commerce website you are buying from has a discount.
You will quickly get this online or offline. Nowadays, people prefer online, so it will be better for you to shop online. You can buy it from the official website of Acer, or you can also buy it from famous e-commerce websites like Amazon, Best Buy, Flipkart, etc., in your country.
Also Read:
---
Performance
Processor:
Acer has given it a 13th-generation Intel Core i7-13700HX processor, which allows your PC to perform more than one task at a time and makes you feel better while running it.
This processor is perfect for those playing games and performing multiple tasks simultaneously.
Cores and Threads:
This laptop has 16 cores (8 p-cores and 8 e-cores) and 24 threads. With this configuration, you can do many complex tasks simultaneously. This configuration empowers the laptop to handle complex tasks and manage multiple processes effortlessly.
Frequency:
The frequency determines how often the CPU accesses and processes data within the RAM cells each second.
This laptop can provide a frequency of up to 5.6 GHz. It delivers precise speed when you need that extra power. This makes the laptop run very smoothly and does many things simultaneously without stopping.
Also Read: What is Processor?
Graphics Card:
This laptop has an NVIDIA GeForce RTX 4060 graphics card, which works at approximately 2350 MHz frequency. It has a Graphics Memory Capacity of 8 GB, based on GDDR6 technology.
This Predator Helios 16 laptop is designed to handle your gaming collection effortlessly. It's like having all your games right in front of you, and it's ready for any challenge you throw at it.
The laptop looks great while delivering smooth and impressive graphics and is powered by an RTX graphics card optimized for maximum performance, ensuring you get the most out of your games. In other words, you'll always have two things with this laptop: Full Power.
These laptop GPUs are fast enough for gamers and creators. They're powered by the ultra-efficient NVIDIA Ada Lovelace architecture, which marks a quantum leap in performance and AI-powered graphics.
Also Read: What to Look for in a Graphics Card?
---
Everyday Use For Multitasking
This Predator Helios 16 will give you a better experience than other laptops, and you can easily do even more complex tasks.
For Multitasking
With this, you can do many tasks simultaneously, like schoolwork, managing data sheets, making percentages, and many other tasks smoothly without interruption.
Due to its good frequency speed and powerful processor, the speed of your laptop increases so that it does not slow down even by keeping many applications open simultaneously without stopping.
Making Presentations
Due to its good graphics card, the presentation slides look even better. You can make a perfect slide from Microsoft PowerPoint and make a percentage.
You can easily add many types of animations and photos to improve your slides and easily prepare slides of data visualization with Microsoft Power BI.
Dealing with Complex Spreadsheets
Apart from this, you have to analyze the data of big spreadsheets or manage Excel sheets, or you can do all the work efficiently.
Due to its powerful Raptor Lake processor, we can do data entry or manage spreadsheets without interruption.
---
Internet Browsing and Streaming :
Due to its Wi-Fi version v6E, internet browsing speed is breakneck, so you will not see buffering while browsing the web.
We can open multiple browsers without interruption, do different tasks simultaneously, and watch videos.
Due to its Wi-Fi version v6E, its internet browsing speed is very fast, so you will not see buffering while browsing the web.
Many browsers can be opened simultaneously without stopping, so one can do different work together without interruption and watch videos.
Apart from this, we can also play online games without stopping and do live video streaming in good quality.
Also Read: Best Laptops for Streaming
---
Video Conferencing and Online Meetings:
It has a webcam 720P and a resolution of 1920 x 1080, which gives you clear photos in online video meetings.
Along with this, meeting apps like Zoom and Microsoft Teams run very smoothly.
Due to the good Wi-Fi speed, you will experience better audio quality during the meeting without interruption. Also, You can do chatting easily during the session.
---
Gaming
Acer Predator Helios 16 makes the gaming experience even better because of its good graphics (NVIDIA GeForce RTX 4060, 2350 MHz) and powerful processor (13th Gen Intel Core i7-13700HX, 16-core:8 P-cores, 8 E- cores); the game runs very smoothly.
Assassins Creed Valhalla: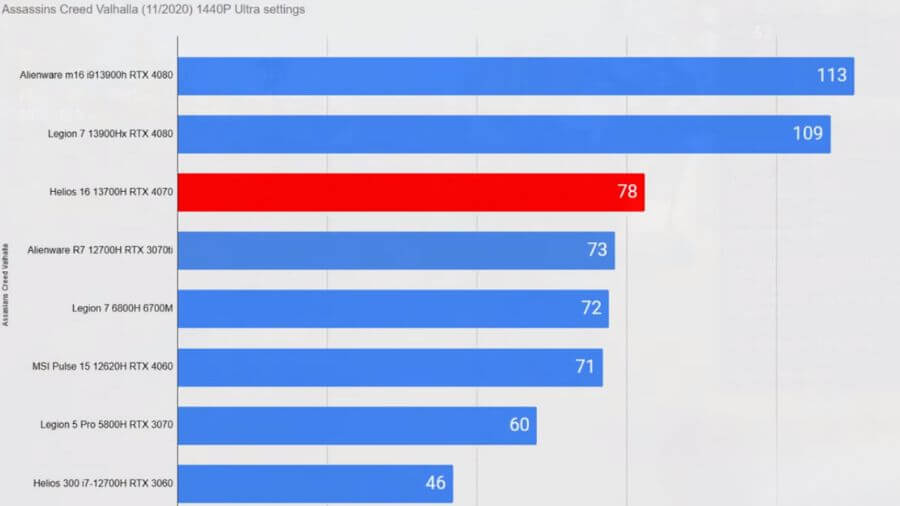 Assassin's Creed: Valhalla is a more demanding game – the Acer Predator Helios 16 couldn't reach an average of 165 fps at 1600p on medium settings but still held an equally strong position at 1600p on the highest settings.
While playing Doom Eternal, the frame rate (FPS) only dropped below 165 frames per second in specific situations. This happened when the game was set to the highest graphics settings using the native screen resolution and with ray tracing turned on.
Even in these challenging conditions, the average frame rate remained at 127.1 frames per second.
Far Cry 6:
The Far Cry 6 game relies heavily on the computer's CPU.
When we compared this laptop to a more powerful notebook we tested previously, there was only a 16% difference in how smoothly the game ran, even at low graphics settings (1080p). But when we bumped up the graphics to max (1600p), the difference shot up to 36%.
These results are great on this laptop for a demanding game like Far Cry 6. Also, even when things got tough, the laptop managed to run the game smoothly, as shown by the 1% and 0.1% results, which are pretty impressive.
Shadow of the Tomb Raider:
When testing Shadow of the Tomb Raider on the Acer Predator Helios 16, the graphics cranked up to the highest settings for the best visuals. This laptop could have performed better, giving us just 97 frames per second at 1080p and 57 fps at 1600p.
On the other hand, the Legion Pro 5i, which has the same processor and GPU, fared better with 107 fps at 1080p and 62 fps at 1600p. This difference is because the Legion Pro 5i has a slightly lower screen resolution (1440p instead of 1600p) and a higher boost clock speed (2370MHz compared to 2250MHz).
Forza 5 Gaming Test
---
Video Editing
This laptop is not just for gaming; you can also do good-quality video editing. The Acer Predator Helios 16 won the Editors' Award for Best Laptop.
Whatever type of video editing you want, be it Full HD, 4K, or 8K video, can be done easily.
Its powerful and one of the advanced graphics (NVIDIA GeForce RTX 4000 series) will make your video editing experience even better.
You can do Full video editing even on an affordable laptop, but when you export 4K, you will need a powerful processor and graphics card support.
But due to the powerful processor of this laptop (13th Gen Intel Core i7-13700HX, and many cores) and excellent graphics, you will not have any problem exporting, and you can do it very quickly.
A high-resolution video like 8k requires a powerful laptop, which you can do smoothly.
---
Programming (Coding)
Nowadays, most laptops are bought by students who want a computer for gaming and programming. The Acer Predator Helios 16 is capable of both.
Coding is a complex task that cannot be run on all computers. You can do minor coding on any laptop, but when it comes to complex functions like high-level languages and machine learning, you cannot do it on an ordinary laptop; these tasks can be done quickly on this laptop.
People who want to learn programming languages like C, C++, Java, Python, PHP, Kotlin, etc., can efficiently run this programming language on this laptop.
Its powerful graphics and powerful processor will further enhance your programming experience.
Machine learning won't be a problem as it has a dedicated Intel Core i9 brain and a robust GeForce RTX 4070 graphics card that helps you work with lots of data and complex maths faster.
When coding, you need a PC that supports the language you want, like Machine Learning, and runs efficiently.
While coding, we need many tools that debug, build, and run the code we wrote.
---
Display
The screen of the latest Acer Predator Helios is 16 inches with a resolution of 2560×1600 pixels and a refresh rate of 165 Hz, which refers to how many times the screen can refresh the image per second.
The screen uses IPS (In-Plane Switching) technology, which provides wide viewing angles and accurate color reproduction. This is an LCD (Liquid Crystal Display) screen, a common type of display technology.
It does not support High Dynamic Range (HDR) technology, which enhances contrast and color range for a more lifelike viewing experience.
The screen does not have touch input capabilities. The screen has a matte coating, which helps reduce glare and reflections for better visibility in different lighting conditions, and can reach a maximum brightness of 500 nits, which measures the intensity of the backlight.
It has a contrast ratio of 1200:1, which refers to the difference in brightness between the darkest and brightest parts of the screen.
It covers 100% of the sRGB color gamut, representing the full range of colors within the sRGB.
---
Battery
The Acer Predator Helios 16 battery has four cells and a capacity of 90 watt-hours (WHrs), which tells you how much energy it can store. With this, you can use the laptop for a long time without charging it repeatedly.
It takes 1:15 hours to fully charge, which shows that it supports fast charging, which means it can charge fast.
Its battery is made of Lithium-Ion, a common rechargeable and non-removable type.
It supports USB Power Delivery, a technology that allows you to charge other devices through a laptop's USB port. The charger provides 280 or 330 watts of power, depending on the mode or setting.
---
Adapter
A 330 W powerful adapter has been provided with this laptop, which charges the battery up to 50% in half an hour and takes about 1 hour and 15 minutes to charge 100%. You can also charge the laptop through USB-C, but it will be a little slow.
---
Ports and Connectivity
There are 3 USB-A ports, and they are of the USB 3.2 Gen 1 Type-A variety. These ports connect peripherals such as external hard drives, mice, or keyboards.
There are 2 USB Type-C ports, and they are of the USB 4.0 Gen 2 type. USB Type-C ports are versatile and can be used for multiple devices, including high-speed data transfer and charging.
It has 1 Thunderbolt port that also supports DisplayPort. Thunderbolt is a high-speed interface used to connect external devices and can also be used to connect displays.
There is 1 HDMI port, which can connect the laptop to an external monitor or TV.
This Predator gaming laptop has a 3.5 mm audio port and an Ethernet (RJ45) for wired network connection. The computer has a card reader, which allows you to read memory cards from cameras and other devices.
It has WiFi version 6E, which is a high-speed wireless internet technology, and Bluetooth version 5.2, which makes it quickly connect to other devices like headphones and speakers wirelessly.
---
Operating System and Software
It comes with Windows 11 Home as the operating system and preserves the extensive feature lineup found in Windows 10 while infusing the system with a fresh, modern aesthetic.
It introduces attractive interface enhancements and features like snap layouts and widgets to make your computing experience more enjoyable and efficient.
Like other laptops, the Acer Predator Helios 16 has a selection of preinstalled software and applications. Among these is the DTS Sound program, which controls your laptop's audio settings and speakers.
Additionally, you'll find Killer Intelligence Center, a tool designed to help you optimize and improve your laptop's network performance.
---
What's Good in Acer Predator Helios 16
1. Powerful Performance:
The 13th Gen Intel Core processor pushes the boundaries of performance, allowing your PC to handle multiple tasks simultaneously and accomplish even more.
2. Impressive Display:
The screen uses IPS (In-Plane Switching) technology with a resolution of 2560×1600 pixels and a refresh rate of 165 Hz, which brings a new vision to your gaming experience.
3. Advance Graphics :
NVIDIA Advanced Optimus allows laptops to seamlessly switch between integrated and dedicated graphics without a full system restart.
4. Cooling: The Helios 16 has top-notch cooling technology: two specially designed 5th Gen AeroBlade 3D Fans, advanced heat pipes, and a special liquid metal thermal grease that cools the powerful CPU.
What's Bad in Acer Predator Helios 16
Price:
The laptop has good features and advanced technology, so its price has increased slightly, which is expensive for normal users.
2. Weight and Size:
Its weight is 2.7 kg (5.73 lbs); it is heavier than a normal laptop and can be challenging to carry.
---
Final Words
The Acer Predator Helios 16 is an affordable gaming laptop that can easily run heavy tasks and modern games. It has powerful 12th Gen Intel Core processors and NVIDIA GeForce RTX GPU, making it perfect for gaming.
But this doesn't just apply to gaming; This laptop is versatile and excels at multitasking, video editing, and everyday tasks. Its high-resolution display and powerful graphics card make it ideal for content creation.
Its stylish design and reasonable price offer excellent value for budget-conscious users. However, there are more portable options due to its weight and size.
FAQs
How long can the Helios 16's battery last?

The battery usually lasts for about 7 to 8 hours with normal use. However, Modern gaming and heavy tasks will last 3-4 hours.
Is a Predator laptop good or bad for gaming?
Predator laptops are excellent for gaming. They're designed for high-performance gaming, handling AAA-rated games, and easily achieving high FPS.

However, gaming performance may vary depending on the specific model and specifications, so choose an advanced one.
What is its CPU temperature?
This laptop is designed to operate at high temperatures with gaming; hence its CPU temperature is 79~82c.
What are the dimensions of Acer Predator Helios 16?

Its dimensions are 14.15 x 0.98 x 10.88 inches.
What is special about Predator?
Predator combines simple action, survival elements, and exciting sci-fi to create a unique and captivating experience.