Are you looking for a gaming laptop that can easily handle the latest games and intensive tasks such as video editing and 3D design? If so, the ASUS TUF Dash F15 is a reasonable solution.
If so, the ASUS TUF Dash F15 is a reasonable alternative for budget buyers.
This laptop has a strong CPU, GPU, and adaptable design that is ready to take on any gaming challenge, as well as some of the most recent and great specs available.
It has a good build quality and an excellent display for the price. The backlit keyboard is ideal for long periods of gaming or typing, and it has all the necessary ports.
In addition to gaming performance, this laptop is ideal for work and content creation. So, if you're looking for a PC-level powerful notebook that can replace a desktop setup, go no further than the ASUS TUF Dash F15!
ASUS TUF Dash F15 2022 Gaming Laptop Review
Price and Availability
Gaming laptops are often pricey, and finding a better one will be challenging; however, the ASUS TUF Dash F15 costs just under $1200 and is released by accepting the competitor's challenge.
It is a very affordable laptop that falls into the mid-range category when discounts are included.
This laptop is available from the ASUS official store, Amazon, and other e-commerce sites, so compare the prices.
Don't skip up the greatest price; keep monitoring the site to see how much discount it offers.
Release Date: January 2022
Laptop Type: Gaming
Series: TUF
Available on:
Specifications
This Asus laptop was launched with various features and customization options, but we have reviewed the 12th Gen Intel Core i7-12650H CPU with NVIDIA GeForce RTX 3060.
If you prefer a less affordable computer with less power than the i7, you may go with the 12th Gen Intel Core i5-12450H model. If your budget is a little more and you want to develop anything other than games, the i7 version with an advanced NVIDIA GeForce RTX 3070 GPU is a good option.
Key Features
| | |
| --- | --- |
| Model Name | ASUS TUF Dash F15 |
| Processor | 12th Gen Intel Core i7-12650H Processor (24M Cache, up to 4.7 GHz) |
| RAM | 16 GB DDR5; 4800MHz |
| Storage | 512GB PCle NVMe M.2 SSD |
| Graphics Card | NVIDIA GeForce RTX 3060 |
| Display | 15.6-inch, FHD (1920 x 1080) 16:9, anti-glare display,300Hz |
| Operating System (OS) | Windows 11 Home |
| Weight | 2.00 Kg (4.41 lbs) |
| Battery | 76WHrs, 4S1P, 4-cell Li-ion |
| Others | Thunderbolt 4, Backlit Keyboard, Windows 11, Fingerprint Reader |
Design and Display
The ASUS TUF Dash F15 2022 gaming laptop is an excellent alternative for anybody who needs an immersive display.
It features a 15.6-inch FHD (1920 x 1080) anti-glare display.
This laptop has an excellent screen-to-body ratio of 16:9. If you want to play any game with a higher refresh rate or do rendering, a 300Hz refresh rate will be beneficial, and it is the most modern technology available today.
It features a sleek, stylish, and durable design that is ideal for any studio, streaming, or outdoor usage. The screen is crisp and clear, making it ideal for fast-paced games or entertainment.
Overall, the ASUS TUF Dash F15 2022 is an excellent pick for gamers and video editors that want a realistic display.
Performance
Before purchasing any laptop, you should pay close attention to its performance, and if you intend to use it for gaming, you need to pay even more consideration. A laptop or PC needs a lot of power to do intensive work or play recent games. And the more powerful the hardware and software, the smoother you will be able to play.
Nowadays, popular streamers on YouTube, Twist, and Facebook mostly use innovative technologies and high-spec personal computers.
The ASUS Tuf Dash F15 2022 gaming laptop is ideal for anybody looking for high performance. The 12th Gen Intel Core i7-12650H CPU is fast, and the GPU is fast enough to handle more demanding games without latency or issues.
Furthermore, the ASUS Tuf Dash F15 2022 includes an NVIDIA GeForce RTX 3060 graphics card, which provides excellent visual quality and seamless gameplay.
It's an excellent laptop for gaming, streaming, and listening to music. It includes two stereo speakers, which are ideal for gaming or listening to music in loud surroundings.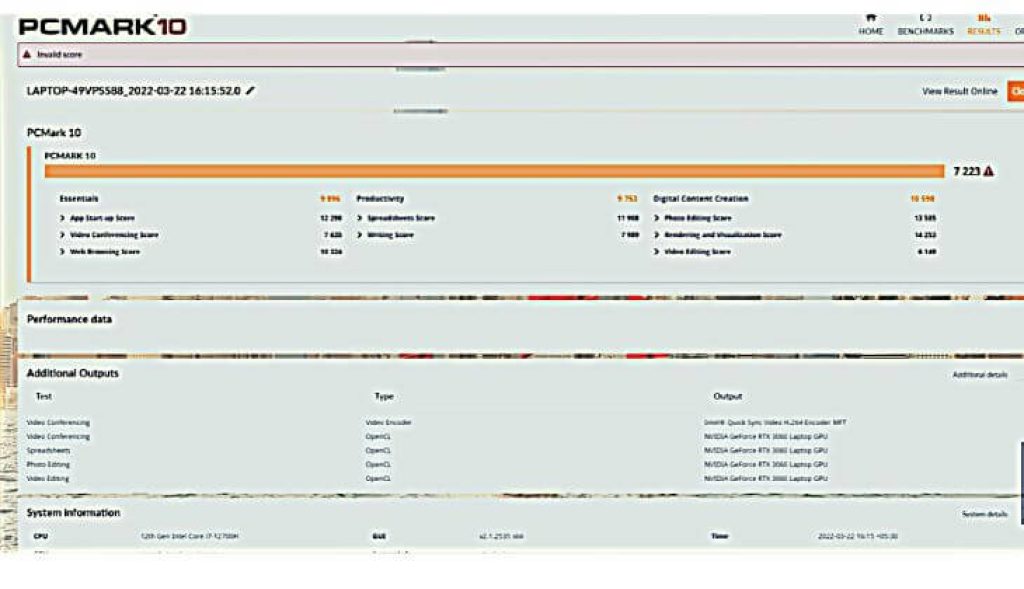 Gaming Performance
Gaming laptops are built with performance in mind. The ASUS TUF Dash F15 2022 is a high-end game console with exceptional performance.
It also has an ergonomic design that makes it easy to use for longer gaming periods.
We've played a lot of games, GTA-V, Cyberpunk 2077, and Minecraft, and it runs pretty well at 144 Hz, so for around $1000, this kind of gaming performance is a great value.
Video Editing
Video editing requires a great deal of power and versatility, and the ASUS TUF Dash F15 2022 is an excellent choice for the job.
The latest powerful NVIDIA Geforce RTX 3060 Graphics Card improves and enjoys creative work.
Using this laptop, we could effortlessly edit 4K videos for our YouTube channel. This laptop also includes a wide range of entertaining and engaging video editing capabilities and powerful specifications.
This is a cost-effective alternative if you create videos for any site, such as YouTube, Facebook, Instagram, or Office.
Multitasking
Nowadays, cheap laptops are also highly powerful and capable of multitasking, allowing them to do multiple tasks at once simply and fast.
At the time of testing, we generally used 3D rendering applications like AutoCAD on one tab, video editing on another, and gaming on another, and it still works fine.
It also includes a powerful Intel Core CPU, which enables you to run multiple apps at once with ease. So, whether you're searching for a laptop for gaming or multitasking, the ASUS TUF Dash F15 2022 is an excellent choice!
RAM and Storage
ASUS TUF Dash F15 2022 is the company's most recent gaming laptop, including an impressive memory and storage combination. It has 16GB of DDR5 RAM and 512GB PCle of SSD storage.
The laptop also includes an additional slot for upgrading RAM to 32GB and storage to 2TB. The computer boasts the fastest NVMe PCIe 3.0 SSD ever. It is a powerful laptop capable of handling gaming and other demanding tasks.
Graphics Performance
The NVIDIA GeForce RTX 3060 Laptop GPU delivers exceptional performance, making it ideal for gaming and other demanding applications.
This laptop has excellent graphics performance and can easily stream your favorite shows and games.
This GPU operates at a 1550MHz frequency and a 75W power consumption (1500MHz Boost Clock+50MHz OC, 60W+15W Dynamic Boost).
This laptop also boasts a Thunderbolt port, so you may connect additional devices to boost graphics performance.
Ports and Connectivity
A USB 3.2 Gen 2 Type-C support DisplayPort, a Thunderbolt 4 support DisplayPort, two USB 3.2 Gen 1 Type-A ports, and one HDMI port are also included in the ASUS TUF Dash F15 2022. It also contains a 3.5mm Combo Audio Jack for connecting earphones, microphones, or headphones and an RJ45 LAN port for connecting to a landline.
In addition, the device boasts an impressive number of ports for such a compact laptop, making it ideal for connecting peripherals. It also has cutting-edge WiFi 6 and Bluetooth technologies for quick connectivity in any situation.
ASUS TUF Dash F15 2022 camera is an excellent 720P HD webcam for internet broadcasting and gaming.
However, buying an additional webcam might be a better alternative if you take streaming or online classes because this laptop will not capture as much HD content with this camera.
It provides smooth video quality and good color reproduction even in low-light circumstances. The broad viewing angle is excellent for filming multiple persons simultaneously or sharing the screen with others.
Operating System and Software
The TUF Dash F15 runs the most recent version of Windows 11, which has many useful features. The operating system and software are both highly user-friendly, making it a simple laptop to operate.
The option of additional Microsoft Office 365 is also available on the e-commerce site, but there will be a lot more customizing possibilities on the official site. A premium warranty is recommended if you want assistance and protection against accidental damage. You can select and choose accordingly.
What's good?
It has a great design that runs efficiently and quietly.
It has the 12th gen alder lake CPU
The keyboard is backlit nicely so you can type in dark areas without having to strain your eyes.
It also displays graphics beautifully with vibrant colors
Plenty of Memory and Ports available.
What's bad?
It is not as premium as other ASUS models.
Battery life isn't great – lasting around 4 hours on average in general.
Little bit heavy
Frequently Asked Questions
Is ASUS TUF Dash f15 a good value for the price?

Yes, the ASUS TUF Dash f15 is a laptop in the mid-range pricing category, but it is a unique option. It has a powerful and up-to-date 12th-generation i7 CPU, an NVIDIA RTX GPU, and plenty of RAM and storage. It will be the ideal solution because you will receive all-around performance for $1000.

It will be the ideal solution because you will receive all-around performance for $1000.
Can I use the ASUS TUF Dash f15 to play high-end games?

Yes, we have played some modern and advanced-level games with no issues so far. We loved demanding titles such as GTA V, Cyberpunk 2077, and Minecraft, which can all be played at higher refresh rates and with smooth graphic settings.
Are ASUS TUF Dash f15 good for Students? 

Because of its weight, this is not a good choice for a school student. However, it will be a unique alternative for a college or university student who has to complete a lot of development or demanding work while simultaneously enjoying playing games. It is a comprehensive bundle for students.

This is the fastest laptop for engineering students to learn coding or machine learning since it works so quickly.
Verdict
The ASUS TUF Dash F15 2022 is an excellent laptop option for anyone looking for a low-cost yet reliable gaming computer. It boasts a beautiful design, strong hardware, and powerful performance.
The sole drawback is that it is not suited for official usage owing to its heavier weight and shorter battery life. Overall, the ASUS TUF Dash F15 2022 is one of the greatest gaming laptops on the market and represents excellent value for money.