We independently review everything we recommend. When you purchase through links on our site, we may earn an affiliate commission, which help support our testing. Learn more!
If you're looking for a gaming laptop that lets you play the latest games at high settings but doesn't cost more and makes your pocket empty, you are in the right place.
We've chosen some of the best cheap gaming laptops for gamers on a budget. These laptops will have you gaming like a pro, from powerful configurations to easy-to-use hardware, in no time.
Choosing a good gaming laptop at a reasonable price is still tricky in the competitive industry. Every gamer knows that a good laptop can cost anything from $600 to $1,000. But with the rise of new technological advancements and variants, many new models can provide you with a powerful, high-performance machine without spending much money.
Best-budget gaming laptops are also an excellent investment, and there is no denying that they are a perfect piece of tech.
Today's consumers need a lot from their computers. And this is where gaming laptops come in. Some are cheaper, faster, and offer much more powerful laptops for less money than others.
The best laptop for gaming will always be the one that is just good enough for you from different perspectives like cost, durability, functionality, etc. After all, there is no reason to spend a lot of money on a gaming laptop that does not meet your needs.
If you're looking for a gaming laptop on a budget, check out our detailed post; we've reviewed laptops ranging from $400 to $3000 that will be a better gaming alternative.
What to Look for in a Budget Gaming Laptop?
It would help if you decided what you wanted to play to get an affordable gaming laptop. Some people want to buy a cheap laptop that can run Minecraft and some belief in a cheap laptop for gaming and video editing. The exemplary computer is perfect for running games and editing at high speed and smooth frame rates.
This article reviews the best cheap gaming laptops you can buy in 2023. This will help gamers decide which one to buy and why according to its components, processor, storage, performance, etc.
That being said, there are a few things you can do to make the experience better:
Make sure to choose a budget gaming laptop with a dedicated and smooth graphics card. This will allow you to run the most recent graphics updates and enjoy the best graphics possible.
Get a cheap laptop with the latest gen and advanced level processor. This will allow the computer to handle more complex tasks and gaming requirements.
Make sure to get a laptop with a good amount of fast RAM and SSD storage. This will allow you to run multiple applications simultaneously without any interruption or lag.
Get a laptop with a backlit keyboard and a high-quality mouse for smooth gaming at night and in low light.
The Best Cheap Gaming Laptops in 2023: Top Picks
Processor: 11th Gen Intel Core i7-11800H

GPU: NVIDIA GeForce RTX 3060

Processor: 5th Gen AMD Ryzen 7 5800H

GPU: NVIDIA GeForce RTX 3050 Ti

Processor: 12th Gen Intel Core i7-12650H

GPU: NVIDIA GeForce RTX 3060

Processor: 10th Gen Intel Core 15-10300H

GPU: NVIDIA GeForce GTX 1650 Ti

Processor: AMD Ryzen 5 6600H

GPU: NVIDIA GeForce RTX 3050

Processor: AMD Ryzen 5 5600H

GPU: NVIDIA GeForce GTX 1650
---
1. Acer Predator Helios 300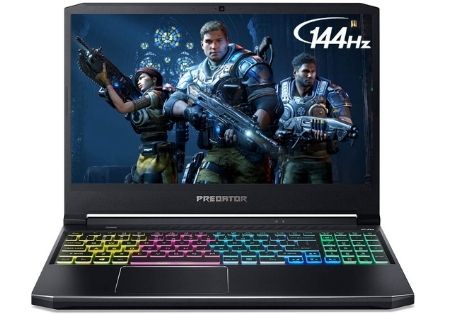 Predator Helios 300 is designed to deliver a performance utilizing the 11th Generation Intel Core i7-11800H processor. Its 8 cores and 16 thread processing power is the single most impressive thing with which it competes with other competitors in this range.
One of the innovative features is its 16GB RAM with DDR4 3200MHz support. It has 512GB of SSD storage. This idea gives you more performance than you would generally get in a typical computer.
The screen size is 15.6-inch Full HD resolution. It offers an impressive 144Hz refresh rate IPS display. Some competitors provide 60 hertz or 120 hertz, but 144 hertz is extremely impressive.
With a high refresh rate, gamers will experience ultra-smooth 2D motion scenes and a low input lag, yielding a highly satisfactory gaming experience. The device's 3ms overdrive response time is always in demand by gamers who want the best visual experience other than the cheapest gaming laptops.
With the help of the new NVIDIA GeForce 30 Series graphics card, Acer Predator Helios 300 can give you the ultimate gaming experience in all FPS gaming titles. It has the best performance for productivity and quality graphics in this price range.
Due to its high performance, the system's battery life is not compromised. This device is estimated to have a battery life of approximately six hours. It performed well during a streaming video test for about four hours and 30 minutes.
It has 4 USB 3.0 ports located on the same SSD or HDD. Also, we can have a large storage capacity within a small space and are powerful enough to handle most games. It is an affordable gaming laptop due to its performance. Its fast 60 fps frame rates allow gamers to play games without compromise.
Pros
Strong Build Quality
Smooth Graphics Performance
Powerful CPU
Powerful GPU
Great Backlit Keyboard
Great Customization
---
2. Lenovo Legion 5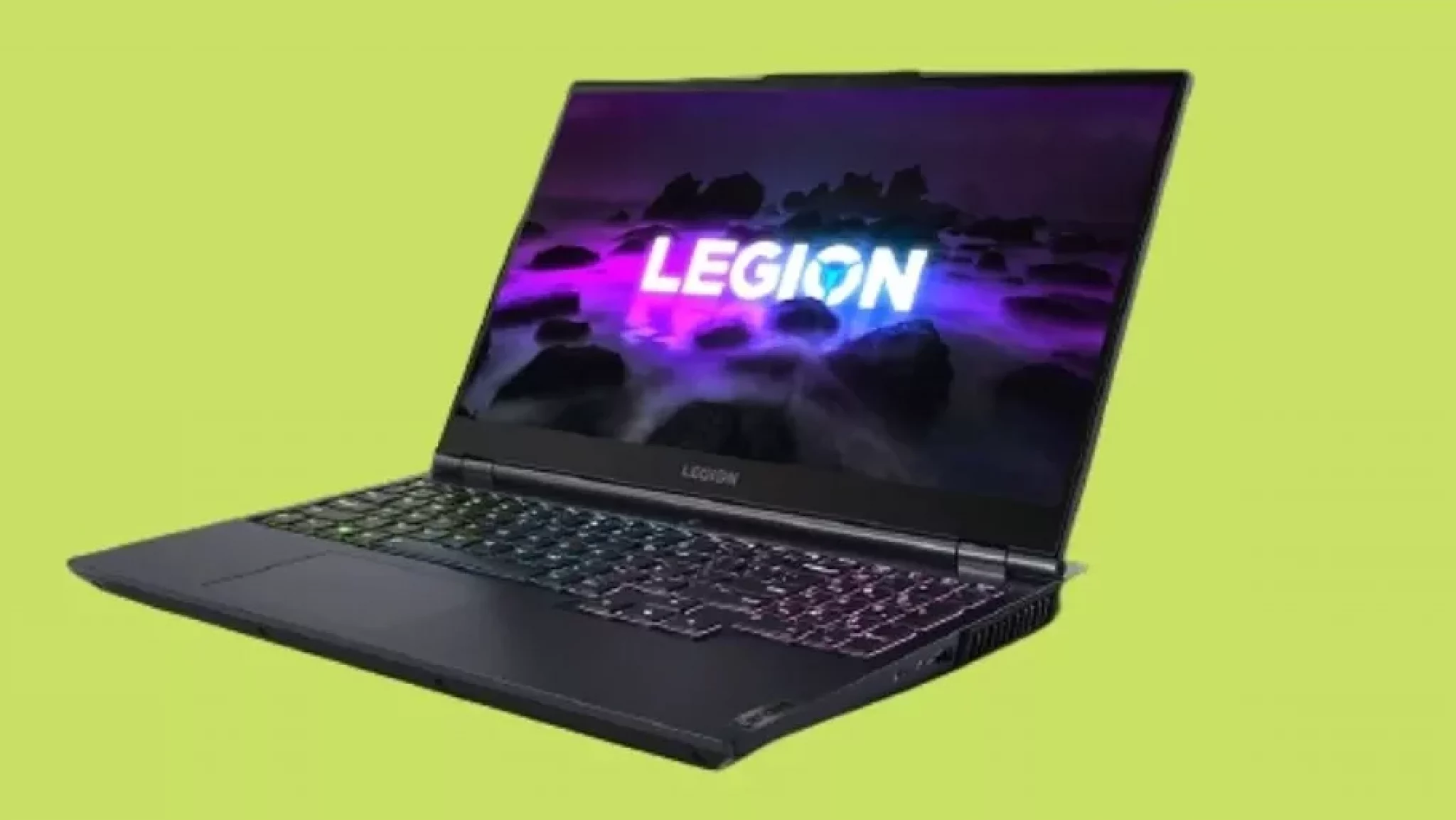 Specifications
| | |
| --- | --- |
| CPU (Processor) | 5th Gen AMD Ryzen 7 5800H processor with 3.2GHz |
| GPU | NVIDIA GeForce RTX 3050 Ti 6GB GDDR6 |
| RAM | 16GB DDR4 RAM 3200MHz |
| Storage | 512GB NVMe SSD |
| Screen | 15.6-inch FHD (1920 x 1080) IPS display, 165 refresh rate |
| Weight | 5.28 lbs (2.39 kg) |
| Battery Life | Up to 8 hours |
| Others | 4-zone RGB backlight Keyboard, WiFi 6, Bluetooth 5.0, Windows 10 Home |
The Legion 5 has AMD Ryzen 7 5800H processor, a truly powerful gaming system. The system has a maximum of 8 cores and up to 16 threads. It has. It also supports DDR4 RAM and 512GB of a solid-state drive. In addition, there is more than enough RAM that you can install to increase your game performance.
The NVMe SSD gives you speed and storage space to store all your games.
It offers 16GB of system memory, around three times more than what was available on a previous generation of the laptop. Since it also has a 512 GB Solid State Drive, it has more storage space than many laptops available today at this price point.
It is considered one of the most visually appealing laptops on this list. It has a high-resolution (1920 x 1080) display with excellent color and clarity. The screen measures 15.6 inches and has an IPS panel.
This is the best graphics card that you can buy today. It features Nvidia GeForce GTX 1070 Ti GPU, which gives you plenty of performance to play games at high settings. It has 4 USB 3.0 ports for faster transfer rates.
Lenovo Legion 5 processor is the fastest in its class and offers by far the best CPU performance of any laptop in its class. It has 8 cores and 16 threads spread across four physical cores and a higher clock speed and turbo boost frequency than most other CPUs.
In the evaluation of the processor, it is seen that the CPU overload performance of Lenovo Legion 5 far exceeded all other systems with similar specifications. The single-core score was a mere 2900 points, yet it could beat all competitors. Its battery lasts for 6 hours and 15 minutes.
Pros
Affordable Price
Powerful Processor and GPU
Lots of RAM and Storage
Anti-Glare Display with 100% RGB
---
3. ASUS TUF Dash 15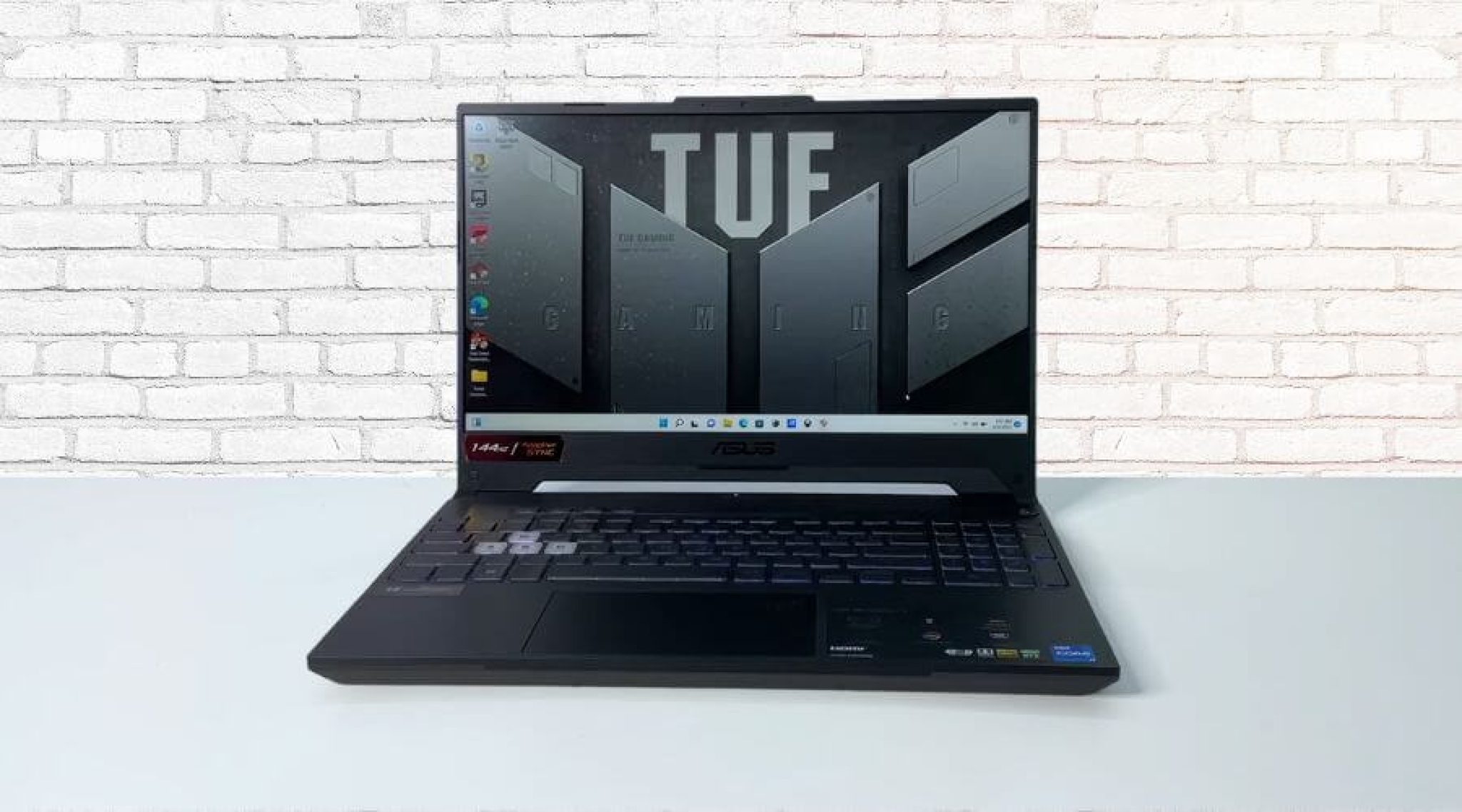 Specifications
| | |
| --- | --- |
| CPU (Processor) | 12th Gen Intel Core i7-12650H Processor (24M Cache, up to 4.7 GHz) |
| GPU | NVIDIA GeForce RTX 3060 |
| RAM | 16GB DDR5 RAM |
| Storage | 1TB PCIe NVMe M.2 SSD |
| Screen | 15.6-inch, FHD (1920 x 1080) 16:9, anti-glare display,300Hz |
| Weight | 4.41 lbs (2 kg) |
| Battery | 76WHrs, 4S1P, 4-cell Li-ion |
| Others | Thunderbolt 4, Backlit Keyboard, Windows 11, Fingerprint Reader |
Read ASUS TUF Dash F15 2022 Full Review
The newest processor, Intel Core i7-12650H, is designed to run graphics-intensive applications such as games or video editors well.
It has an NVIDIA GeForce RTX 3060 Card with 8GB of fast GDDR6 memory at 60W. This card is great for VR games, but at the same time, it can also be configured with many CPUs that don't have a dedicated GPU.
It means that the performance of this chip isn't limited to just VR applications; even compute-heavy applications can perform well with this chip (4x APU).
The best part of a laptop is its performance. And you can't beat its speed and power regarding productivity. ASUS TUF Dash 15 has 16 GB DDR5 RAM and 1TB M.2 SSD memory, which is more than enough for running multiple applications simultaneously; that's why it is on the list of best-budget gaming laptops.
Asus TUF Dash 15 Gaming Laptop is the best configuration for most gamers who want to play their preferred games without lag on high-resolution monitors. Also enjoy playing FPS games like Counter-Strike: Global Offensive and Battlefield V in comfort, and a cheap laptop that can run Minecraft. The computer may be expensive, but it has a vibrant gaming display.
Even if there is no need for extreme gaming, people still like to have good displays with a high refresh rate. ASUS TUF-Dash 15 display has a beautiful design and great features.
This laptop has a 15.6-inch display which is also lighter than traditional laptops and can be folded in half with only one hand. It is designed with an elegant metal body for a premium look even when folded in half; it has an ergonomic design, making it best for daily activities such as playing games or watching movies.
In addition to the excellent performance, it has a bigger battery of around 6 hours which might be suitable for long gaming sessions.
There are two USB 3.0 ports ready to accommodate gaming peripherals. Through Thunderbolt 4 Type-C and HDMI 2.0b, dual external displays can be driven to enable more efficient multitasking.
It would help if you bought it because it features enough for every gamer to enjoy their gaming experience superbly.
Pros
It has a great design that runs efficiently and quietly.
It has the 12th gen alder lake CPU
The keyboard is backlit nicely so you can type in dark areas without having to strain your eyes.
It also displays graphics beautifully with vibrant colors
Plenty of Memory and Ports available.
Cons
It is not as premium as other ASUS models. 
Battery life isn't great – lasting around 4 hours on average in general.
Little bit heavy
---
4. ASUS TUF F15
Specifications
| | |
| --- | --- |
| CPU (Processor) | Intel Core i5-10300H Processor (8M Cache, up to 4.5 GHz, 4 Cores) |
| GPU | NVIDIA GeForce GTX 1650 4GB GDDR6 Graphics |
| RAM | 8GB DDR4 2933MHz |
| Storage | 512GB PCIe NVMe M.2 SSD |
| Screen | 15.6 inch Full HD (1920×1080) IPS-Type display, 144Hz |
| Weight | 5.07 lbs (2.3 kg) |
| Battery Life | Up to 12 hours |
| Others | Killer Wi-Fi 6, Bluetooth, Windows 11 Home, RGB Backlit Keyboard |
Asus make this with a Core i5-10300H chip 11th gen processor. It has four cores and runs at a frequency of 4.5 GHz, which is ideally suited for gaming.
The core is an essential aspect of a CPU and is regarded as its own small processing unit. On the other hand, Threads may be viewed as virtual cores: they are not as capable as the real thing, but they are still better than cores alone. Due to its processor, this laptop is capable of gaming and streaming, which makes it a good buy.
It is the first laptop equipped with 8 GB DDR4 memory and a 512 GB PCIe solid-state drive. The computer is built from the ground up for eSports and gaming, featuring a tailored cooling solution to deliver maximum gaming performance.
This laptop features a 15.6-inch FHD IPS-Type Display with a 144 Hz refresh rate, an ideal cheap laptop for gaming and video editing. This display also provides a comfortable viewing angle in gaming. This screen has an aspect ratio of 16:9 and an IPS panel with a resolution of 1920×1080 pixels.
This all-in-one is targeted at professional gamers who want to get the most out of their graphics card and CPU simultaneously. It comes with a bigger battery that lasts for longer. This one goes for about eight hours of usage.
It has several available USB ports, one USB 2.0 port, and two more USB 3.0 ports, so you will no longer need to buy an additional USB hub for your computer to have enough USB ports for all the devices you want to connect.
It has pretty impressive performance for its price because of its GTX 1650 graphics card. This laptop is the best all-around low-cost gaming laptop.
Pros
Affordable Price
Lots of Storage and Latest Memory
Premium Durability
RGB Backlit Keyboard
Powerful Processor
Cons
Heavy
Average Battery Backup
---
5. Lenovo IdeaPad Gaming 3
Specifications
| | |
| --- | --- |
| Processor | AMD Ryzen 5 6600H |
| Graphics | NVIDIA GeForce RTX 3050 Graphics |
| RAM | 8GB DDR4 3200MHz Memory |
| Storage | 256GB NVMe SSD |
| Screen | 15.6-inch FHD IPS LED-backlit 120Hz Display |
| Weight | 4.84 lbs (2.19 kg) |
| Battery Life | Up to 6 hours |
| Others | Backlit Keyboard, Wi-Fi, Bluetooth 5.1, and Windows 11 Home OS |
The new Lenovo IdeaPad Gaming 3 is the latest addition to its gaming series from Lenovo. It is the best budget gaming laptop. With a powerhouse of a 6-core, 12-thread AMD Ryzen 5 6600H processor, users can efficiently multitask. This laptop's processor will be great for gamers who want to game with the latest technology.
It has 8GB of DDR4 RAM, 256GB SSD memory, an FHD display, and a screen size of 15.6 inches. The screen is also among the best available in terms of color accuracy.
Human eyes often see colors differently depending on their depth and brightness level. It can be very useful to look at images each time you want to refresh your memory or use your computer for long periods.
By turning off auto-refresh and setting the refresh rate to 120Hz, the display looks free from any jittering or other artifacts that can tarnish an image's quality.
It is the perfect combination of performance, size, and lightweight. This Lenovo Budget gaming laptop allows users to play games on high-quality graphics to achieve the best gaming experience, regardless of its resolution.
It has a 6-hour battery life and a few great features to make your life more convenient. Its dual USB 3.0 ports are great for frequently transferring large files or playing games.
---
6. HP Pavilion 15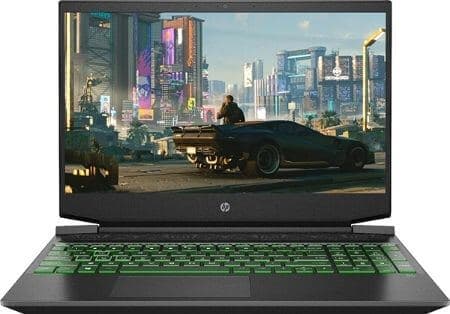 Specifications
| | |
| --- | --- |
| CPU (Processor) | AMD Ryzen 5 5600H mobile Processor |
| GPU | NVIDIA GeForce GTX 1650 Graphics |
| RAM | 8 GB DDR4 SDRAM |
| Storage | 512GB solid-state drive |
| Screen | 15.6-inch full HD (1920 x 1080) micro-edge display |
| Weight | 4.4 lbs (1.99 kg) |
| Battery Life | Up to 6 hours |
| Others | Backlit Keyboard, Bluetooth, Wi-Fi, Windows 10 Home |
HP Pavilion 15 is a 15.6-inch ultra-thin laptop. It has an excellent display and is just 1.75kg in weight. It can be taken anywhere with you without attracting too much attention.
It's travel-friendly and features one of the latest CPU options and a larger hard drive and SSD drive to keep your files safe in case they get damaged while traveling.
There is a powerful AMD Ryzen 5 processor (3 GHz speed) and Intel Core i7 processor that runs at speeds of up to 3 GHz on the system. Both are powerful enough for any game, so that users can get this laptop for a low price.
Moreover, if you forget to do something, its excellent battery life will easily last through your entire day without plugging it into the charger again.
HP Pavilion 15 is the cheapest gaming laptop specially designed for work and gaming. With HP's latest computer and new hardware features, it can run any high-performance application or game at high speeds.
HP's Pavilion 15 laptop is equipped with the latest 8 GB of memory, enough to support up to 32 GB of RAM and 512 GB of SSD storage. A dual-core Intel Core i5 processor powers it with a clock frequency of 3200 MHz.
It features two USB 3.1 ports and a SATA Express interface. This laptop has 65 Watt AC adapter, which provides up to 5 hours of battery life when idle. Through its HDMI port, you also access HD content on your laptop.
Pros
Powerful Processor
Powerful Dedicated Graphics Card
Responsive touchpad
Advanced thermal management
Powerful B&O speakers
Excellent Backlit Keyboard
Light Weight and Portable
Cons
Only 45% of NTSC display
Average Battery Life
---
Frequently Asked Questions
Q1. How much Storage do I Need for Gaming?
The amount of Storage you need for gaming will vary depending on the type of game you play and how much data you download. However, you will generally want at least 256GB of SSD storage space for your gaming needs.
SSD is far better and faster than HDD, so choose the SSD as the primary storage drive, allowing you to save and access your game files quickly. If you are a heavy gamer, you will likely want more storage space – up to 1TB is recommended.
If you need more Storage than 1TB, go for the external Hard Disk, which is cheaper for storing large files.
Additionally, back up your files regularly to avoid data loss. Contact the manufacturer for assistance if you have issues with your game files. They will almost always be able to offer you a copy of your game files so that you can continue to play.
| Games | Storage Space (Minimum) |
| --- | --- |
| Minecraft | 24GB (SSD Recommended) |
| Fortnite | 128 GB Recommended |
| League of legends | HDD: 12 GB of free space |
| Counter-Strike: Global Offensive | HDD: 15 GB of free space |
| Valorant | 24 GB Free Space (SSD Recommended) |
Q2. How much RAM do I Need for Gaming?
It depends on the type of gaming you plan on running and your computer. However, a general needs at least 4GB of RAM for installing and enjoying the latest gaming. More is always better, so if you are unsure whether or not you need more RAM, it is best to err on the side of caution and get more.
More RAM means that the game will run smoother and faster. You will need at least 8GB of RAM to run most games on high graphics settings. More RAM is also beneficial for multitasking and running multiple applications at once.
16GB would suit modern or AAA-rated games, so choose what games you want.
Also Read
How Much RAM do I Need for Gaming?
Q3. What is the Best Gaming Laptop Brand?
There are many excellent gaming laptop brands, but which is the best? Depending on your individual needs and preferences, that question can be challenging to answer.
To help make your decision easier, we have compiled a list of the top 8 gaming laptop brands.
| | |
| --- | --- |
| Ranking | Brand |
| 1. | Alienware |
| 2. | Asus |
| 3. | Acer |
| 4. | HP |
| 5. | MSI |
| 6. | Lenovo |
| 7. | RAZER |
| 8. | Gigabyte |
Each of these brands has its unique features and strengths, so it is essential to do your research before purchasing. The key factors include the processor, graphics, RAM and storage, display, weight, and warranty.
---
Final Words
Selecting the best cheap gaming laptop can be a tough decision. There are plenty of good deals, but how do you know the best? Consider all your options when buying a new laptop. You can consider a general price range or computer components and ensure you can find the best choice for your needs. You will find this article helpful in buying the best gaming laptop.
The choice is about the type of games you watch, what graphics card you want, and whether or not you want the latest version of Windows. The best cheap gaming laptop should perform at least some of the abovementioned tasks perfectly. If it doesn't, it isn't a good choice for gamers.
Gamers want to buy cheap devices with low prices and capacity, but at the same time, they do not wish to compromise on their gaming experience.
The Lenovo Ideapad gaming 3 is a good choice for selecting the best budget gaming laptop. Lenovo Ideapad Gaming 3 has enough power for all games, from racing to fighting, perfect for first-person shooters or action games.
The best thing about this is that it has a processor that can run even the most demanding games smoothly and without lag.
The good part is that the graphics card does not show any weakness in performance difference between this and other devices with similar specifications. The battery life of the Lenovo Ideapad is also a plus point.
After reading this article, you will know all the aspects of gaming laptops, how to select, and which to choose.
Best Budget Gaming Laptops in 2023