The Lenovo ThinkPad X1 Carbon Gen 11 series has various models to meet specific computing needs. This laptop is neither too expensive nor too cheap, which suits the budget of most people.
The one I am reviewing in this article comes for $1,391.40, but there is also an option with a better configuration, which is a bit more expensive. But most of the daily tasks or office work can be done easily with this model. It has the new Raptor Lake 13th-generation Intel processor, which is quite fast.
In this article, we'll explore the strengths and weaknesses of the configurations mentioned, helping you decide whether this laptop is right for you.
ThinkPad X1 Carbon Gen 11
Release Date: April 2023
Model: 21HM002GUS
Laptop Type: Business
Series: ThinkPad X1
Available on:
Lenovo ThinkPad X1 Carbon Gen 11: Key Features
| | |
| --- | --- |
| Model Name | ThinkPad X1 Carbon Gen 11 |
| Processor | 13th Gen Intel Core i7-1355U |
| Core | 10 Cores, 12 Threads |
| Frequency | 3.7 GHz up to 5 GHz |
| RAM | 16 GB DDR5 |
| Storage | 512GB SSD |
| Graphics Card | Intel Iris Xe Graphics |
| Display | 14 Inches, WUXGA (1920 x 1200),60Hz, Touch, 400 nits |
| Operating System (OS) | Windows 11 Pro |
| Weight | 1.12 kg (2.48 lbs) |
| Battery | 57 Whr, Li-Polymer |
Lenovo ThinkPad X1 Carbon Gen 11: Full Specifications
Processor (CPU)
| | |
| --- | --- |
| Processor Model Name | 13th Gen Intel Core i7-1355U |
| Processor Speed | 3.7 GHz up to 5 GHz |
| Cores | 10 |
| Thread | 12 |
| Cache Memory | 12 MB |
| Fabrication Process | 10 nm |
Video Card
| | |
| --- | --- |
| Graphics Processor | Integrated Intel Iris Xe Graphics |
| Graphics Memory Capacity | System Shared |
| Graphic Type | Integrated |
| Memory Type | LPDDR5X |
| Fabrication process | 10 nm |
| Shading cores | 768 |
| Memory speed | 6.4 Gbps |
| Total Graphics Power | 15 W |
RAM
| | |
| --- | --- |
| Memory Capacity | 16 GB |
| Memory Type | LPDDR5 |
| Frequency | 6400 MHz |
| Memory Slots | 2×8 GB |
| Upgradable | Yes,Up to 32GB |
| No Of Slot | 2 |
Storage
| | |
| --- | --- |
| Storage Capacity | 512 GB |
| Storage Type | M2 SSD |
| Channels | 1×512 GB |
| No Of Slots | 1 |
| Upgradable | Yes |
Display
| | |
| --- | --- |
| Screen Size | 14 inches |
| Screen Resolution | 1920 x 1200 pixels |
| Refresh Rate | 60 Hz |
| Display Screen Type | IPS LCD |
| Pixel Density | 162 ppi |
| HDR support | No |
| Touch Input | Yes |
| Coating | Matte (Anti-reflective) |
| Maximum brightness | 400 nits |
| Aspect ratio | 16:10 |
| Contrast | 1778:1 |
| sRGB Color Space | 100% |
Battery
| | |
| --- | --- |
| Capacity | 57 WHrs |
| Charging time | 1:55 hr |
| Battery type | Li-Polymer |
| Removable | No |
| Fast charging | Yes |
| USB power delivery | Yes |
| Charging connector location | Left |
| Charging power | 45 / 65 W |
| Charge Weight | 197 / 312 grams |
Frame
| | |
| --- | --- |
| The weight | 1.12 kg (2.47 lbs) |
| Dimensions | 12.43 x 8.76 x 0.6 inches |
| Screen-to-body ratio | ~80.9% |
| Side Frames | 7.1 mm |
| Material | Carbon fiber and Aluminum |
| Colors | Black |
| Transformer | Yes |
| Opening angle | 180° |
Thermal Management
| | |
| --- | --- |
| Cooling type | Active |
| Evaporation chamber | Yes |
| Liquid Metal | Yes |
| Number of Fans | 2 |
| Noise Level | 42 dB |
Sound
| | |
| --- | --- |
| Speakers | 2.2 (2 tweeters and 2 woofers) |
| Speaker Power | 2x2W, 2×0.8W |
| Dolby Atmos | Yes |
| Loudness | ~84 dB |
| Microphones | 4 |
Communications
| | |
| --- | --- |
| WiFi Version | v6E |
| Bluetooth | v5.3 |
| Fingerprint Scanner | Yes |
| Drive | No |
| Webcam | Above the display |
| Webcam Resolution | 1920 x 1080 |
IO and Ports
| | |
| --- | --- |
| USB Type -A | 2x USB 3.2 |
| USB Type -C | 2x USB 4.0 |
| Thunderbolt | 1x Thunderbolt 4 |
| HDMI | 1x HDMI 2.1 |
| Display port | No |
| VGA | No |
| Audio port (3.5mm) | Yes |
| Ethernet (RJ45) | No |
| Card reader | No |
| Separate charging port | No |
Keyboard and Touchpad
| | |
| --- | --- |
| Key type | Island |
| Numeric Block | No |
| Keyboard Size | 11.0 x 5.6 cm |
| Key Travel | 1.5 mm |
| Backlight | Yes |
| Surface | Glass |
| Windows Precision | Yes |
Benchmark
| Test | Single-Core | Multi-Core |
| --- | --- | --- |
| Geekbench 6 | 2370 | 8518 |
| Cinebench R23 | 1690 | 5470 |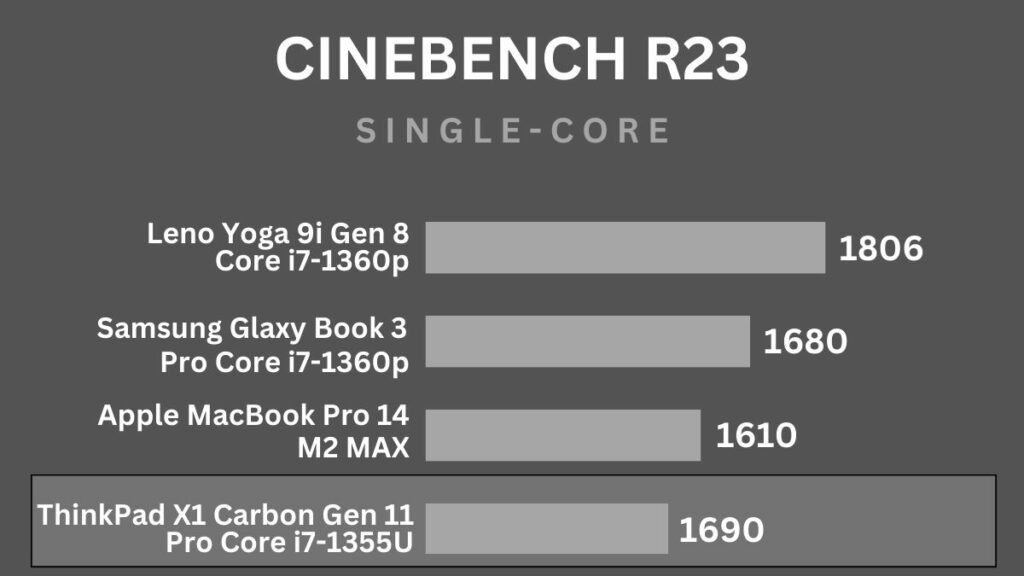 Price and Availability
This ThinkPad X1 Carbon Gen 11 series from Lenovo consists of different models with different specifications. The starting price of the basic model is around $1,391.40, which comes with an Intel Core i7-1355U Processor, Integrated Intel Iris Xe Graphics, 16 GB DDR5 RAM, and 512 GB storage. You will also get a touchscreen in this model.
Apart from this, there are other configuration options available, like 32 to 64 GB RAM, 1 TB to 2 TB storage, and the option of dedicated graphics and many processors. But remember that configurations with a less powerful processor and less storage are cheaper, and configurations with a better processor, more RAM, and more storage are more expensive.
The configuration we're talking about is a good choice for most people. The 14-inch screen is small for heavy-duty tasks, and the laptop's graphics could be more powerful, but its affordability is still great for most daily tasks and office work.
All models, starting from the base version of ThinkPad X1 Carbon Gen 11, are available on Lenovo's official website. Apart from this, it is available for purchase on e-commerce websites like Amazon and Walmart. It depends on you from where you would like to buy it.
Performance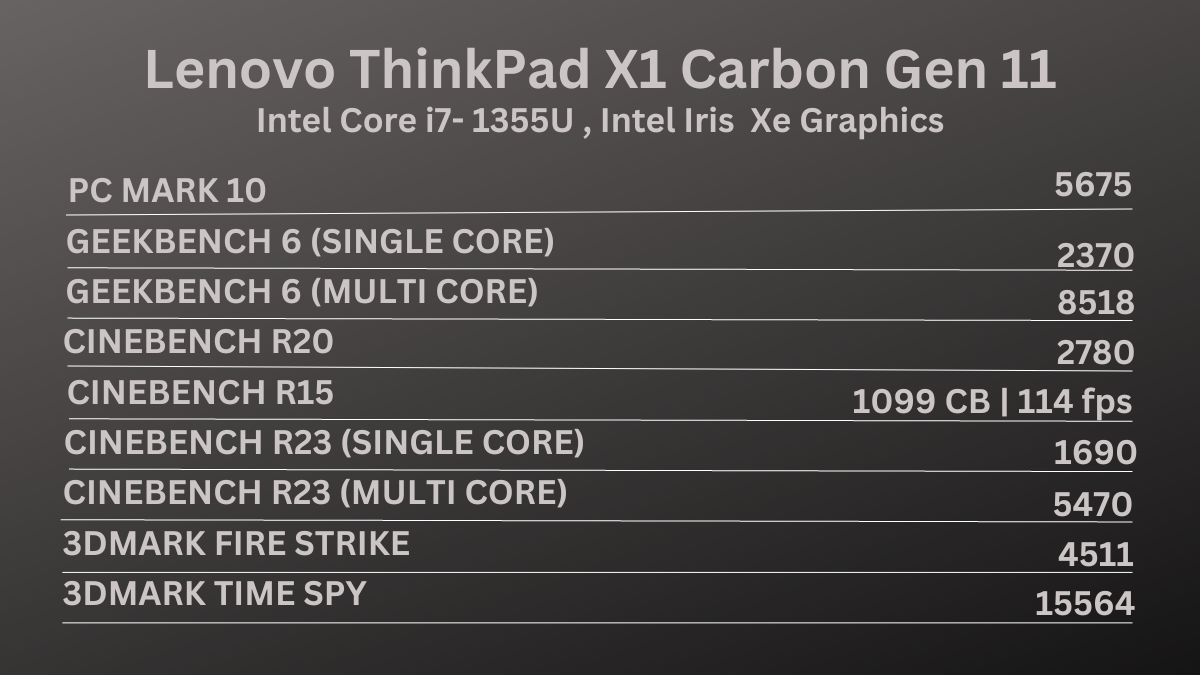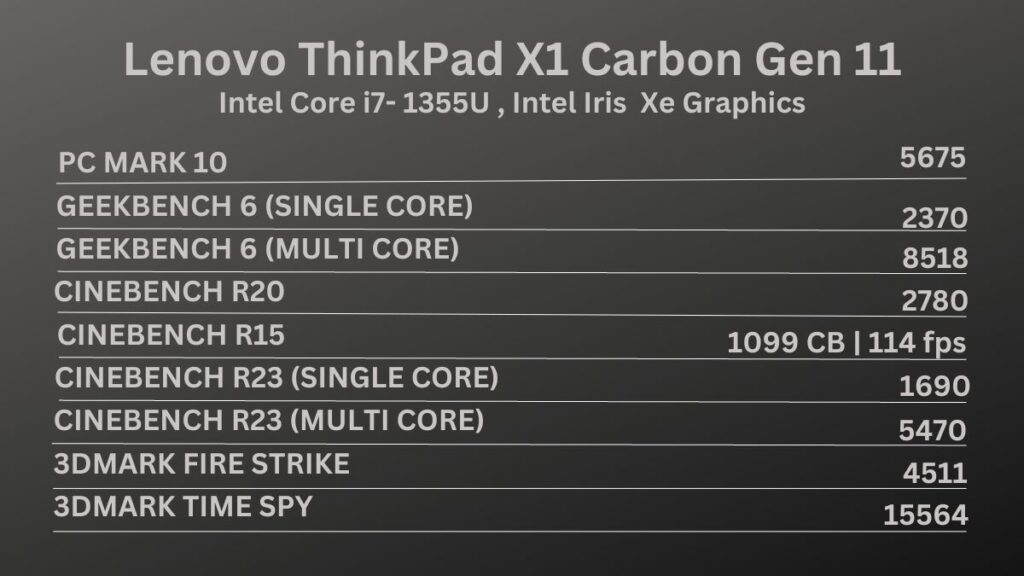 Processor
It has an Intel Core i7-1355U processor with a 13th-generation chip, 10 cores, 12 threads, and 12 MB cache memory. This CPU operates at a base speed of 1.7 GHz, and turbo boosts up to an impressive 5 GHz when it needs extra processing power. It performs well in everyday tasks like using Microsoft Office, browsing the web, and sending emails. While its performance is slightly lower for single or multi-core tasks.
When tested using Geekbench, it scored 8,518 in the multi-core benchmark. This score is slightly lower than other laptops in the same price range. This difference is because those laptops had somewhat more powerful processors. It coded a 4K video to 1080p in about 9 minutes and 15 seconds. Although it is not the fastest, it is suitable for most users.
Graphics Card
Lenovo ThinkPad X1 Carbon has integrated Intel Iris Xe graphics. It's suitable for everyday office tasks and general use, but it's not the best for graphics-intensive applications and gaming. Its graphics capabilities are almost good but not exceptional. It handles tasks like video playback and basic graphics but can't provide a smooth gaming experience for demanding titles.
It achieved a 3DMark Time Spy stress test score of 15564, indicating its capability to handle demanding graphical workloads in both 3DMark Time Spy and Gaming Benchmark graphics tests.
Gaming Performance
Its integrated graphics performance could be better when running graphics-intensive games at high settings. A laptop with dedicated graphics is a good option for gaming.
When running Civilization VI at 1080p resolution, gaming performance averaged 19 frames per second. When we ran the high-end game Cyberpunk 2077 on it, its performance was very poor. These are suitable for playing less demanding or older games.
Storage and RAM
It has 512 GB SSD, enough for operating systems, applications, documents, and media files. Still, it has more options, like 1 TB and 2 TB SSDs, which are significantly faster than traditional hard drives (HDDs).
These provide faster data access and read/write speeds, resulting in faster boot and application loading.
As Lenovo ThinkPad X1 Carbon is designed for productivity and everyday work. Its 16GB RAM handles general office tasks and light photo editing with ease.
Design and Build Quality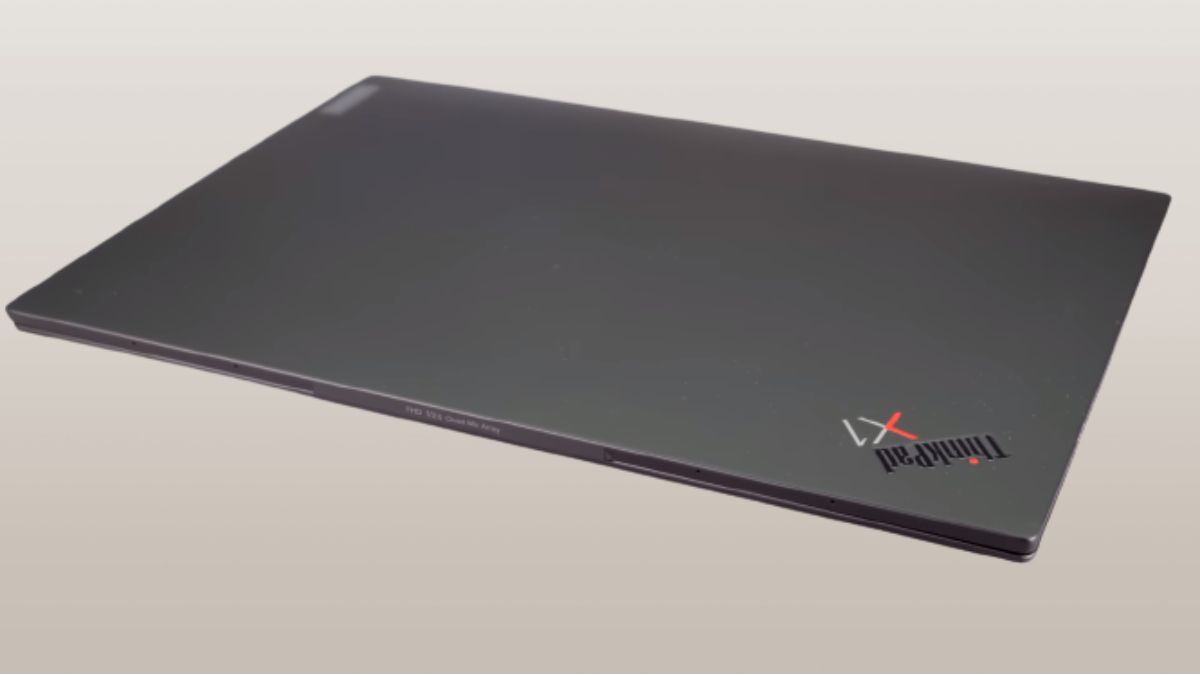 Carbon fiber and magnesium have been used in its construction, making it solid and light. The lid to cover its display is made of carbon fiber, which looks classic and beautiful. The materials used not only provide strength and durability but also provide stability. It has retained the iconic matte-black ThinkPad design.
The top left corner of the lid bears the "ThinkPad X1" logo. A touch of color is added by the signature red TrackPoint, and the subtle Lenovo logo is positioned on the bottom-right corner of the cover. It has MIL-STD-810H certification, demonstrating its durability against drops, bumps, and other threats.
This is a lightweight and very highly portable laptop. It measures 12.43 x 8.76 x 0.6 inches and weighs approximately 2.48 lbs (1.12 kg), which is excellent for use on the go.
Its hinge is both rigid and smooth. It holds the display securely in place, allowing it to be adjusted with one finger. One minor drawback is that the design of the laptop attracts fingerprints. Matte black surfaces require regular cleaning to maintain their smooth appearance.
For security, the laptop has a fingerprint reader integrated into the power button and an IR camera for facial recognition, which is compatible with Windows Hello. Additionally, it has an option for a Mobile Industry Processor Interface (MIPI) camera that detects human presence and automatically locks the laptop when you walk away.
Display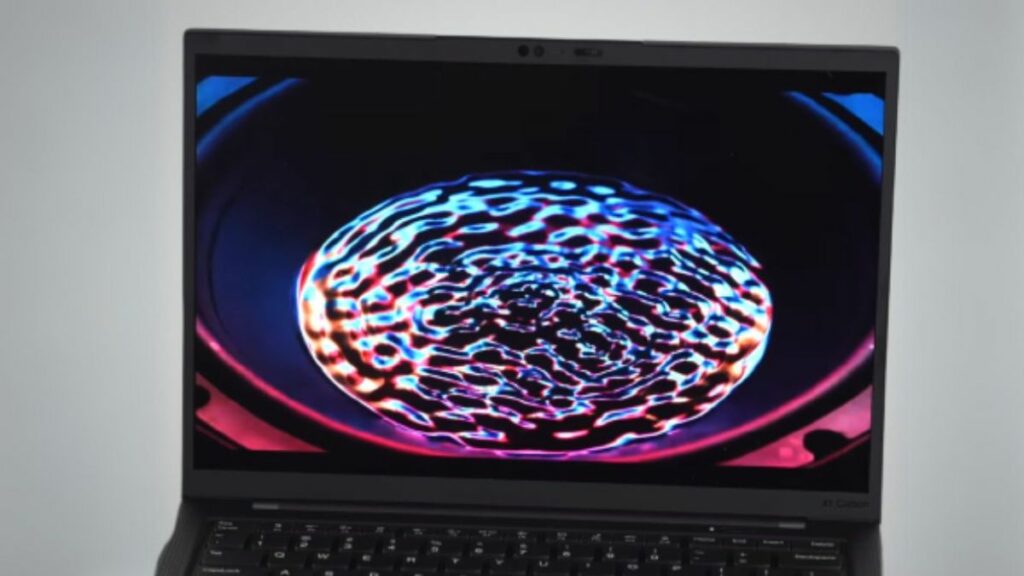 Its screen size is 14 inches with a resolution of 1920 by 1200 pixels and an IPS non-touch panel with a brightness of 400 nits. Since this laptop is designed for everyday use, the size is appropriate. While some other laptops have bigger and better screens than this, those laptops are made for more specific needs. Apart from this, it offers different screen options.
There are other options, too, including a touch panel with additional privacy features and a high-brightness touch panel. Also, there is a 2880 x 1800 OLED screen with better colors but no touch support.
The display displays colors with great accuracy, making photos or videos appear as they should. Touch input is also provided in it, which makes it fun to use the laptop by opening it at 180 degrees.
The display is capable of showing 98.5% of the sRGB spectrum. When we look at the images on it, they appear true to life. It also displays 69.8% of the DCI-P3 spectrum, which could be better but gets the job done.
The display produces sharp whites and deep blacks, making text and other content look good. However, its color coverage could be better. In some movie trailers, vibrant colors like pink don't pop as much as they should.
It has an average brightness of 327 nits, which is bright enough for indoor use and good enough for most outdoor use. However, very dark videos are a hassle to watch outdoors. The screen has a matte finish, which reduces glare and reflections, making it easier to view in different lighting conditions. Its refresh rate is 60Hz, which is standard for most laptops.
These laptops are designed for work and productivity, so high refresh rates for gaming are optional.
Battery
It has a battery of 57 WHrs. Once charged, it runs comfortably for about 13 to 14 hours. Battery life depends on usage. For example, when tested with a screen brightness of 150 nits and web browsing on Wi-Fi, it lasted for 13 hours and 40 minutes, which is very good.
Nowadays, most laptops have many battery problems, but this laptop is impressive in the field of battery.
In practical, daily use, its battery life is excellent, lasting around 9 to 10 hours. This duration is quite commendable, due to which there is no need to charge it again and again.
Its low-power display contributes to its excellent battery life performance. Even with the brightness turned up, it managed about 10 hours of runtime under load. In comparison, last year's OLED model fell significantly short, lasting just 5 hours.
The laptop charges relatively quickly, reaching 60% battery capacity in about 40 minutes. It takes 2 hours to charge fully.
This Gen 11 model has significantly improved battery life compared to last year's Gen 10 model. It beats the Gen 10's battery life in various tests, particularly excelling in video playback, which lasts significantly longer.
While the battery life of the ThinkPad X1 Carbon is impressive, it faces stiff competition from laptops like the 13-inch MacBook Pro, which claims a remarkable runtime of 18 hours and 20 minutes. Still, the X1 Carbon manages to stay ahead of other competitors.
Ports and Connectivity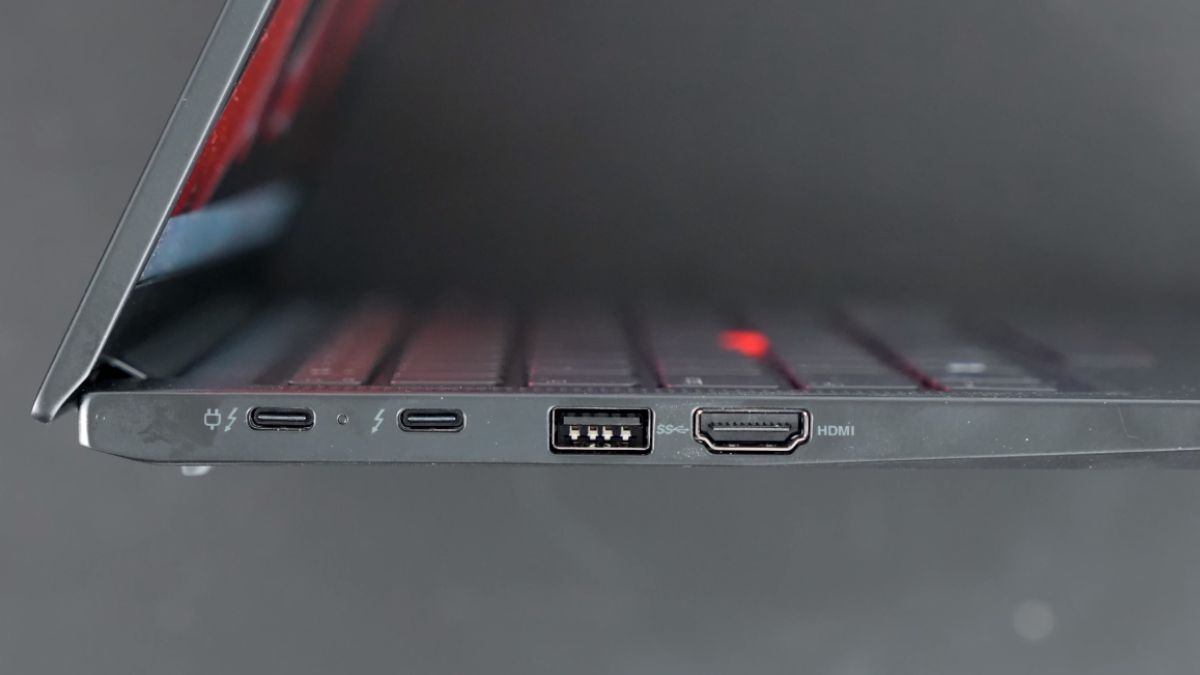 On the left side, the ports include two Thunderbolt 4 ports, a USB 3.2 Type-A port, and an HDMI 2.0 port. On the right side, a Kensington lock slot, another USB 3.2 Type-A port, and a headset jack. With this variety of ports, most of the work gets done efficiently.
For connectivity, it comes with Wi-Fi 6E capability, which provides fast and reliable wireless connectivity. This Wi-Fi 6E offers better bandwidth and less interference, allowing users to work with high-speed internet access like video streaming, cloud-based applications, and online gaming work very smoothly. With Bluetooth 5.3 technology, wireless devices like headphones, mice, and keyboards connect quickly.
Keyboard and Touchpad
Lenovo's ThinkPad series is renowned for its exceptional keyboard quality, and the X1 Carbon Gen 11 continues that tradition. It offers a great typing experience that is both comfortable and accurate. Its keyboard size is 11.0 x 5.6 cm, and key travel is 1.5 mm.
The keyboard keys are wide and spacious, providing ample room for fingers and a comfortable typing experience. It has satisfying tactile feedback and responsive key travel, a standout feature compared to many thin laptops.
The keyboard layout is thoughtfully designed, with dedicated keys for Home, End, Insert, and Delete in the top right corner.
The arrow keys are properly separated into their cluster, eliminating the common problem of the half-height up and down keys between the full-sized left and right keys. Conveniently integrated into the power button, the laptop has a fingerprint reader for quick and secure unlocking. This feature adds an extra layer of security.
There are also options to personalize it using the Lenovo Commercial Vantage app to assign custom functions to specific keys.
The keyboard has two levels of white backlighting, which works effectively in low-light conditions. However, the brightness of some LED indicators, like the volume mute LED and the microphone status LED, is irritating.
Its touchpad is small, with the top portion dedicated to the left, center, and right-click buttons for the TrackPoint pointing stick. The touchpad is smooth and responsive and offers an excellent, tactile click experience.
It is accurate and does not register unexpected touches when palms hit it. The presence of TrackPoint allows for easy and efficient navigation without taking fingers away from the keyboard.
Everyday Use
Multitasking
Its Intel Core i7-1355U CPU performs well for everyday multitasking. Thanks to its capable processing power and 16 GB RAM, it handles tasks like web browsing, document editing, and email easily.
However, when running more demanding applications like 3D rendering apps simultaneously, performance limitations are experienced, especially when working on resource-intensive software such as video editing or coding.
Everyday work
For typical office productivity tasks like word processing, web browsing, and handling email, the Carbon Gen 11 is more than capable. Its lightweight design and responsive performance make it the perfect choice for everyday use.
Video Editing
Video editing can be done on it, but there are better choices. This laptop takes significantly longer to transcode a 4K video clip to 1080p compared to others in its price range. Video editing software tends to be resource-intensive, and its integrated graphics do not provide the best performance for complex video editing projects.
Online Meetings and Video Conferencing
The laptop's hardware is capable of handling online meetings and video conferencing. Its FHD (1920 x 1080) integrated camera and microphone are good and provide good video quality and audio quality, making video conferencing and online meetings seamless. Due to its portability, there is no problem in taking it to the office or anywhere else, making it perfect for online meetings and video conferencing.
Programming (Coding)
It handles coding tasks well, making it the best choice for beginners in coding languages like C, C++, Java, Python, etc. Its Core i7 processor and 16GB of RAM make it perfect for running code editors, compiling code, and managing development. However, its performance could be better when working on highly demanding projects and running virtual machines.
What's Good in Lenovo ThinkPad X1 Carbon Gen 11
Outstanding Battery Life
Its battery life is perfect, lasting about 13-14 hours. Due to its long battery life, there is no need to charge it repeatedly.
Excellent Keyboard
Lenovo's ThinkPad series is known for its high-quality keyboards, and the X1 Carbon Gen 11 continues this tradition. The keyboard offers comfortable and accurate typing with satisfactory tactile feedback.
Excellent for Everyday Office Work
Its lightweight design and responsive performance make it suitable for handling everyday office tasks.
What's Bad in Lenovo ThinkPad X1 Carbon Gen 11
Limited Graphics Performance
This integrated Intel Iris Xe graphics is not suitable for demanding tasks, including high-res videos and modern games.
Average Display Color Coverage
The screen is suitable for Everyday Tasks; Limited Color Coverage: While ideal for everyday use, its display lacks the vibrancy needed for tasks like video editing.
Is the Lenovo Legion Pro 7i Gen 8 Worth Buying?
This laptop costs approximately $1,391.40. It has a powerful processor, plenty of RAM, and plenty of storage space. This is a great option to spend less money on a laptop.
This laptop is made of solid materials like carbon fiber and magnesium. It's tough but not too heavy, so it's easy to carry around. This is great for people who want a durable and portable laptop.
The laptop's battery can last all day, depending on how you use it. If you prefer to charge your computer infrequently, this laptop's long battery life is a big plus.
However, this laptop's graphics card needs to be better suited for tasks that require a lot of graphics power. If you want to edit videos or play modern games, there may be better choices than this laptop.
Additionally, if you use software that requires a lot of computer power or runs many heavy programs simultaneously, the performance of this laptop may be outside the task. Therefore, if you are into software development or use more demanding applications, look for a different notebook.
FAQs
Does the ThinkPad X1 Carbon Gen 11 feature a touchscreen?
Both touch and non-touch options are available in it. The configuration we have reviewed in this article has (IPS) touchscreen display.
Does the ThinkPad X1 Carbon Gen 11 have a fingerprint sensor?
Yes, giving importance to security, it has a fingerprint sensor in all its configurations.
What is the battery life of Lenovo X1 Carbon?
Its battery life is almost decent which lasts for 13 to 14 hours on a single charge.