HP's newly launched HP Laptop 15z is designed to be a budget-friendly option and targets everyday-use customers and students.
It offers a range of options, including Intel Core i3 to i7 and various AMD Ryzen processors, as well as a variety of RAM and storage choices.
In this article, we will describe and review the model equipped with AMD Ryzen 5-7530U processor, 8GB RAM, 256GB storage, and a Radeon RX Vega 7 graphics, which has a starting price of $429.99 and comes with a 15.6-inch full-HD display.
HP Laptop 15z
Release Date: April 2023
Model: 15Z-FC000
Laptop Type: Traditional
Series: HP 15
Available on:
HP 15: Key Features
| | |
| --- | --- |
| Model Name | HP Laptop 15 |
| Processor | AMD Ryzen 5-7530U |
| Core | 6 Cores, 12 Threads |
| Frequency | 2.0 GHz up to 4.5 GHz |
| RAM | 8 GB DDR4 |
| Storage | 256 GB PCIe NVMe M.2 SSD |
| Graphics Card | AMD Radeon Graphics |
| Display | 15.6-inch, FHD (1920 x 1080), IPS, Micro-Edge, Anti-Glare, 250 nits |
| Operating System (OS) | Windows 11 Home, English, French, Spanish |
| Weight | 1.59 Kg (3.52 lbs) |
| Battery | 3-cell, 41 Wh Lithium-ion prismatic Battery |
HP 15: Full Specifications
Processor (CPU)
| | |
| --- | --- |
| Processor Model Name | AMD Ryzen 5-7530U |
| Processor Speed | 2.0 GHz up to 4.5 GHz |
| Cores | 6 |
| Thread | 12 |
| L3 cache | 16 MB |
| Fabrication process | 7 nm |
Video Card
| | |
| --- | --- |
| Graphics Processor | AMD Radeon Graphics |
| Graphics Memory Capacity | System Shared |
| Graphic Type | Integrated |
| Memory Type | DDR4 |
RAM
| | |
| --- | --- |
| Memory Capacity | 8 GB |
| Memory Type | DDR4 |
| Frequency | 3200 MHz |
| Memory Slots | 2×4 GB |
| Upgradable | Yes |
| No Of Slot | 2 |
Storage
| | |
| --- | --- |
| Storage Capacity | 256 GB |
| Storage Type | SSD (M2) |
| Drive Interface | PCIe NVMe Gen 3.0 (4x) |
| Channels | 1×256 GB |
| No Of Slots | 1 |
| Upgradable | Yes |
Display
| | |
| --- | --- |
| Screen Size | 15.6 inches |
| Screen Resolution | 1920 x 1080 pixels |
| Refresh Rate | 60 Hz |
| Display Screen Type | IPS LCD |
| Pixel Density | 141 ppi |
| HDR support | No |
| Touch Input | No |
| Coating | Matte |
| Maximum brightness | 250 nits |
| Aspect ratio | 16:9 |
Battery
| | |
| --- | --- |
| Capacity | 3-cell, 41 Wh |
| Charging time | 50% in 45 minutes |
| Battery type | Lithium-ion prismatic Battery |
| Removable | No |
| Fast charging | Yes |
| USB power delivery | No |
| Charging connector location | Right |
| Charging power | 65 W Smart AC power adapter |
| Charge Weight | 300 grams |
Frame
The weight
1.59 Kg (3.52 lbs)
Dimensions
14.17 x 9.29 x 0.73 inches
Screen-to-body ratio
~85%
Side Frames
7 mm
Colors
Jet black, Natural Silver, Diamond White,
Moonlight Blue, Pale rose gold, Warm Gold
Transformer
No
Thermal Management
| | |
| --- | --- |
| Cooling type | Active |
| Evaporation chamber | No |
| Number of coolers | 1 |
Sound
| | |
| --- | --- |
| No of Speakers | 2 |
| Speaker Power | 2x2W |
| Dolby Atmos | No |
| Microphones | 2 |
Communications
| | |
| --- | --- |
| WiFi Version | v6E |
| Bluetooth | v5.2 |
| Fingerprint Scanner | No |
| Drive | No |
| Webcam | Above the display |
| Webcam Resolution | 1920 x 1080 |
IO and Ports
| | |
| --- | --- |
| USB Type -A | 2 USB Type-A |
| USB Type -C | 1 USB Type-C |
| Thunderbolt | No |
| HDMI | 1x HDMI 1.4 |
| Display port | No |
| VGA | No |
| Audio port (3.5mm) | Yes |
| Ethernet (RJ45) | No |
| card reader | No |
| Separate charging port | Yes |
Keyboard and Touchpad
| | |
| --- | --- |
| Key type | Island |
| Numeric Block | Yes |
| Backlight | Optional |
| Surface | Plastic |
| Windows Precision | Yes |
Benchmark
| Test | Single-Core | Multi-Core |
| --- | --- | --- |
| Geekbench 5 | N/A | N/A |
| Cinebench R23 | N/A | N/A |
Price and Availability
Like every time, HP has launched a budget-friendly laptop in the market this time too, which is perfect for everyday work. This is our HP Laptop 15, which has many configurations available. You will get many options according to your needs and budget.
You can choose from various processors, such as Intel Core i3 N305, Intel Core i3-1315U, Intel Core i5-1335U, Intel Core i7-1355U, AMD Ryzen 3-7320U, AMD Ryzen 5-7520U, AMD Ryzen 5-7530U, and AMD Ryzen 7-7730U.
There are multiple graphics, storage, and RAM options available, ranging from 128 GB to 1TB in storage and 4GB to 16GB in RAM.
So, it depends on your specific needs. I am reviewing the configuration with an AMD Ryzen 5-7530U processor, 8GB of RAM, 256GB of storage, and Radeon RX Vega 7 graphics. This model is currently priced at $429.99 and features a 15.6-inch Full HD display.
You can find information about its availability on HP's official website and the HP Store. Additionally, it is also sold on popular e-commerce platforms like Amazon and Walmart. Your choice of where to purchase it depends on your preference.
Performance
Processor
The HP Laptop 15z is available with various AMD processors, including the budget-friendly Ryzen 5-7530U with a six-core architecture. This processor delivers solid performance for everyday tasks and can handle processor-intensive workloads.
The Ryzen processor performs daily tasks smoothly, but it may encounter challenges with heavy workloads. Its base frequency is 2.0 GHz, and it can boost up to 4.5 GHz under heavy loads.
Graphics Card
The laptop features AMD Radeon integrated graphics, which outperform Intel integrated graphics but fall short of dedicated GPUs.
It handles general gaming, browser-based games, and older titles well, but it could be more suitable for high-end gaming.
Because it is not able to achieve good frame rate and smoothness in games with high-end graphics.
RAM
The HP Laptop 15z has upgradeable memory with two SO-DIMM slots below the bottom panel. The exact amount of RAM varies depending on the configuration, but it is optimized to suit your needs. Its 8GB RAM is a great deal for smooth multitasking and general use.
Storage
Laptops these days usually come with solid-state drives (SSDs) for storage. Similarly, this HP traditional laptop also has 256GB storage. With this much storage, almost all tasks become easier.
Apart from this, it also has the option of 512GB and 1TB, but it will be a bit costly.
Design and Build Quality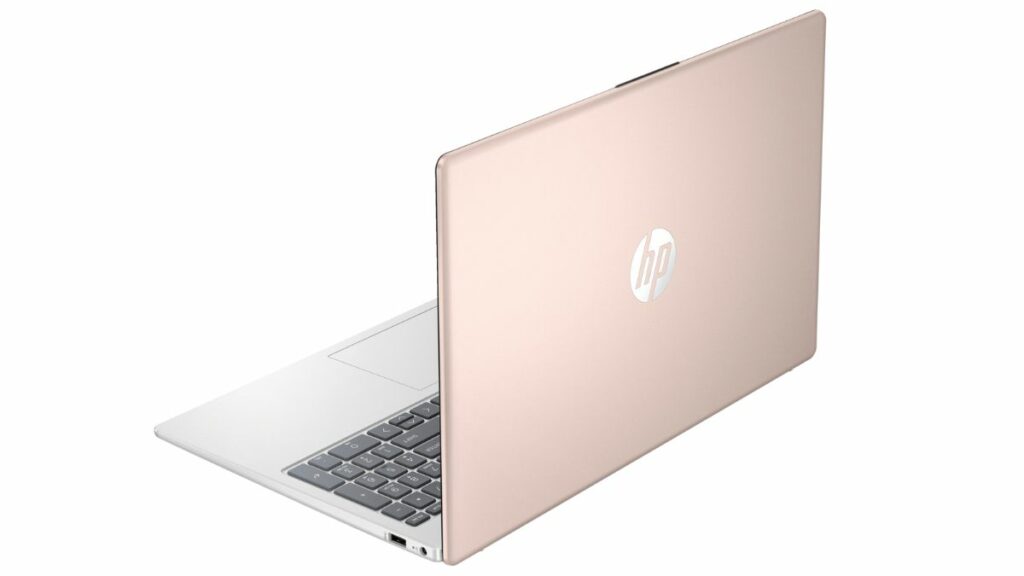 The standard size of this HP 15 is 15.6 inches, measuring 0.73 x 14.2 x 9.3 inches and weighing 3.5 pounds, which is typical for an affordable laptop of this size. The laptop is primarily made of plastic, which is common in budget-range laptops nowadays.
One area of concern regarding build quality is that the laptop's chassis is worryingly flexible even when pressed lightly on the touchpad. This affects the overall durability and sturdiness of the laptop.
The buttonless touchpad, while appropriately sized and tracking well, is also affected by chassis flex, making it less comfortable to click.
Regarding the laptop's color, the default is black plastic, but HP offers alternative colors, including Natural Silver, Diamond White, Moonlight Blue, and Pale Rose Gold.
Display
The 15.6-inch screen is ample for work, play, and more, making it adaptable for various tasks, like productivity and entertainment.
The display is of Full HD resolution (1920 x 1080), which provides sharp and detailed views. This resolution is excellent for watching videos and working on documents. Its IPS LCD technology delivers wide viewing angles and accurate color representation, delivering vibrant and clear images.
Additionally, its refresh rate is 60Hz, which is standard for most laptops and is good enough for everyday tasks, including web browsing and watching videos.
Additionally, its matte coating helps reduce glare and reflections, which is beneficial for using the laptop in well-lit environments or outdoors. With a maximum brightness of 250 nits, the screen is suitable for indoor use but not good enough for outdoors.
Battery
This HP 15 laptop has an inbuilt 3-cell, 41 Wh Lithium-ion Prismatic battery, which is non-removable. This capacity is suitable for normal daily tasks.
The best part is that the laptop offers fast charging capability, allowing it to charge the battery up to 50% in just 45 minutes. Additionally, it comes with a 65-watt smart AC power adapter, which provides efficient and relatively fast charging time for the laptop.
It lacks a dedicated USB port for battery charging, which is disappointing. Therefore, it can't be charged via USB-C or other USB power sources.
Ports and Connectivity
The laptop has a variety of ports built-in, including a USB Type-A, a USB Type-C, an HDMI monitor port, and an audio jack on the left side. On the right side, you've got another USB-A port and an AC adapter connector.
All USB ports are version 3.2, providing enough bandwidth for normal use. However, the HDMI port is described as version 1.4b, which limits 4K output to a 30Hz refresh rate instead of the more ideal 60Hz provided by HDMI 2.0b.
This laptop supports Wi-Fi 6E, which provides fast and reliable wireless internet connectivity. Wi-Fi 6E is an advanced standard that provides better performance and less interference than older Wi-Fi standards and reduces network congestion.
Also, version 5.2 of Bluetooth has been used in it. It provides a good wireless connection to peripherals like Bluetooth headphones, speakers, and other compatible devices. Bluetooth 5.2 generally offers better stability and range than previous versions.
Nowadays, webcams are essential in all laptops for video conferencing, online meetings, and video recording.
It also has a webcam on the top of the laptop, whose resolution is 1920 x 1080 pixels. It captures high-definition (Full HD) video, which is suitable for video calls, online streaming, and video recording with good image clarity.
Everyday Use
Multitasking
It comes with a 7th-generation AMD Ryzen 5 processor with 6 cores and 12 threads, coupled with 8 GB DDR4 RAM, which handles multitasking well.
The processor's high clock speed and multiple cores are capable of handling multiple applications simultaneously. There is also an option to upgrade the RAM if you need more demanding multitasking.
Everyday work
This laptop is perfect for everyday tasks like web browsing, document editing, and multimedia consumption.
The speed and responsiveness of its process make daily work smoothly. Its matte display coating and slightly lower maximum brightness are a hindrance for everyday work in well-lit environments.
Video Editing
It handles light video editing tasks with its capable processor and integrated AMD Radeon graphics. While for heavy video editing like 4k,8k, and 8GB RAM goes for less. For more demanding video editing tasks, you can choose one with dedicated graphics.
Online Meetings
This laptop comes with a 1080p IPS display, dual speakers that deliver good sound quality, and its high-resolution FHD webcam provides an excellent online meeting experience.
Its good connectivity makes video conferencing even smoother. However, due to its low brightness, it becomes inconvenient to hold meetings outside in direct sunlight.
Gaming
Modern and graphics-intensive games cannot handle its integrated graphics. But the integrated AMD Radeon graphics can handle regular and older games as well as less demanding titles. Small games open quickly and run smoothly.
Programming (Coding)
This laptop's processor, AMD Ryzen 5 7530U, and 8GB RAM can handle programming languages like HTML, JAVA, PYTHON, JAVASCRIPT, etc., well, and its fast SSD makes program assembly and loading easier. In contrast, it is not suitable for complex coding like machine learning and software development.
What's Good in HP 15z?
Quick Storage
With a 256GB SSD, this laptop loads apps quickly and is excellent for budget-conscious buyers.
Expandable RAM
You can upgrade the RAM to 32GB with its two SO-DIMM slots, offering flexibility.
Anti-Glare Screen
The matte-coated display reduces glare indoors, but it might have some issues in bright sunlight.
What's Bad in HP 15z?
Build Quality
The laptop's chassis is flexible, affecting its overall durability. Chassis flex also impacts the button-less touchpad, making it less comfortable to use.
Display Brightness
The display has a maximum brightness of 250 nits, which can be challenging for outdoor use, especially in strong sunlight.
Charging via USB
The laptop lacks a dedicated USB port for battery charging, which is a common feature in most modern laptops.
Final Words
The laptop's powerful processors are perfect for everyday work and multitasking, although more demanding tasks and games may run poorly.
AMD Radeon graphics manufactured by Intel perform better for general gaming, although they are not suitable for high-end gaming.
With features like memory expandable, a 15.6-inch full HD display, and fast reserve, this laptop has distinctive features that make it an attractive option. However, concerns arise regarding build quality, color plaster, and external screen brightness.
FAQs
Can I upgrade the RAM in the HP 15?
Yes, you can increase RAM up to 32GB when needed, depending on your specific needs.
Is the HP Laptop 15 suitable for gaming?
This HP Laptop 15, which comes with a mid-range processor and integrated graphics, is mainly designed for everyday work and tasks.

While it handles general gaming and browser-based games well, it is not capable of running high-end or graphics-intensive games like Cyberpunk 2077 and GTA 5.
Does the HP Laptop 15 have a backlit keyboard?
This configuration of the HP 15z does not come with a backlit keyboard. To get a backlit keyboard, you'll need to choose a different configuration, which may come at a slightly higher price.