Let's explore the amusing world of gaming laptops with the ASUS ROG Strix G16 (2023). This laptop is like a supercharged device to improve your gaming time.
It has all the newest technology that makes games seem incredibly lifelike. We'll look at its incredible screen and the powerful things inside that make it work.
ASUS ROG Strix G16
Release Date: February 2023
Model: G614JI-AS94
Laptop Type: Gaming
Series: ROG Strix
Available on:
Key Features
| | |
| --- | --- |
| Model Name | ASUS ROG Strix G16 |
| Processor | 13th Gen Intel Core i9-13980HX |
| Frequency/Core | 2.2 GHz (36M Cache, up to 5.6 GHz, 24 cores: 8 P-cores and 16 E-cores) |
| RAM | 16 GB GDDR5 |
| Storage | 1TB PCIe 4.0 NVMe M.2 SSD |
| Graphics Card | NVIDIA GeForce RTX 4070 |
| Display | 16-inch, FHD+ 16:10 (1920×1200 pixels, WQXGA), anti-glare display, 240Hz |
| Operating System (OS) | Windows 11 Home |
| Weight | 2.50 Kg (5.51 lbs) |
| Battery | 90WHrs, 4S1P, 4-cell Li-ion |
Full Specifications
Processor (CPU)
| | |
| --- | --- |
| Processor Model Name | 13th Gen Intel Core i9-13980HX |
| Processor Speed | 2.2 GHz-5.6 GHz |
| Cores | 24 (8 P-cores and 16 E-cores) |
| L3 cache | 36M Cache |
Video Card
| | |
| --- | --- |
| Graphics Processor | NVIDIA GeForce RTX 4070 |
| Graphics Memory Capacity | 8 GB |
| Graphic Type | Dedicated |
| Memory Type | GDDR6 |
| GPU Frequency | 2175MHz Boost Clock+50MHz OC, 115W+25W Dynamic Boost |
RAM
| | |
| --- | --- |
| Memory Capacity | 16 GB |
| Memory Type | GDDR5 |
| Frequency | 4800 MHz |
| Memory Slots | 2 |
Storage
| | |
| --- | --- |
| Storage Capacity | 1TB |
| Storage Type | SSD (M2) |
| Drive Interface | PCI Express |
| Channels | 1×512 GB |
| Total Slots | 2 |
Display
| | |
| --- | --- |
| Screen Size | 16-inch |
| Screen Resolution | 1920×1200 pixels |
| Refresh Rate | 240 Hz |
| Display Screen Type | IPS |
| Display Screen Technology | LCD |
| HDR support | Yes, Dolby Vision |
| Touch Input | No |
| Coating | Matte |
| Maximum brightness | 300 nits |
| Contrast | 1560:1 |
| sRGB color gamut | 100% |
Battery
| | |
| --- | --- |
| Capacity | 4 Cell, 90WHrs |
| Full charge time | 1:40 hr |
| Battery type | Li-Ion |
| Removable | No |
| Fast charging | Yes |
| USB power delivery | Yes |
| Charging connector location | Left |
| Charging power | 240 / 280 / 330 W |
| Charger weight | 834 / 966 grams |
Frame
The weight
2.5 kg (5.51 lbs)
Dimensions
354 x 264 x 22.6 mm
13.94 x 10.39 x 0.89 inches
Square
935 cm2 (144.8 inches2)
Screen-to-body ratio
~79.4%
Side frames
4.7 mm
Colors
Black
Transformer
No
Screen opening angle
130°
Thermal Management
| | |
| --- | --- |
| Cooling type | Active |
| Evaporation chamber | No |
| Number of coolers | 3 |
| Noise level | 51 dB |
Sound
| | |
| --- | --- |
| Audio Chip | N/A |
| Audio Format | 2.2 (2 tweeters and 2 woofers) |
| Speaker Power | 4x2W |
| Dolby Atmos | Yes |
| Max. volume | 87 dB |
| microphones | 2 |
Communications
| | |
| --- | --- |
| WiFi version | v6E |
| Bluetooth | v5.3 |
| The fingerprint scanner | No |
| Drive | No |
| Webcam | Above the display |
| Webcam Resolution | 1280 x 720 |
IO and Ports
| | |
| --- | --- |
| USB-A | 2x USB 3.2 Gen 2 |
| USB Type-C | 1x USB 3.2 Gen 2 |
| Thunderbolt | 1x Thunderbolt 4 support DisplayPort |
| HDMI | 1x HDMI 2.1 FRL |
| display port | No |
| VGA | No |
| Audio port (3.5mm) | Yes |
| Ethernet (RJ45) | Yes |
| card reader | Not |
| Separate charging port | Yes |
Keyboard and Touchpad
| | |
| --- | --- |
| Key type | Island |
| Numeric block | Yes |
| Backlight | Yes |
| The size | 13.0 x 8.5 cm |
| Surface | Glass |
| Windows Precision | Yes |
Benchmark
| Test | (Single-Core) | (Multi-Core) |
| --- | --- | --- |
| Geekbench 5 | 2177 | 20483 |
| Cinebench R23 | 2148 | 32201 |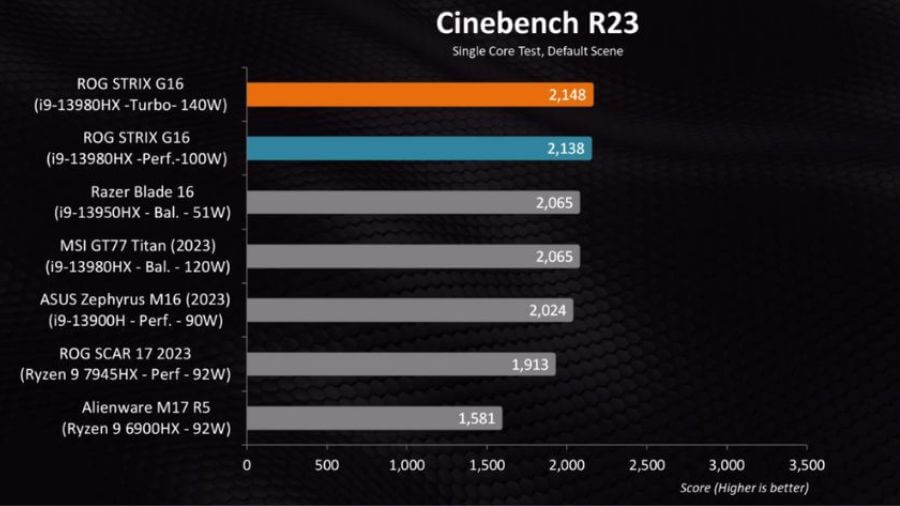 ASUS ROG Strix G16: Price and Availability
You can expect a premium price tag for gaming laptops with top-tier specifications, like the ASUS ROG Strix G16.
As of its release, the laptop's price typically falls within the range of high-end gaming devices. This is due to this gaming powerhouse's cutting-edge technology and top-notch components.
The availability of the ASUS ROG Strix G16 (2023) Gaming Laptop may vary depending on your location and the demand for the product.
Upon its initial release, demand might be high due to the laptop's impressive specifications and reputation.
As a result, it's recommended to keep an eye on official ASUS retailer's online marketplaces like Amazon, Walmart, Best Buy, Flipkart, and electronics stores for updates on its availability.
ASUS ROG Strix G16: Performance
Processor:
An Intel Core i9-13980HX processor, synonymous with high-performance computing, powers the ASUS ROG Strix G16.
This processor is purpose-built to meet the demands of modern gaming and multitasking, offering exceptional speed and responsiveness.
Cores and Threads:
This Gaming Computer has an impressive 24 cores (comprising 8 P-cores and 16 E-cores) and 32 threads. This configuration empowers the laptop to handle complex tasks and manage multiple processes concurrently effortlessly.
Frequency:
While the processor's base clock speed is noteworthy, what truly sets it apart is its turbocharged frequencies.
The ASUS ROG Strix G16's Intel Core CPU can reach frequencies up to 5.6 GHz, delivering blistering speeds precisely when you need that extra power.
This turbo boost ensures smooth gameplay and swift application launches, enabling you to maximize every moment of your computing experience.
Graphics Card:
This laptop has the latest NVIDIA GeForce RTX 4070 graphics card. In ROG Boost mode, the graphics card can achieve frequencies of up to 2225MHz at 140W (with a 2175MHz Boost Clock and a 50MHz OC, along with 115W+25W Dynamic Boost).
This graphics card ensures you can enjoy outstanding gaming performance and graphics quality for a truly immersive gaming experience.
For Everyday Use For Multitasking
The ASUS ROG Strix G16 (2023) Gaming Laptop isn't just designed for gaming; it's also good at handling everyday tasks.
For Multitasking:
Whether you use it for work, school, or managing many things simultaneously, this ASUS laptop can do everything for you.
It has a powerful Intel Core i9-13980HX processor and 16GB DDR5 RAM, so you can switch between apps quickly and work on different things simultaneously, and the laptop won't slow down or get laggy.
Making Presentations:
If you make project presentations, this powerful machine is excellent for that. Apps like Microsoft PowerPoint run smoothly so that you can create slideshows with amazing animations, pictures, and smooth transitions.
The laptop's screen is clear and colorful, which helps make your presentations look fantastic.
Dealing with Complex Spreadsheets:
If you deal with big and complicated spreadsheets and need to analyze lots of data, this laptop can handle it like a champion.
Its powerful Intel Core i9 processor is up to the task. So, whether using Microsoft Excel or Google Sheets, you must do calculations quickly, even when working with many numbers.
For Internet Browsing and Streaming :
If you want to surf the internet, watch videos, and stay in touch with people, this ASUS ROG Strix G16 laptop is a good choice. It's got speedy Wi-Fi 6, so websites load quickly, and videos play without annoying pauses.
Plus, its graphics card makes videos look excellent, making your entertainment time enjoyable by Streaming games.
For Emails and Documents:
This laptop is excellent for handling emails, editing documents, and organizing digital things. It comes with a large trackpad and a keyboard with a Num key. The keyboard and trackpad are easy to use and comfortable, whether you're typing emails or working on important papers.
For Video Conferencing and Online Meetings:
With more people working and meeting online, having a laptop that's good for video calls is essential.
The ASUS ROG Strix G16's camera and vital parts ensure your video calls go smoothly, as it has a 720P Webcam. It doesn't matter if you're using Zoom, Microsoft Teams, or other apps – your video and sound will come through clearly, helping you stay connected and get things done.
For Gaming
The ASUS ROG Strix G16 (2023) Gaming Laptop isn't just a regular laptop but a special door to the gaming world.
Minecraft
If you love Minecraft, you'll be super happy with this laptop. It has a strong brain called an Intel Core i9 and a super graphics card called GeForce RTX 4070. Together, they make sure that even when you're building huge castles and exploring, everything looks smooth and nice.
GTA 5
Have you played GTA 5?
It's like a big virtual city where you can drive and do thrilling things. This laptop is great because it has a special screen showing everything smoothly. So, when you're racing cars or doing crazy stuff in the game, it won't slow down or look weird.
Fortnite
The 240Z screen's FPS is one of the main advantages of playing Fortnite on this gaming PC. So, when you're playing against other people, you can react quickly and perform better.
The graphics card enhances the game's visuals, allowing you to see details and build structures more easily.
Cyberpunk 2077
Think of being in an excellent future city in Cyberpunk 2077. This laptop makes that experience awesome because it's strong and can handle the game without problems. The city looks extra real with fancy effects that show reflections and shadows, making the game world feel alive.
Call of Duty: Warzone
If you enjoy action-packed shooting games like Call of Duty: Warzone, this laptop resembles having a superhero's gadget.
It's incredibly fast, so the game reacts promptly when engaged in firefights with enemies. This helps you perform better in challenging battles and stay on top of everything.
Many gamers opt for this ASUS ROG laptop as one of the best choices within a $1,500 budget.
The Witcher 3: Wild Hunt
The Witcher 3 is like a fantasy story where you go on adventures. The game looks amazing on this laptop because it has a special screen that shows all the pretty details. So, when you're walking in forests or talking to characters, you're really there.
Gaming Test
For Video Editing
It would help to have a laptop that can handle the job well when editing videos, especially high-quality ones. The ASUS ROG Strix G16 is a laptop designed for Rendering, gaming, but it's also really good for video editing.
For Full HD Videos
This Gaming laptop works well when you're working with standard HD videos. It has a special Raptor Lake Intel Core i9 processor and a strong graphics card called GeForce RTX 4070.
These parts of the laptop help you smoothly work on your 1080P videos.
So, things like cutting, putting clips together, and seeing how they look happen without problems. The laptop's screen is also really good, showing clear pictures and smooth Full HD videos while editing.
For 4K Videos
You can also do 4K video editing on an affordable laptop, but when you go to export, you will need the support of a powerful processor and a graphics card.
Due to this Asus gaming laptop's advanced processor and graphics card, 4K video editing can be done easily and quickly.
For 8K Videos
Imagine editing videos that are sharper than 4K – that's 8K. This is where things can get really tough for most laptops, but not for the ASUS ROG Strix G16.
The laptop's strong parts, like its processor and memory, work together with a good graphics card to ensure you can handle these huge videos.
Editing, making changes, and seeing how they look – it all happens quickly and without any trouble. Even though 8K is hard to work with, this laptop makes it easy.
For Programming
It's also great for people who do computer programming, including things like making machines learn and coding new software. Let's see how this laptop can help experienced programmers and those just starting out.
1. Machine Learning and Data Analysis
If you're teaching a computer to learn from data and make smart decisions. This laptop is like a powerful brain for that.
It has a special Intel Core i9 brain and a strong GeForce RTX 4070 graphics card that helps you quickly work with lots of data and complicated math. This means you can make your computer learn things faster and analyze big sets of information without any problems.
2. Coding and Development
When writing code and creating software, you need a computer that listens to you quickly and does what you say. This laptop is really good at that.
It has lots of power, so it runs smoothly and doesn't slow down when writing code in Python, Java, or C++. This is important because you want to see the results of your code quickly.
3. Testing New Ideas and Virtual Stuff
Programmers often need to create pretend computers inside their real ones to test their software. This laptop is excellent for that, too.
Its strong parts let you quickly make these pretend computers (we call them virtual machines). This is helpful when you want to ensure your software works on different types of computers or pretend network setups.
4. Writing Code with Special Tools
Imagine you have a big digital canvas where you paint your code. This laptop's screen is like that canvas, but it's big and high-quality. You can open your code-writing space, notes, and internet search simultaneously.
This laptop is really powerful, so it will work smoothly even if you use tools that need a lot of computer energy.
5. Making Math and Hard tasks easier
Sometimes, programming involves doing a lot of math and calculations. This laptop has a graphics card that can help with this math.
It's like having a super smart assistant that helps you with all the heavy math, making your work faster. This is especially useful when making computers learn things, as they need a lot of math.
ASUS ROG Strix G16: Display
It has a big 16-inch IPS Anti-glare 1920 x 1200 pixels display. It has approximately 79.4% screen-to-body ratio with a 16:10 Aspect ratio.
From a gaming perspective, it comes with a 165 Hz refresh rate with 3ms response time and has G-Sync Support for better quality.
ASUS ROG Strix G16: Battery
The ASUS ROG Strix G16 packs a substantial 90 Wh battery. It can deliver 7-8 hours of usage for everyday tasks like web browsing, document work, and light multitasking. You can expect around 2-2.5 hours of battery life during gaming.
For Everyday Use
This laptop's battery excels for internet browsing, document work, and light multitasking tasks. It's designed to be power-efficient, easily lasting an entire workday without needing a recharge. This means you can use it for regular tasks without worrying about the battery running out quickly.
It will provide 4 to 6 hours for everyday use, which is ideal for gaming laptops.
Gaming
Gaming on a laptop is demanding due to the high graphics requirements. When playing graphically intense games on the ASUS ROG Strix G16, the battery won't last as long as during regular use.
To ensure optimal performance and prevent shutdowns, it's advisable to keep the laptop plugged in while gaming.
Video Editing
Video editing is resource-intensive, similar to gaming, and can drain the battery faster.
While the ASUS ROG Strix G16's robust internals facilitate smooth video editing, keeping the laptop connected to a power source when working on video projects is recommended to avoid running out of battery mid-task.
Programming
Programming in C, Machine Learning, AI, Python, etc., involves coding, and software development typically doesn't strain the laptop as much as gaming or video editing.
The powerful processor in the ASUS ROG Strix G16 ensures fast and efficient coding. Although programming is less battery-intensive, keeping the laptop charged, especially during extended coding sessions, is an excellent practice to maintain productivity without battery worries.
Adapter (Power and Charging)
This laptop includes a high-capacity 240W, 280W, and 330-watt power adapter, providing a substantial charge.
With this robust charger, the G16 can go from empty to half-charged in 30 minutes, ensuring you can return to work or play swiftly without long charging times.
ASUS ROG Strix G16: Ports and Connectivity
Connecting your computer to a big TV or fancy monitor uses a special part called a 'dedicated GPU' with an HDMI 2.1 port. This port sends data quickly, delivering sharp and smooth videos, like 4K at 120Hz or even 8K at 60Hz.
Your computer also has USB Type-C ports for various connections. One of them powers your laptop and connects to your screen. The other supports Thunderbolt 4, enabling fast data transfer.
The Strix G16 gaming device features an RJ45 port for a stable internet connection. It supports Wi-Fi 6E, a new, less crowded wireless signal, ensuring your gaming isn't interrupted by other devices on the network.
ASUS ROG Strix G16: Operating System and Software
The exact operating system and software that come with the ASUS ROG Strix G16 might vary depending on when you get it, but usually, it comes with Windows 11 Home as the operating system.
Windows helps you use your computer, open programs, and browse the internet.
In terms of software, ASUS often includes some special tools and apps to make your experience better.
There might also be software for updating drivers, like little programs that help your computer's parts work together.
What's Good
Powerful Performance: The laptop has an advanced Raptor Lake 13the gen high-end Intel Core i9 processor and NVIDIA GeForce RTX 4000 series GPU, providing excellent gaming performance and handling demanding tasks.
Impressive Display: The laptop features a stunning LED display with a 240HZ refresh rate, offering vibrant colors and sharp visuals for an immersive gaming experience.
ROG Design: The laptop showcases the iconic ROG design, featuring a sleek and visually appealing aesthetic.
Windows 11: With the inclusion of Windows 11, users can benefit from the latest features and improvements in the operating system.
What's Bad
Price: The laptop's great features and speed might cost more, which could concern budget buyers.
Weight and Size: As a gaming laptop, the ASUS ROG Strix G16 (2023) may be heavier and bulkier than ultraportable laptops, impacting portability and convenience for some users.
Cooling and Noise: High-performance gaming laptops can generate more heat and noise during intense gaming sessions, which may require additional cooling solutions or result in a louder operating noise.
FAQs
Is ASUS ROG Strix G16 worth buying?
The ASUS ROG Strix G16 can be a good buy if you're into gaming, coding, and content creation and want a powerful laptop.
What sets the ASUS ROG Strix G16 apart from other gaming laptops?
The ASUS ROG Strix G16 stands out with its powerful combination of the latest 13th gen Intel Core i9 processor and the GeForce RTX 4070 GPU.

This dynamic duo ensures exceptional gaming performance for modern and AAA-rated games, making it a top choice for gamers who demand the best.
Can the ASUS ROG Strix G16 gaming laptop handle VR (Virtual Reality) gaming?
Absolutely! The robust specifications of the laptop, including the high-refresh-rate display and powerful graphics card, make it well-equipped for an immersive VR gaming experience.
Is this ASUS ROG Strix G16 laptop suitable for content creation tasks?
Yes, the laptop's Intel Core, the latest one of its advanced processors, and ample RAM make it easily handle content creation tasks such as video editing, graphic design, and more.
Can I upgrade the laptop's RAM and storage?
While the laptop comes with impressive specs out of the box, it's worth noting that the RAM and storage are also user-upgradable. It's recommended to choose a configuration that meets your future needs.
Does the laptop support ray tracing technology?
Yes, the laptop's GeForce RTX 4070 GPU supports ray tracing technology, enhancing games' visual realism by simulating how light interacts with objects.
Does the laptop stay cool when you play games for a long time?

Indeed, the laptop features a robust cooling solution with strategically placed vents and heat pipes, ensuring efficient heat dissipation even during intense gaming sessions.