The HP Victus 16 laptop has caught the attention of gamers and everyday users for its affordable price. It's priced at $799.99, which is a steal. You can buy online from the official HP website for the best experience.
HP Victus 16
Release Date: May 2023
Model: 16-r0007na
Laptop Type: Gaming
Series: Victus
Available on:
HP Victus 16: Key Features
| | |
| --- | --- |
| Model Name | HP Victus 16 |
| Processor | 13th Gen Intel Core i5-13500HX |
| Frequency/Core | 3.5 GHz (18M Cache, up to 4.7 GHz, 12 cores, 16 Thread) |
| RAM | 16 GB DDR5 SDRAM |
| Storage | 512 GB PCIe NVMe TLC M.2 SSD (4×4 SSD) |
| Graphics Card | GeForce RTX 3050 |
| Display | 16 inches, FHD (1920 x 1080), 144 Hz |
| Operating System (OS) | Windows 11 Home |
| Weight | 5.07 lbs |
| Battery | 83WHrs, Li-ion polymer |
HP Victus 16: Full Specifications
Processor (CPU)
| | |
| --- | --- |
| Processor Model Name | 13th Gen Intel Core i5-13500HX |
| Processor Speed | 3.5 GHz-4.7 GHz |
| Cores | 12 cores, 16 threads |
| L3 cache | 18M Cache |
Video Card
| | |
| --- | --- |
| Graphics Processor | NVIDIA GeForce RTX 3050 |
| Graphics Memory Capacity | 6 GB |
| Graphic Type | Dedicated |
| Memory Type | GDDR6 |
| GPU Frequency | |
---
RAM
| | |
| --- | --- |
| Memory Capacity | 16 GB |
| Memory Type | GDDR5 |
| Frequency | 5200 MHz |
| Memory Slots | 2 |
---
Storage
| | |
| --- | --- |
| Storage Capacity | 512 GB |
| Storage Type | SSD (M2) |
| Drive Interface | PCI Express |
| Channels | 1×512 GB |
| Total Slots | 1 |
---
Display
| | |
| --- | --- |
| Screen Size | 16-inch |
| Screen Resolution | 1920 x 1080 pixels |
| Refresh Rate | 144 Hz |
| Display Screen Type | IPS |
| Display Screen Technology | Anti-glare screen |
| HDR support | No |
| Touch Input | No |
| Maximum brightness | 250 nits |
| sRGB color gamut | 45% |
---
Battery
| | |
| --- | --- |
| Capacity | 4-cell , 70WHrs |
| Full charge time | 1:15 hr |
| Battery type | Li-ion polymer |
| Removable | No |
| Fast charging | Yes |
| USB power delivery | Yes |
| Charging connector location | Left |
| Charging power | 230 W |
| Charger weight | N/A |
---
Frame
| | |
| --- | --- |
| The weight | 5.09 lb |
| Dimensions | 369 x 259.4 x 22.9 mm |
| Screen-to-body ratio | 83.4% |
| Native aspect ratio | 16:9 |
| Colors | Mica silver, Ceramic white |
| Transformer | No |
| Screen opening angle | |
Thermal Management
| | |
| --- | --- |
| Cooling type | Active |
| Evaporation chamber | No |
| Number of coolers | 2 |
| Noise level | 49.5 dB |
Sound
| | |
| --- | --- |
| Audio Chip | N/A |
| Audio system | Bang & Olufsen |
| Number of built-in speakers | 2 |
| Audio Boost | Yes |
| microphones | Yes |
| Speaker type | HP Dual Speakers |
Communications
| | |
| --- | --- |
| WiFi version | v6E |
| Bluetooth | v5.3 |
| The fingerprint scanner | No |
| Drive | No |
| Webcam | HP Wide Vision 720p HD camera |
IO and Ports
| | |
| --- | --- |
| USB-A | 3x USB 3.1 Gen 1 |
| USB Type-C | 1x USB 3.1.0 Gen 1 |
| HDMI | 1x HDMI |
| display port | Yes |
| VGA | No |
| Audio port (3.5mm) | Yes |
| Ethernet (RJ45) | 1 |
| card reader | Yes |
| Separate charging port | Yes |
Keyboard and Touchpad
| | |
| --- | --- |
| Key type | Island |
| Numeric block | Yes |
| Backlight | Yes |
| Keyboard backlit zone | 1-zone RGB |
| Pointing device | Touchpad |
Benchmark
| Test | (Single-Core) | (Multi-Core) |
| --- | --- | --- |
| Geekbench 5 | N/A | N/A |
| Cinebench R23 | 1830 | 13470 |
Price and Availability
Since HP introduced the Victus 16 laptop, many people have been eager to get it, especially those who want to enjoy smooth gaming while handling everyday tasks.
The laptop's cost varies depending on where you're buying it and the country you're in. Currently, it's priced at $799.99, but keep in mind that this price may change. Discounts or deals from HP or online retailers can affect the price.
You can purchase it online or in physical stores, but most people prefer online shopping. So, buying it from HP's official website is advisable for the best experience.
Also Read:
---
Performance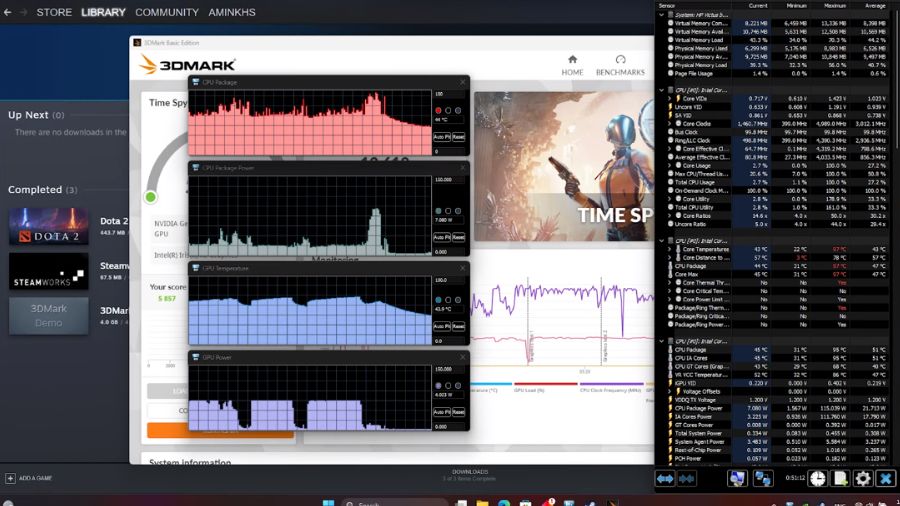 Processor:
HP has given it the 13th generation Intel Core i5 -13500HX processor, which is suitable for the current times. With this processor, your PC becomes smoother and easier for you to perform complex tasks. It's perfect for gaming and multitasking.
Cores and Threads:
A laptop's speed and capability are determined by its processor's number of cores and threads.
This gaming laptop boasts 12 cores, consisting of 4 P-cores and 8 E-cores, along with 16 threads. This setup gives the computer much power and enables it to handle many tasks simultaneously.
Frequency:
This laptop can effortlessly reach speeds of up to 4.7 GHz. This precise speed is perfect when you require extra power, ensuring the computer runs smoothly and can handle multiple tasks without interruptions.
Also Read: What is Processor?
Graphics Card:
The laptop features an NVIDIA GeForce RTX 3050 graphics card that runs around 5200 MHz. It comes with a 6GB graphics memory powered by GDDR6 technology.
HP's Victus 16 laptop is specifically designed to handle your gaming needs seamlessly.
It looks fantastic and delivers stunning and smooth graphics thanks to its powerful RTX graphics card, which is fine-tuned for top-notch performance.
This ensures you get the best gaming experience possible.
Also Read: What is Graphics Card?
---
Everyday Use For Multitasking
The HP Victus 16 laptop offers a superior experience compared to other laptops, allowing you to multitask effortlessly.
Multitasking:
You can handle your daily tasks like school work, data sheet management, and creating presentations simultaneously without disruptions.
Thanks to its impressive processor and high-frequency speed, your laptop runs faster than usual, allowing you to run multiple applications simultaneously.
Making Presentations:
The excellent graphics card ensures that creating presentation slides is a breeze. You can use various tools like Microsoft PowerPoint, WPS Office Presentation, and more.
Adding animations and images to enhance your slides becomes effortless, and you can create visually appealing data visualization slides with Microsoft Power BI.
This laptop simplifies your tasks if you work in an office and deal with large spreadsheets or Excel sheets. You'll find data entry more enjoyable and efficient when using this laptop.
---
Internet Browsing and Streaming :
Wi-Fi v6E has been given in it, which is the latest version, and it increases the internet speed of your laptop.
If your internet speed is good, you can do YouTube, Netflix, and other internet-related work without interruption.
If your laptop's Wi-Fi is good, then the experience of playing online gaming increases even more. This laptop will not show any buffering while playing online games, and the game will run very smoothly.
Also Read: Best Laptops for Streaming
---
Video Conferencing and Online Meetings:
This laptop has a built-in webcam that offers Full HD 720p resolution.
This means that the camera can capture videos with high clarity and details. When you use online meeting applications like Zoom or Microsoft Teams, the video quality from this webcam will be remarkably impressive.
This high-resolution webcam ensures that your video feed will be sharp, allowing others to see you clearly and enhancing your online meeting experience.
Whether you're attending virtual work meetings, online classes, or connecting with friends and family, the webcam's Full HD 720p quality ensures a crisp and clear image.
---
Gaming
The HP Victus 16 laptop boasts powerful NVIDIA GeForce RTX 3050 graphics, making it an excellent choice for gamers who enjoy playing various games.
Additionally, it features Raptor Lake, an advanced processor, so modern games like Valorant, Fortnite, etc., can run efficiently.
This advanced processor not only increases the speed of your laptop but also improves gaming performance.
Whether playing graphically intensive games or multitasking, combining these graphics and processor components ensures a smooth and enjoyable gaming experience.
---
Video Editing
If you enjoy editing videos, then this laptop is a great option. It can edit high-quality videos, even very high-resolution videos like 8k.
Part of the reason it's so good is that it has a strong processor 13500HX and graphics RTX 3050 with lots of cores. This means you can edit videos quickly and export them instantly.
When you work with really high-resolution video like 8k, you need a powerful laptop, and this one can handle it with ease.
So, if you are into video editing, this laptop is a smart choice for its high-quality performance.
---
Programming (Coding)
Many laptops are used by today's young generation, including students and office workers, who often require a computer that can handle both programming and gaming. This laptop is an excellent choice for such individuals.
While you can perform basic coding on most laptops, tackling larger and more complex code projects can only be challenging with a capable laptop. Coding is a demanding task that benefits from a high-performance notebook.
This laptop excels in coding tasks thanks to its solid graphics and powerful processor. It can effortlessly handle even the most intricate code execution, making it suitable for various programming needs, including tasks like machine learning, which demand a robust processor and graphics.
Furthermore, essential programming tools like Codeblocks, SonarQube, PVS-Studio, and others run smoothly on this laptop, enhancing the overall coding experience and productivity.
Whether you're a student, office worker, or programmer, this laptop is well-equipped to efficiently meet your programming and computing needs.
Also Read:
---
Display
The laptop boasts a 16-inch display with a 1920 x 1080 pixels resolution, providing crystal-clear Full HD visuals.
With a speedy 144Hz refresh rate, this screen ensures smoother and more responsive graphics, making it perfect for activities like gaming.
Utilizing IPS (In-Plane Switching) technology, the display offers wide viewing angles and precise color representation.
Furthermore, it features an anti-glare coating that minimizes reflections and glare from external light sources.
While the screen reaches a maximum brightness of 250 nits, making it suitable for indoor use, it might struggle in bright outdoor conditions.
The sRGB color gamut is rated at 45%, indicating the screen can accurately reproduce various colors within the standard sRGB color space.
Also Read: Best 13-inch Gaming Laptops
---
Battery
The laptop is equipped with a 4-cell, 70WHrs Li-ion polymer battery, which is non-removable. It supports fast charging, allowing a full charge to be achieved in just 1 hour and 15 minutes.
Additionally, it is compatible with USB Power Delivery technology. The charging connector is located on the left side of the laptop and requires a 230W charger for efficient charging, although the weight of the charger is not specified.
---
Adapter
This laptop includes a charging adapter with a power rating of 230 watts. The power rating indicates how much power the adapter can deliver to the computer. In this case, 230 watts is a substantial amount of power typically required for laptops with high-performance hardware.
With the 230W charging adapter, this laptop can fully charge in 1 hour and 30 minutes. This is notably faster than standard charging times for many laptops, which can take several hours to reach a full charge.
---
Ports and Connectivity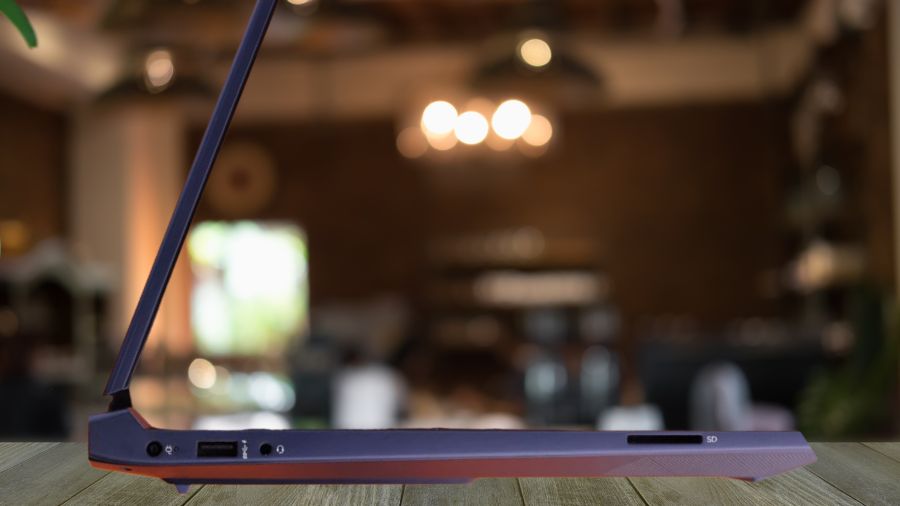 The HP Victus 16 is equipped with 3 USB-A ports, commonly used to connect peripherals such as external hard drives, USB flash drives, and other USB devices. These ports are of the USB 3.1 Gen 1 standard, providing relatively fast data transfer speeds.
A USB Type-C port is available on the laptop, which is also of USB 3.1 Gen 1 standard. USB Type-C is a versatile and reversible connector for various devices, including smartphones, external storage, and displays.
It has an HDMI (High-Definition Multimedia Interface) port, commonly used to connect the laptop to an external monitor, projector, or HDTV. It allows you to extend or mirror your laptop's display to a larger screen.
An Ethernet port (RJ45) connects to a wired or Internet network. It provides a reliable, high-speed Internet connection when Wi-Fi is unavailable or a wired connection is preferred.
It also includes a card reader, a slot allowing you to insert and read memory cards from devices such as digital cameras and smartphones.
This feature can help transfer photos and other files from a memory card to a laptop.
The laptop has a dedicated charging port, which means that you can charge the computer using a dedicated charger without occupying the USB or other ports. This is convenient because it ensures that your USB ports are available for other devices while your laptop is charging.
---
Operating System and Software
This laptop runs on Windows 11 Home, the latest version of Windows. It keeps all the good stuff from Windows 10 and adds a cool new look.
Windows 11 makes your computer look more excellent and adds handy things like snap layouts (which help you organize your windows) and widgets (for quick info). Plus, it comes with a security software trial to keep your laptop safe.
---
What's Good in HP Victus 15
Efficient Multitasking: Powered by the 13th Gen Intel Core processor, this laptop excels at multitasking. It handles multiple tasks simultaneously, ensuring you can be highly productive.
Impressive Display: The laptop boasts a stunning 16.1-inch screen with crystal-clear Full HD (1920 x 1080) resolution. With a silky-smooth 144 Hz refresh rate and an elegant design, it offers an excellent visual experience. It's also glare-free and reaches a brightness of 250 nits for vibrant visuals.
Outstanding Gaming Performance: This laptop delivers top-notch gaming and visual performance with the NVIDIA GeForce RTX 3050 Laptop GPU and a generous 6 GB of graphics memory.
What's Bad in HP Victus 16
Limited Battery Life: The laptop's battery life could be much better. It would benefit HP to enhance its battery longevity for extended usage.
Heavier and Less Portable: Compared to some other laptops, this one is heavier and may be less portable, which could be a consideration for those seeking greater mobility.
---
Final Words
The HP Victus 16 laptop is an outstanding contender in the gaming laptop segment. It offers the perfect combination of performance and cost. Its powerful processor and graphics card make it excellent for gaming and multitasking.
However, its battery life is short, and it's heavy. Overall, the HP Victus 16 is worth considering if you're looking for an affordable gaming laptop that can handle video editing, work, and more.
FAQs
How long can the Helios 16's battery last?

The battery usually lasts for about 5 to 6 hours with normal use. However, Modern gaming and heavy tasks will last 2-2.5 hours.
Is HP Victus Worth Buying?
This HP Victus 16 can be worth buying if you're on a budget and need a laptop for everyday tasks as well as gaming.
Is excessive heat an issue with the Victus laptop?
The HP Victus 16 gaming laptop is equipped with multiple fans to effectively prevent overheating.
Is HP Victus effective in maintaining cool temperatures?
It efficiently handles heat thanks to its robust components and effective cooling system.
What is the CPU speed of HP Victus?
The HP Victus laptop has a CPU speed that can range from 3.5 GHz to 4.7 GHz when turbo boost is activated.